Sam Jacob combines references to high architecture and the local vernacular in a playful hybrid home and community centre in east London
Architect Sam Jacob calls his self-built house in east London the 'Hoxton Mule'. It's a gesture to 18th century gardener Thomas Fairchild, whose nursery lay a little further along Ivy Street. There he introduced the pollen of a sweet william to a carnation to create the first deliberate horticultural hybrid, 'Fairchild's mule'. Jacob's house – a bullnosed brick galleon fused with the remnants of a former pub – is also a cross-breed. It co-mingles old and new, and accommodates two distinct uses in one unlikely whole: a play space for preschoolers below with an idiosyncratic, sometimes otherworldly apartment above.
Its bold form and playful character arise from a kind of genetic engineering, splicing together diverse motifs borrowed from the history of architecture, and recombining distinctive features of assorted buildings and spaces that surround the house.
All are typical of London, but collide here to create a place with unusual qualities. The freestanding pub was almost all that was left of a terraced street lost to bombs or regeneration. In the 1980s a little row of beige houses was built next door, running east to Hoxton Street. Over the road, a tall brick-built school stands behind a high wall. To the west are eight-storey slab blocks built in 1960. Set back from the original street line, they left the pub, in its small fenced yard, on a sort of urban promontory.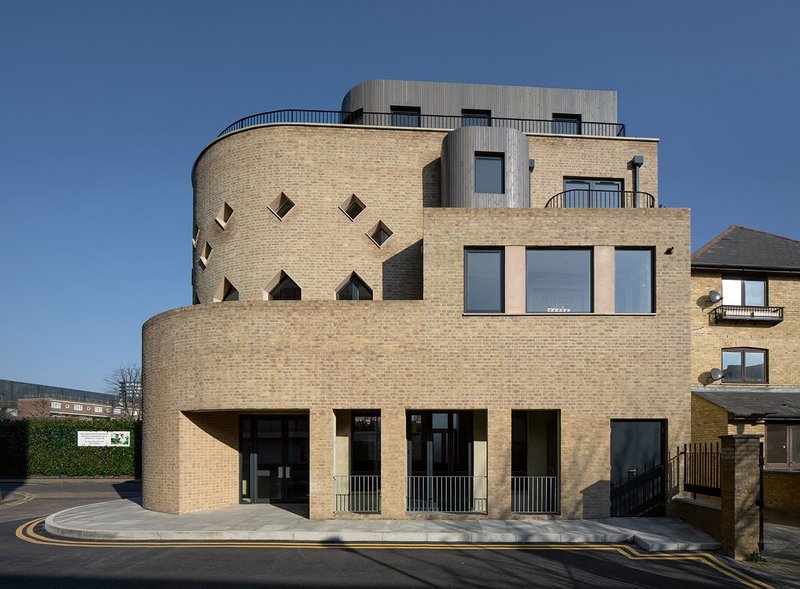 Deep recesses in the base contain a back entrance to the Ivy Street Family Centre and its small outside terrace. The interior is being fitted out by Sarah Wigglesworth Architects.

Credit: Johan Dehlin
The crumbling building had been used as a family drop-in centre for decades, but after unsuccessful efforts to raise funds for repair it was put up for sale in 2015. Jacob discovered that the charity would ideally like to remain in place, and suggested redeveloping the building as a joint venture.
Hammering out the details took a couple of years, but that had advantages. By the time Jacob had to complete the transaction he had secured planning consent – without much difficulty – and even lined up a contractor, although he couldn't actually start on site until 2020.
The essential design came together quickly, he says, with no agonies over competing options. Nevertheless, the process was an opportunity to take stock following the dissolution of his former practice FAT – known for brightly coloured, exuberant buildings influenced by high architecture and low culture. 'This house deals with many of the same concerns – reference, copying and communication in architecture – but handles them in a different way,' he says.
Context was treated as a spur to invention rather than a style guide. 'The aim was to make a distinctive object with a strong, but "embedded" presence', Jacob says. 'Something you wouldn't do anywhere else.' Specifically, the building was shaped by the decision of a traffic engineer to bend the road round the pub when the estate was built. 'Someone's pencil drew a U-shape on the ground', he explains. 'I thought it would be good to manifest that arbitrary act of drawing in a piece of architecture'.
A brick wall follows the curvature of the pavement, stepping up as it sweeps round to form a podium – a faint echo of the access decks of the block opposite. Above, the curve repeats as the building rises to four storeys in a series of setbacks determined by neighbours' rights to light. Seen head-on down Ivy Street it looks almost archaic, like a castle or ziggurat. An impression of weight and solidity is enhanced by deep recesses in the base. Small windows increase the apparent scale of plain brick facades with no movement joints. 'The brickwork is non-fancy, like the wall of the school,' says Jacob. 'That means you need a lot of other "incidents" to stop it being boring'.
In part that's achieved through manipulation of form; some 'sticky-out bits' add texture and help offset any suggestion of monumentality. A cylindrical rooftop garden shed makes an eye-catching accent on the street corner, and a curious timber-clad bay bulges from the second floor. Jacob had in mind the paintings of stacked buildings by Joseph Gandy for John Soane, but a more immediate reference was the Georgian terrace backing onto a little carpark behind the house – a Rear Window prospect of ad-hoc infills and extensions.
The geometry of the site is echoed in these add-ons, and also governed the choice of architectural quotations sprinkled throughout the building – a mix of U-shapes, circles and contrasting angular elements taken from the work of architects such as Toyo Ito and John Hejduk. Most obvious is the constellation of diamond-shaped windows that recall Konstantin Melnikov's house in Moscow, built in 1929. 'The references are explicit', says Jacob, 'but the design is also synthetic; it puts them together in quite a tight way within an overall composition'.
Pop culture gets pulled in too. The number 54 worked into the metalwork of the entrance gate is an homage to the 1970s graphics of Studio 54. Much of this building is unashamedly fun, and as we walk around it's clear that Jacob has taken great satisfaction in making something the neighbours will enjoy.
Behind the gate, external stairs curve around the prow to reach the flat – originally intended for Jacob's use but currently rented. It's the beginning of a vertical journey conceived as a Corbusian promenade architecturale.
The building was shaped by a traffic engineer's decision to bend the road round the pub
In the capacious entrance hall sits a freestanding plywood box lined with shelves – a St Jerome-style workspace. Behind, the far wall is lined by alternating panels of plywood and mirror, producing kaleidoscopic reflections. Timber stairs set within a curved enclosure rise to a rooftop pavilion, again U-shaped in plan Materially this is about as rich as it gets; the palette is white plaster and black metal, with the odd splash of coloured tile. 'Looking at the building it might sound ridiculous', says Jacob, 'but my aim was to keep it essential. You have to identify the architectural opportunity in every project, and here it was space'.
The heart of the home is an incident-filled living room in the building's prow: double-height with a mezzanine, generously lit from 14 pointy windows. Jutting into it is the balcony of a little study on the floor above, accessible only by ladder – a compact counterpoint to the airy expanse of the main volume. Such enjoyable games abound: the hint of an urban facade here, Soanian niches there. Spaces are generous, with landings large enough to double as habitable rooms.
The one on the top floor opens onto a rooftop garden, with views towards Fairchild's long-gone plot, and over all the local features sensitively cross-pollinated in Jacob's mule. Clever, public-spirited and beautifully made, this house fully earns its prominent place in the mix.
Credits
Client Sam Jacob/Ivy Street Family Centre Trust
Architect Sam Jacob Studio
Structural engineer Elliott Wood
M&E consultant Mesh
Quantity surveyor, principal designer Huntley Cartwright
Approved inspector Sweco
Main contractor Uprise Construction