This unassuming home on Skye is a deeply thoughtful and spiritual interpretation of the Highland blackhouse – possibly providing answers for modern families too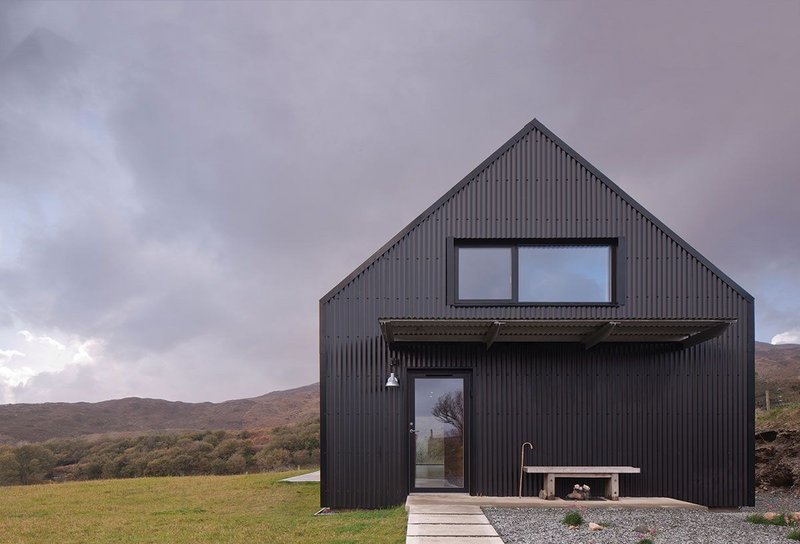 For a fleeting moment I'm worried. I've spent most of the previous day getting here, and as I drive over the craggy terrain on the five-mile single track road from Broadford, the pair of black sheds that begins to emerge – that can only be what I've come to see – look like they might be a disappointment. Is all I'm really looking at two quite basic constructions of black-coated corrugated aluminium sheeting just beside the road? 'This is architecture too,' I remind myself as I run through the rain and galvanised steel gate up the drive.
I hadn't thought much about the exterior when we chose it for this special issue. Now I wonder if that was a mistake. From the outside The Black Shed, as it is known to its owners, architect-turned-academic Helena Webster and liberal rabbi Judith Rosen-Berry, is just that. (Its architect Mary Arnold-Forster calls it 'Heaste' after the crofting community where it is located.)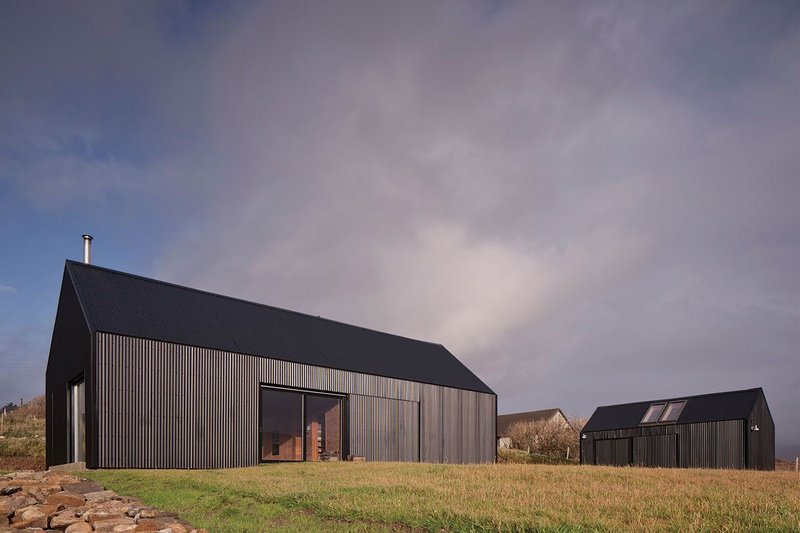 With the smaller building, a workshop, sitting parallel to the road and the larger main one perpendicular to it for privacy, the project doesn't look like much. It isn't supposed to – not to appear modest in its surroundings but, at the owners' request, so that it be typical of them – a single form and materiality common to the rusting tin buildings all around; the chapel over the road, village halls built elsewhere on Skye, animal shelters and barns. At first view (the weather doesn't allow a double take) I'm not sure whether it is just, God forbid, a cheaply built house. But this is actually a heavily intellectualised, even polemical, home.
'It had got to the point where it was time for a change,' explains Webster. 'Either move institutions, job positions, or do something else. Judith too was getting dragged in the wrong direction. We haven't got children, so we decided to do something mad': find a plot, commission a house, quit their jobs and move from Oxford, where they had lived for much of their lives, to the Scottish Highlands.
About this time Webster was also ­writing an essay for the Traditional Dwellings and Settlements Review, and becoming increasingly interested in the houses designed by Rural Design and Dualchas trying to create a modern vernacular based on traditional local blackhouses. These were single-storey longhouses with curved ends and rush or heather roofs, where animals lived at one end, people at the other, and functions were defined by elements – hearth, chairs, box beds – not rooms.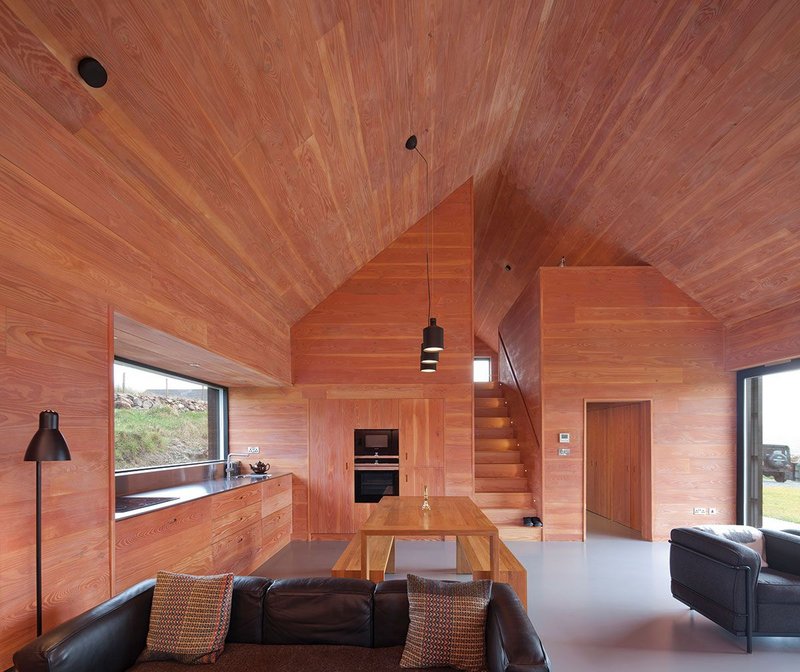 'I wanted to get away from the two-up, two-down of our Edwardian house in Oxford. I'd always felt constrained by it because it was built at a certain time for a certain family unit that we didn't conform to,' explains Webster. 'We always joked about having a one-room house with a huge table down the centre where you could sleep at one end, work in the middle and eat at the other. In lifestyle it came from a different place, but almost went back.'
Finding a site took three years, but eventually the couple went back to Mary Arnold-Forster who was working at Dualchas but now has her own practice. She gave them the keys to her house to look around and they gave her a slideshow of things they liked, including Scott's Arctic hut, Zumthor's alpine chalets and Le Corbusier's Villa La Roche.
This building is part of a movement trying to assert a more authentic cultural regeneration
Entering the house at the gable end from the torrent outside, in contrast to the perceived thinness of the exterior, this is the kind of building where you can shut the door and let the weather whirl silently behind you – protected by the thickness of the walls, closeness of the space, warmth and homely smell of the Douglas fir lining. The house is about being inside, physically and mentally.
Yet, as I hang my coat on one of the five pegs and see the tree trunk block to help me take off my shoes, I realise it is also incredibly practical. 'This is Dotty the dog's bathroom,' says Webster as she pulls across a pocket door on the other side of the neat cube hall and opens one to her right. 'We can come in from a walk and wash her without her dirtying everywhere.'
Ahead, the hall squeezes through to a tunnel-like corridor, lined on one side with horizontally stacked books, on the other by timber cupboards for the many coats required to live here. To the right is another pocket door to the only non-utility room in the house – a two-person study with a box bed for guests sneaked in. 'Mary kept wanting us to have more bedrooms, but we were adamant there shouldn't be any rooms that could be shut off,' recounts Webster.
At the end of the corridor, at the midpoint in the plan, with the visitor by then in full anticipation of what lies beyond, an entranceway releases into a double-height space that reaches to the rafters and stretches back up behind the full length of the house at first floor level. In one corner, a sofa and armchairs are arranged around the TV next to a wood-burning stove, in another, by the kitchen set into a bay, is a table with bench seating. A central stair leads to the mezzanine where the main bedroom and a study balcony overlook the void.
True to the longhouse, you can see from one side to the other. This is the owners' crucial 'all space' – for working, resting and eating. At ground level the squat plan feels intimate but look up and it is majestic. A few carefully punched windows mean sunlight blasts straight down the corridor from the glazed front door in the morning and tracks round during the day to create modulated light and shadows across the smooth grey resin floor.
But the all-timber lining is what makes the difference to this project. The wide horizontal boards have a cosy quality. They effortlessly mould into bookshelves, cabinets and stairs, filling the spaces with a radiant pink hue – unglamorously caused by the fire retardant, but that does set the house apart from the Swiss chalets it references. The collectedness and serenity of the spatial experience, however, disguises the polemic of its being – its intentions, what it says and means for Skye, the Highlands and Scotland. This architecture is part of a movement trying to assert a more authentic cultural regeneration that supports Gaelic speaking too – for that reason planners here can't get enough of it.
The resurrection of the blackhouses is underpinned, as Webster explains in her article, by a discourse that converges to mean a better pre-English/Union identity, and provides evidence of an independent strand of architecture that finds more commonality with the longhouses of northern Europe than the Victorian 'white houses' on Skye, perceived as English – though Heaste's architect and owners are all English and I have spent enough time on Skye to see English influence is helping finance the island's change in direction.
I don't see this as regrettable but celebratory. The modern vernacular houses being designed on the west coast of Scotland are compelling, particularly as a group. Examined at an individual level they aren't always enough architecturally – as with my first impression here. Heaste has, however, laid various external, international, pointers on its shores – the Arctic tent, the Parisian house – that combine to add a crucial bit of wider intelligence to the design and expand the genre.
Heaste, though, is also important at a personal level that could have greater resonances as well. Webster and Rosen-Berry say it is a house that fits them, how they want to live, who they feel they are. The couple have been together for more than 20 years, but it is while living here that they have been moved to marry. As buildings in Scotland do not have to be licensed for weddings, their 'all space' will be for marrying too.
With the primariness of its apex lined in wood, surrounded by water, wilderness and wild weather, the space speaks of Heidegger's fourfold of what it means to dwell and summons ideas of the first places of devotion as clearings in the forest. What more could you want from a house than that?
---
In numbers
£2600 cost per m2
120m2 gross internal area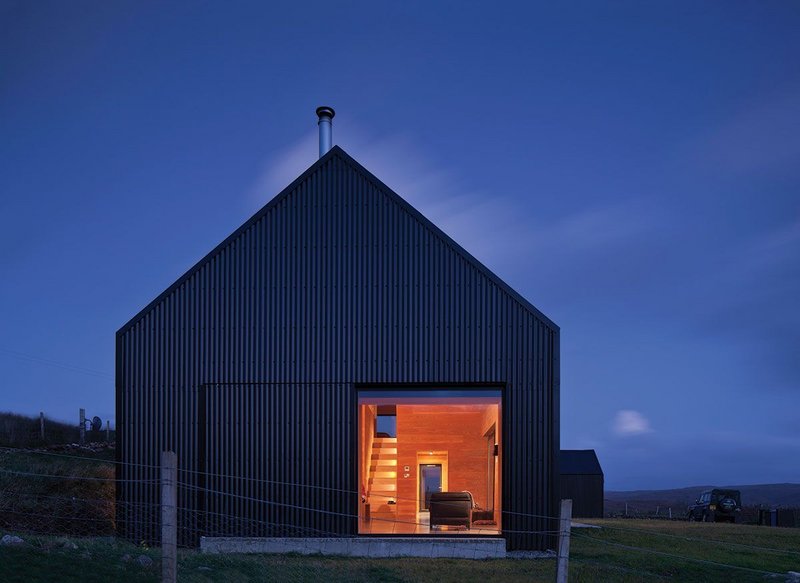 Credits
Client Helena Webster and Judith Rosen-Berry
Architect Mary Arnold-Forster Architect
Main contractor Allen Cowe Builders
Civil and structural engineer IPM Associates
Douglas fir Dinesen
Cladding Plannja