Two new housing blocks bring light and green space to Westminster's densely built streets in DSDHA's contemporary take on the traditional mansion block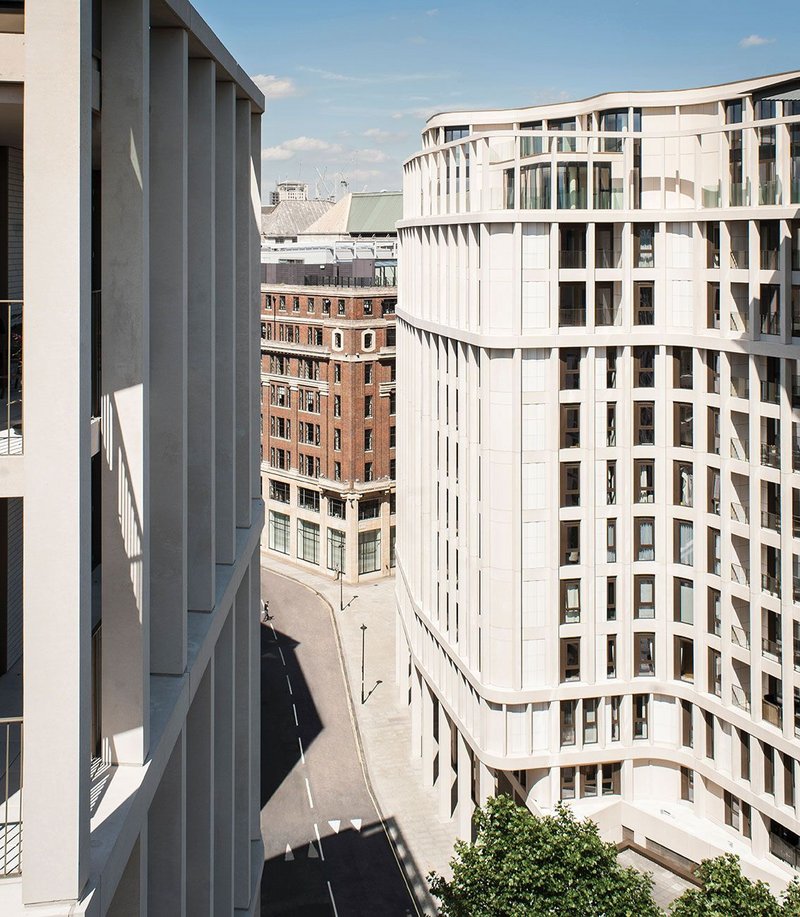 High level relationship - Cleland House viewed from Abell House, looking east. Grid disrupts on top level.

Credit: Luca Miserocchi
Central Westminster is about more than government buildings and the Abbey complex at one end and tacky retail around the great railway terminus at the other, counterbalanced by the nearby Tate Britain. This is where MPs, clergy and spies meet commuters and commerce. It's also about a surprising amount of housing. The backstreets range from early Georgian (especially around Thomas Archer's St John's Smith Square) to modern, but are noted especially for one typology: the mansion block. Some of the blocks are social housing, some are stuffed with the great and good, and there is a satisfying sense of shared high density streets. It is here that DSDHA has inserted a pair of new residential buildings that aim to reinvent the mansion-block genre.
'Here' is in John Islip Street, a relatively late-developed section originally bordering the marshland that contained the 19th century Millbank Penitentiary, later demolished to make way for the Tate. The twin sites were previously occupied by broodingly hermetic ministerial blocks with the same names as the new ones – Abell House and Cleland House. In the 18th century this was also where Peterborough House, home of the Grosvenor family, stood in its gardens on the edge of London. The idea of bringing back some openness and green space to what had become a locked-down streetscape took root.
It is unusual to be able to build an architectural dialogue across a street – though the plots are staggered, connecting visually on the diagonal and in the long views down the road. This is achieved here through carefully-modelled structures that share a common system of external precast facade components but with detail differences that most passers-by would be unaware of. I met Deborah Saunt over a coffee in the crypt café of St John's Smith Square. Archer's exuberantly Baroque towers are glimpsed along the streets from here and she explained how this influenced the designs of the new blocks – specifically their upper reaches at penthouse level where the rectilinear facade grid starts to distort somewhat fancifully, including a set-back 'casino' or loggia at high level on the Cleland block. Baroque flourishes? Up to a point. Saunt says: 'There's something unsettling about what we do here – why is it architecturally so frilly at the top?'
DSDHA is known for its high levels of contextual analysis and – in some recent projects – a leaning towards classically-tinged forms. Here you have buildings with facades organised into the traditionally different treatments of base, middle and top, with the base extending to three or four storeys – the general limit that the eye takes in from pavement level. And although there is no particular visual external difference between the market housing and the 25% affordable housing – which makes up more than half of the Cleland block – the affordable units get a distinctly plainer and narrower entrance round the back on Thorney Street – right behind the MI5 building, in fact, on the service/entrance side of things. Tenure blind? Not quite. The market housing gets the full lush hotel-lobby-style treatment on either side of John Islip Street.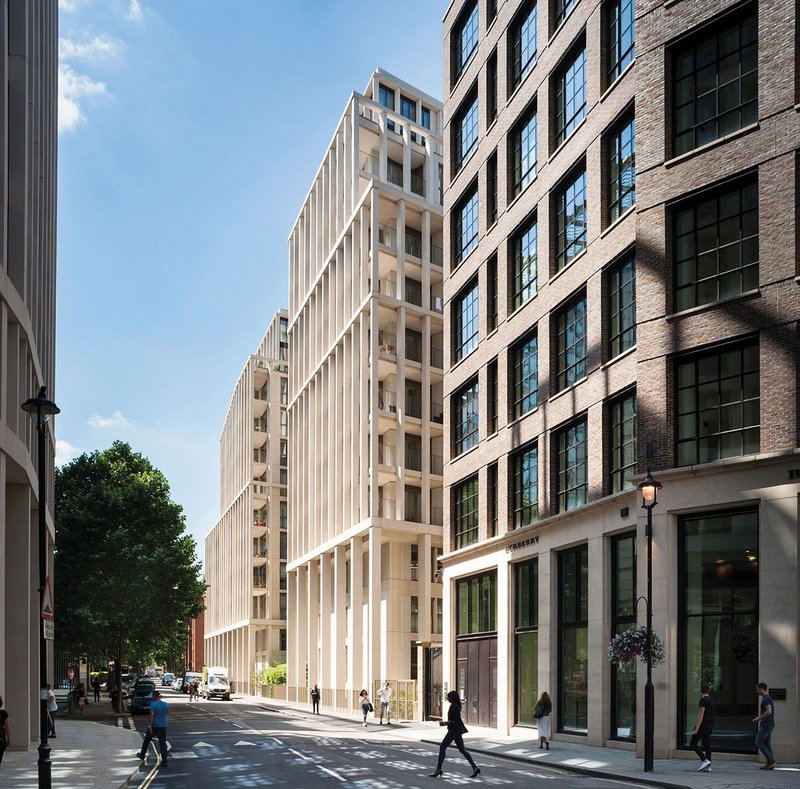 Abell House uses the same language of components and proportion – here looking west

Credit: Luca Miserocchi
The interiors – both common areas and apartments – are by Project Orange while the enabling architect for the whole building was EPR. This is a not uncommon arrangement on such large commercial developments and Saunt expresses herself generally satisfied as we walk round, but for one or two of the usual places such as handrail details which can change when one architect takes on another's designs. You also get that shifting of aesthetic gears that you find with many a spec office block or retail mall. When one architect does shell, core and common areas and another does the fit-out, you get this feeling of moving between design approaches. You certainly do here, where the exterior is a cool, trabeated assemblage of precast, bronze and ceramic or pale brick components and the interiors take you into something with much more of an Art Deco club feel. Or even an institution – I was delighted to find fat fluted columns in the foyers that Project Orange appears to have modelled on Grey Wornum's in the RIBA building at 66 Portland Place. But overall this is an interesting pairing of two practices who are both interested in richness and texture, and a third working on the delivery side. There's a gym, pool and business centre – you'll have to take my word for it that the interiors are good. But with the penthouses priced at up to £8.5 million, you'd hope they would be.
Porosity is the thing, Saunt explains – visually the mass of the buildings break down and at street level you get glimpses of the gardens – in a courtyard in the case of Cleland, behind in the case of Abell. The gardens are well landscaped and the one behind Abell House provides a setting for a substantial red-brick old-school mansion block behind. Cleland House is also pulled away from its street corner, with a substantially engineered overhang sheltering its entrance, to provide generous public space at this point where the planted area inside the lobby continues out into the street.
I'll come clean though: at no point did I feel much of a sense of engagement with these buildings. They are clearly a very considerable cut above the more usual luxury-apartment fare, with budgets on such a prime site allowing for a very high quality finish. Those sophisticated and costly facades acting as a kind of loadbearing veil, subsuming balconies within them to preserve the overall unity of appearance, are admirable. The affordable-homes element – social rented and shared ownership – is of course welcome here. Some enlightened urban moves have been made, and what was a claustrophobic corner of town has now got more of a sense of light and space to it. The high-density mansion block typology has clicked forward – these mid-rise buildings are more than twice as dense as Goldfinger's lofty Trellick Tower. But some housing you just don't warm to or remember with any great interest or affection. Abell and Cleland are like that for me because the exteriors feel like offices and the interiors like hotels.
---
IN NUMBERS
275 homes
14 apartment types
4 penthouses
30,658 m2 gross internal area
2 buildings
Credits
Client: Berkeley Homes (Central London) Ltd
Architecture, urban design and heritage research DSDHA
Interiors Project Orange
Landscape architect Wirtz International
Enabling architect EPR
Structural engineer Manhire Associates
Services engineer URS Scott Wilson