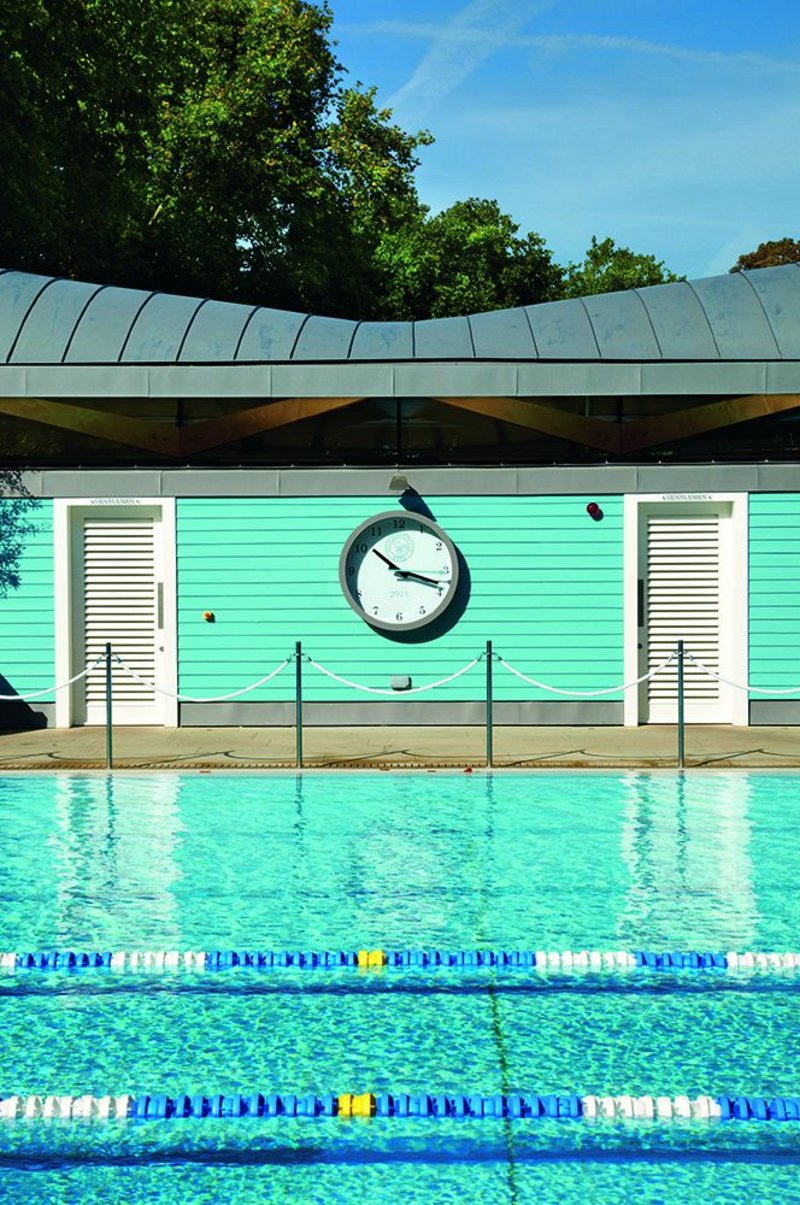 Between wall and overhanging roof is the clerestory, bringing in light without compromising privacy.
Members of London's exclusive Hurlingham Club were inordinately fond of their old pool pavilion. Bright blue and punctuated with modest white doors it spelled summer. Standing inside the changing rooms, Andy Mytom of David Morley Architects could see another attraction: a view out under the roof towards the green landscape beyond.
So right from the start a clerestory window, combining views and privacy, was critical to the design. And on the base of the pavilion, new white doors designed by Morleys and manufactured by Key Joinery of Derby, lift the blue box. Above window level the project was put together by Commercial Systems International. As a subcontractor it also managed the interface and detail between the glass and structural roof. Slots were left in the roof for the glazing both for partitions and the clerestory.
Overlooking the pool are 20 fixed double glazed windows, with 53 Ideal-Combi aluminium composite windows at the back. The ventilation strategy, vital in wet changing rooms, was critical. Here 'beach hut' doors come into their own – and not just aesthetically. With vents and manual attenuation air is drawn through the space and out through the back windows which have Window Master WMX 802 actuators integrated in the timber section.
Members' comfort was always critical. Double glazing and background heating take the chill off for early morning bathers and reduce condensation build-up.
---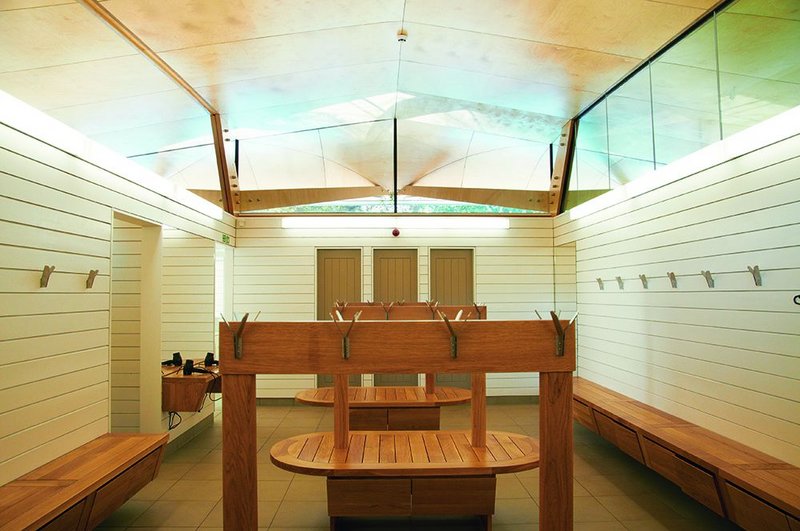 Developing roof and window together gave CSI the confidence to detail delicately.
Maarten Kleinhout
Contracts Manager and Designer,
Commercial Systems International
Contracts manager and designer of Commercial Systems International, Maarten Kleinhout, has seen its cladding business move increasingly towards creating bespoke products for Grimshaw and other big name architects. 'There is always some prototyping and sampling and we're quite quick to get a new design and turn it into something physical,' he explains.
On Hurlingham, the glazing was a minor element but as a subcontractor for the roof as well CSI could dovetail how it all worked together. 'We knew how the wood and the glass would move both now and in the future and could detail for that,' he says. Using two separate packages would have meant each party had to protect its own works and would have resulted in a much clumsier detail, he believes. 'The beauty of the interface between glazing and radiating beams is down to the capacity to hone the elements in tandem,' says Kleinhout.
Warm-edged spacers were used throughout the scheme to reduce cold bridging and the chance of condensation. Of course, there were elements where CSI wasn't a critical part of the chain. The aluminium composite windows at the back 'anyone could have done', he says.