Pretty parts don't quite make a winning whole at the Aga Khan Museum and Ismaili Centre in Toronto
Eighteen years in the planning, the $300m Aga Khan Museum and Ismaili Centre complex in Toronto consists of two important buildings by octogenarian master architects – Japan's Fumihiko Maki for the museum and India's Charles Correa for the centre - in a new city park by Lebanon-based landscape architect Vladimir Djurovic. Exhibition design is by Adrien Gardère from Paris, so this is all as international as could be. The aim is to celebrate the artistic, intellectual and scientific achievements of Muslim societies from ancient times to the present, and to serve the Ismaili community of the area. It is a very bold move, but as I walked around the site – in the slightly improbable setting of a city-edge business district – I felt that the various elements, individually good, did not quite cohere. There is a pervasive sense of strangeness.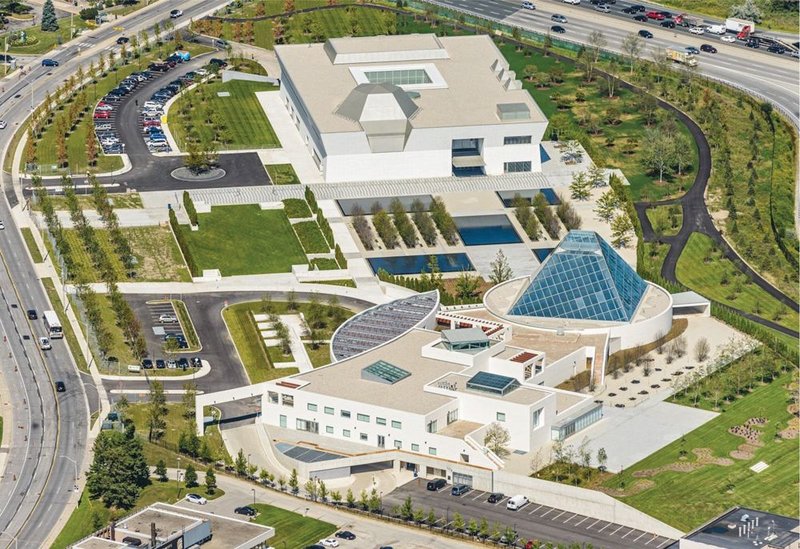 Maki's museum (top) is aligned with the pyramidal prayer hall of Correa's Ismaili Centre (bottom), both set in a new 6.8ha park.
The Aga Khan, who conceived of all this and picked up the bill for it, is the super-rich worldwide imam and prince of the Ismaili branch of Shia Muslims, who number some 15 million across 25 nations and regions. Swiss-born, French-based but a British citizen, 77-year old Prince Shah Karim Al Hussaini Aga Khan IV runs a series of charitable foundations mostly devoted to helping the developing world – and of course the famous Aga Khan architecture awards. His ambitions have grown since the first little Ismaili Centre, in London's South Kensington by Casson Conder, opened in 1985. The Toronto project exists to promote Islamic art and culture to the western world – the city was chosen not only for its multicultural, peaceful society but also for its proximity to the US and a large population within a one-hour flight. The museum's permanent collection of a thousand artefacts (value confidential but very considerable) is also the gift of the Aga Khan. Public funds were therefore not required, making this a particularly single-minded cultural initiative.
The lush new landscape around the buildings includes large mature transplanted trees around a group of five large, gently flowing rectangular pools between the two buildings, attempting to make a contemplative world of its own in one of the traditions of Islamic architecture. Often such public buildings are surrounded by acres of parking lots: here, expensively, most cars are banished into a huge underground garage that serves both buildings. But this is normal in Toronto, where winter snows are often extreme. Mature trees notwithstanding, this is early days for the landscape, which will have to be judged in a decade and more: very close to a busy freeway, at present the perimeter tree belt does not insulate you sufficiently from the roaring world around.
Not that this is meant to be a hermetic institution. Indeed it is designed to announce itself. Not so much Maki's museum, which takes the form of a somewhat forbidding chiselled box clad in Brazilian white granite, but the prayer hall of Correa's Ismaili Centre, set on the high point of the site. These are two very different architectures: Maki's all about the fine detail, Correa's more concerned with form. And the form and materials he has chosen for the prayer hall – a modified, asymmetrical pyramid of twin-wall translucent opaque glass sandwiching a lean steel structure, rising from a circular podium and of course aligned towards Mecca – turns the building into a beacon at night.
Correa, 84, claims that this is his last building – not the last he designed, since it goes back to the start of the Millennium, but his last to be completed. No historicism for him: as with his client, he wishes to project a progressive version of Islam. Although of different cultures and beliefs, architect and client were also united in their sense that the handling of light held the key to achieving a sense of the mysterious and numinous. It is no surprise that Correa refers repeatedly to Frank Lloyd Wright when discussing his building, though with the proviso that Wright is inimitable. 'None of us knows how to mine Frank Lloyd Wright, the way we mine Mies van der Rohe. Wright won't be imitated. Light from above? His Johnson Wax building - it's The Temple of Lux. The Guggenheim? It's inspiring just to see all that energy spiralling upwards…Frank Lloyd Wright was really great.' Here one obvious inspiration (though Correa did not mention it in my hearing) is Wright's similarly translucent Beth Sholom synagogue in Pennsylvania, which as it happens was the last work to be completed in his lifetime. As shining places of worship go, you have to bracket them.
If Correa's building with its sprawling tail of social, formal and educational spaces might be considered as conceptually if not stylistically Gothic, then Maki's is more broadly classical, from outside appearing to be a self-contained temple. Inside it turns out to be arranged around a central courtyard, and the play of daylight is once again key. Maki, 86, takes his chisel to the box, cutting the facades gently inwards at ground level, then flaring out at the upper level, giving the building a wasp-waisted effect. He then cuts into the resulting form, making a very tall and deep entrance set off by a wafer-thin blade of a canopy. The roofscape is enlivened by a facetted dome over the auditorium, for this is a performance space as well as a visual arts centre. Maki's final formal move is to inset sequences of set-back hexagonal lenses to bring in indirect daylight when required. The white-granite cladding is well detailed, corners and reveals being done in proper thick blocks which allow a fine incised re-entrant line to define the edges.
The layout is straightforward: permanent collection on the ground floor, temporary exhibition galleries upstairs. Two elements occupy both levels: the auditorium and the main double-height permanent exhibition space, which is surrounded by a broad gallery at upper level. Everywhere the attention to detail of Maki's practice is evident – for instance in the beautiful rows of dark wood tip-up seating for the auditorium, which tuck themselves away tidily to give the appearance of timber troughs. Although the colour palette is largely monochrome (the exhibits providing flashes of colour) one exception is the rich blue staircase linking the upper and lower foyers of the auditorium. An unexpected interlude at ground level is the 'Bellerive Room' with its ottomans and textiles, a complete domestic interior which recalls the late Prince Sadruddin Aga Khan's home in Geneva. You never forget that this is a family affair.
As to that central courtyard with its geometrical stone floor, it's all very austere. You can walk out there, but there is nothing in it so you don't really want to – though it can be used for performance. Both architects employ such geometrical details – in screens, ceilings, floors and some walls such as the patterned glass around the museum courtyard – that are generally associated with Islamic architecture. However, this is a matter for scholarly discussion, as the academics gathered for the launch made clear. What, exactly, is Islamic art? You think you know it when you see it, but it invariably turns out to be the product of overlapping cultures and religions. The Ismailis enjoy this, since one of the points of the museum is to show how influential the arts of the Islamic world have been on other cultures and vice versa. Theirs is an inclusive and pluralistic approach.
Maki's museum was commissioned after Correa's Ismaili Centre. Although the two buildings are so very different, Maki makes one important visual link, aligning his great entrance portal with the prow of Correa's prayer hall, so framing it as a view from within the museum. Djurovic's landscape is the other unifying factor, of course, on this 6.8ha site. Time will tell if, with the softening of this raw, just-completed complex and the filling out of the landscape, it will meld better than at present. Perhaps too many hands have been involved, and it consequently lacks the feeling of a strong co-ordinating designer. For me there is something missing, and that something is a clear sense of place. But in these two late works by two very fine architects, there is much to admire.
---
Credits
Museum architect Maki and Associates, Tokyo
Ismaili Centre architect Charles Correa and Associates, Mumbai
Landscape architect Vladimir Djurovic Landscape Architecture, Lebanon
Architect of record Moriyama and Teshima, Toronto
Exhibition design Studio Adrien Gardère, Paris
Contractor Carillion Construction
---
IN NUMBERS
6.8ha site area
0.9ha buildings footprint
10,500m2 museum gross floor area
8,300m2 Ismaili Centre gross floor area
350 seats in auditorium
19.8m height of auditorium roof
20m height of prayer hall roof
550 new trees
5 reflecting pools