You could call Circle Reading Hospital a closed circle. The team created before construction began defined the values that would guide every step of the development, a rigorous example of seeing concepts through from start to finish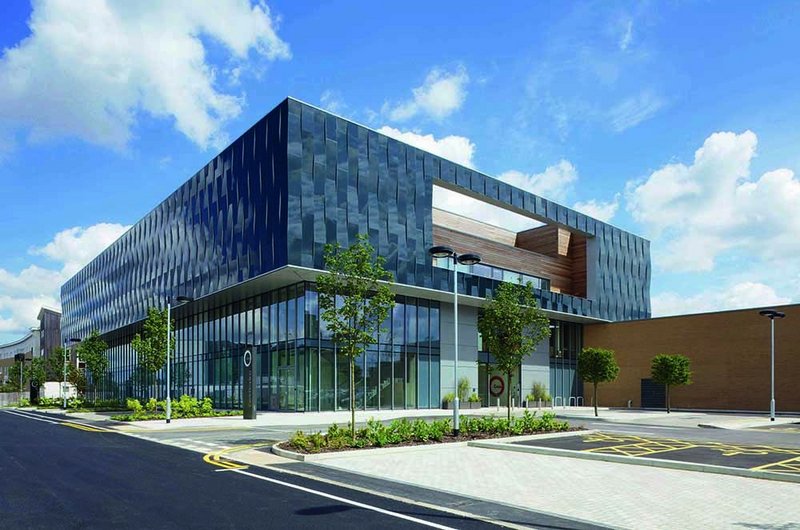 The main face of the building is the raised 'basket weave' pierced glass of the in-patient wards.

Credit: Jocelyn Low
Maybe one day healthcare will be technology and care wrapped in compassion and delivered in our homes. Until then we house it in a home of its own. It's not easy to contain though; a whole village of activity needs collecting under one roof. Circle Reading is a private hospital, with operating theatres and diagnostic imaging, in-patient beds and infrastructure. It also has outpatient and daycase facilities.
Much about it is familiar and even to some extent defined in available guidance from the NHS. But closer examination reveals just how this building embodies a client's determination to demystify its brief and truly understand the design through interrogation and iteration.
The client selected Bryden Wood for the practice's capacity to be nimble; to deconstruct what is complex and define it better as understandable components and avoid challenges becoming solid hurdles. It wished to refine a design process it had started elsewhere, learning from that to establish a model for its healthcare architecture.
Softer materials and planting define the inner courtyards.

Credit: Jocelyn Low
'Circle says it was not about lowest cost if that didn't deliver the value it sought, which included quality and aesthetics'
The procurement was design and build with client, designers and constructors formed as a team before construction began. The approach is one of analysis and standardisation. These dry facts are germane to understanding this scheme and could be seen as a pointer for conceiving our future healthcare buildings. The government has advocated a similar approach for its own schemes. Circle formed a highly co-ordinated team using parametric modelling and design for manufacture and assembly, and remained at its heart, seeking to realise the value it had identified. It was of course about cost, but also client involvement and leadership. Circle says it was not about lowest cost if that didn't deliver the value it sought, which included quality and aesthetics. The resulting building with acute hospital facilities was delivered at the sort of square metre cost of the better NHS LIFT schemes for less complex primary care buildings.
The plot straddles the boundary within a new development where residences give way to commercial buildings, so lacks a defined back and front. The architectural response is pragmatic, with a brick block facing the housing and a more extrovert and glossy glass enclosure facing the commercial zone. This won't make purists happy, nor will the fact that none of it overtly reveals its healthcare use. Cost concerns did trim aspirations in some detailed aspects, most notably where a run of utility and plant spaces are carefully placed to both define the main entrance forecourt and parking and hide the service yard beyond. This element was conceived as a west facing planted wall and was to carry the outside into the building down the central space that runs right through its centre. An optimist might hope the client will someday return to that idea and execute it in celebration of the building's other successes, as it is presently a rather forbidding bald streak of brickwork. The restrained palette of colours and materials lends it a subtle quality. Tilted glass panels in a giant basket weave pattern mark out the perimeter of the inpatient wards and articulate windowless facades to imply hidden windows rather than none.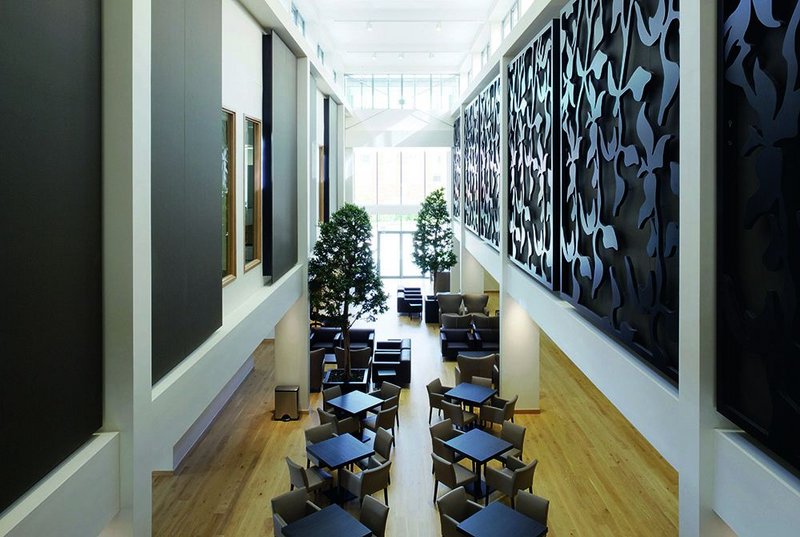 Main atrium with café.

Credit: Jocelyn Low
The interior is where the analytical approach has yielded most reward. The building is planned from inside, restrained by the site and ordered by an applied system of structure around a building services diagram. Intelligent organisation of the engineering infrastructure has liberated the interior from relentless suspended ceilings, and spaces that benefit from natural light have been provided with lots of it, including operating theatres. Precast concrete floors are exposed as ceiling soffits which, without extensive horizontal transfer of services, give bedrooms recognisably domestic height. Soft furnishings are used to absorb sound, avoiding the hollow echoing sometimes experienced in similar arrangements. Planning is tight and efficient save for the corridor spaces – driven around the perimeter of the wards by the decision to face the bedrooms inward. This slight deviation from the floor space efficiency mantra does provide fully glazed links at the northern end of the building however, and has an attractive unintended consequence of varying the spaces further.
With only single rooms and bays and no shared spaces, each in-patient ward has 15 bedrooms which look into private landscaped courtyards rather than the somewhat uninspiring neighbourhood. The architect felt winter colour might be added to the planting, but I found the subtle play of grasses and coarse gritty soils against the backdrop of timber shingle clad facades calming and reminiscent of the seaside. The privacy and a disconnecting sense of being elsewhere was somehow reassuring – unexpected poetry among the technical literature.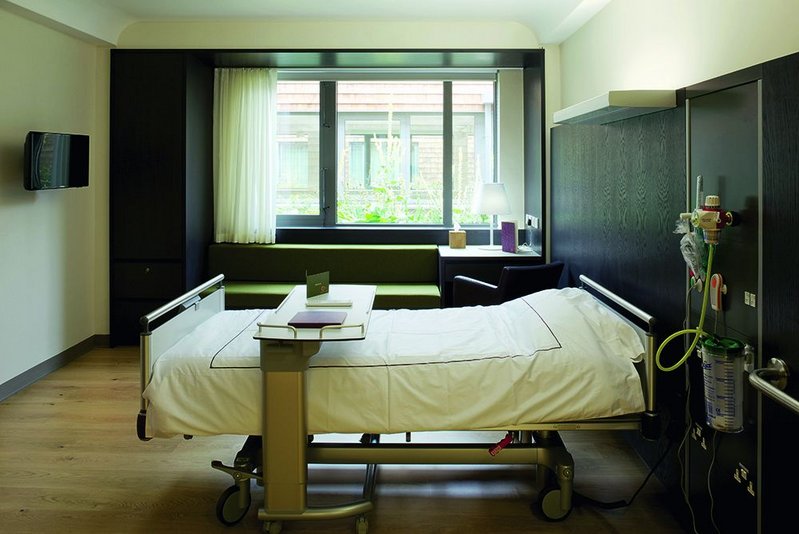 Typical patient bedroom.

Credit: Jocelyn Low
'The modest size of this hospital helped the architect to make it very legible and avoid the visual pollution of myriad signs'
An appropriate hierarchy exists in the planning, choreographing patient and staff flows and increasing levels of privacy with distance from the entrance. The public heart is the main entrance space, that also houses waiting and cafe functions and stretches right through from end to end. Circle calls this its street, but this one is tweaked here to merge functions and be more than a communication link. The space was well used while I was there and emanated a soft reassuring hum, much like the public spaces of a hotel. Large format fretwork panels line the east side of the void, adding contrast and the internal aesthetic component of the idea to join inside and out where the outer piece was to be a planted wall. The modest size of this hospital helped the architect to make it very legible and avoid the visual pollution of myriad signs. A single main vertical circulation core sensibly faces the main reception. Bed lifts are arranged back to back to serve the more public access off the entrance level in one direction and preserve patient privacy and dignity to and from theatres and imaging in the other. Fire escape stairs are at the corners and one provides a convenient, separate access point for staff.
Individual patient rooms are neatly appointed with timber bedhead panelling and fitted wardrobes. A comfy banquette seat in the window space provides a splash of colour and is wide enough to be a single bed without the fuss of any folding mechanism. Bold leaf print wall coverings feature in consulting rooms and daycase bays. Medical gas outlets and attached suction bottles serve as reminders of the purpose of these spaces, but sit in neat columns to one side of the bed. The kit-of-parts fitout avoids lots of buried services and will be helpful in any future refit. Ensuite shower rooms employ trimless finishes and large format ceramic wall panels imbue these modest spaces with luxury. There are no garish coloured grab rails, no slugs of silicone trailing around every junction and no places where all known germs can't be killed.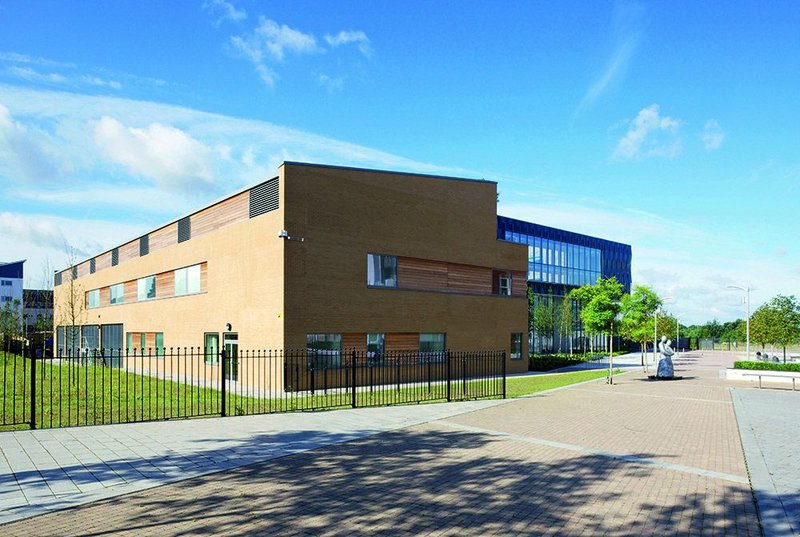 On the side facing residential development, materials switch to brick and timber.

Credit: Jocelyn Low
The colour scheme throughout is neutral; creams and oak and browns. The occasional colour is green. If there is a missed opportunity it is in the furniture selection. Hefty brown leather armchairs suck the light from the entrance space and huddle like shadowy creatures in the upper levels. In contrast to the decision-making process for the building this hints at an exhausted team by the time the colour and soft furnishings were chosen.

Circle Reading is rational, ordered and intelligent and although it has not added significantly to the pool of knowledge for healthcare design, it has opened a window into what can happen if good concepts are followed through; bravely embracing new techniques in their delivery. It also reinforces the message that good clients are needed for good architecture and the complexities of healthcare buildings only become a barrier if leadership is not strong enough to haul the team over it.
---
Gary Toon is a principal with architect Sonnemann Toon, experienced in healthcare projects.