Haringey council chose straw bale construction for its Tottenham Eco-Hub not only for its sustainabilty credentials, but to involve the local community in the project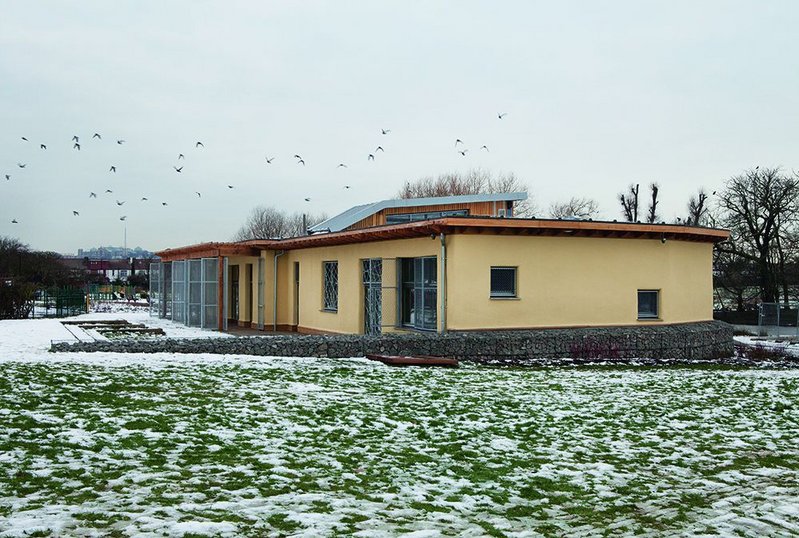 The Lordship Eco-Hub's south elevation from the east
A new straw bale sustainable building isn't the kind of thing you would expect to find near a social housing estate in London. But in Tottenham's Lordship Recreation Ground, which borders the Broadwater Farm housing estate, a modest 300m2 single-storey community centre has been built using a palette of low-embodied renewable materials.

Designed by Anne Thorne Architects and erected with local voluntary help, the £800,000 Eco-Hub provides teaching space for environmental education, a multi-purpose community space, a cafe, public WCs and a boot room for Park volunteers. Using Passivhaus methodology, it is an important building that provides essential services and links to the local community. Built into a sloping hill with its front elevation facing a lake, it is the centrepiece of the ground's regeneration, which has been spearheaded by Haringey Council and the Friends of Lordship Recreation Ground.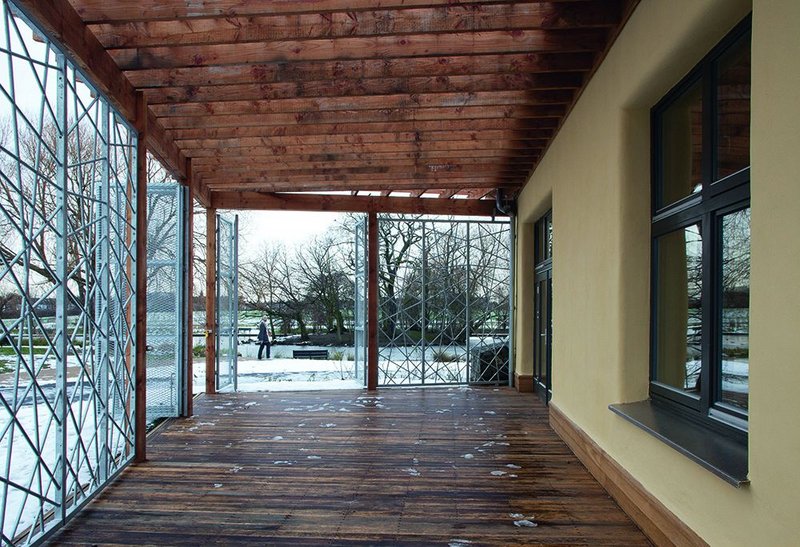 The café terrace, looking south. Galvanised grilles not only make the Eco-Hub more secure, they suggest the branches of the trees beyond
'There was a desire from Haringey Council for the building, which replaces a former pump room, to be different – more organic and responsive to the park – and they wanted it to be ecologically sustainable,' says Fran Bradshaw, partner at Anne Thorne Architects. 'They wanted us to use straw bale technology because it was a community engagement project: they wanted people to take ownership of the park and saw this as a way of doing it'.

This is not a building that touches the earth lightly. Instead, it hugs the land and is built on chunky timber piles to allow ventilation beneath. Gabion walls form a rocky plinth, rooting it to the ground and protecting the straw walls, while its sedum roof reinforces its connection to the landscape. The primary frame is made from Douglas fir, supporting the roof that rises to a 5m tall atrium in the centre over the main entrance, drawing in daylight.

Given its exposed site the building also has to be robust. Steel security screens, some decorative, clad the triple glazed timber framed windows and double doors although, Bradshaw points out, the Eco-Hub was finished in late autumn and there has been no damage or break ins.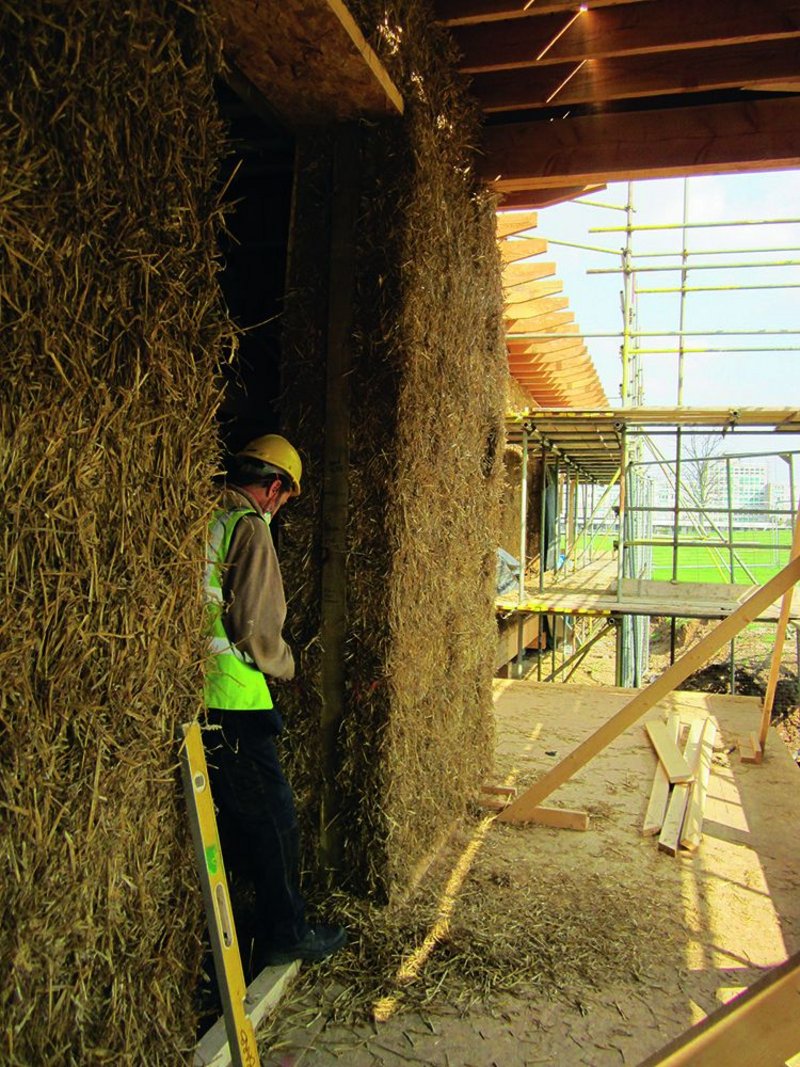 Straw bale wall under construction

Credit: Anne Thorne Architects
The straw bale walls are self-supporting and are built beneath the timber overhang of the roof. Hazel pins were pushed vertically through each bale as it was laid, to hold it together. The bales were then compressed to create a rigid and incredibly strong structure. Lime render was applied manually to the outside of the straw and clay plaster to the inside, finished with a sealer coat once dry. In all, 790 bales were used, at a price of only £3.50 per standard sized bale – 450mm deep by 365mm tall and 1.050mm long – which includes delivery from a farm in Essex. It took about four weeks over last summer for the straw bale walls to be built by an enthusiastic team of volunteers with experienced leadership from Straw Works.

Walk inside the light-filled Eco-Hub and not only does it feel solid and well-built, but it is also warm and welcoming. This is partly due to the timber flooring and ceiling. But the interior does not overheat – the temperature on the day of the visit was comfortable, achieved by the combination of the 500mm thick walls (U-value 0.11W/m2K), triple glazing and heat recovery ventilation (MVHR). This is a super-insulated, air-tight building that will dramatically reduce running costs and minimise its CO2 emissions. The building has achieved 1.2m3/h/m2@50Pa, one of the best airtightness results for a straw bale building in the UK, and has been awarded the AECB silver energy standard.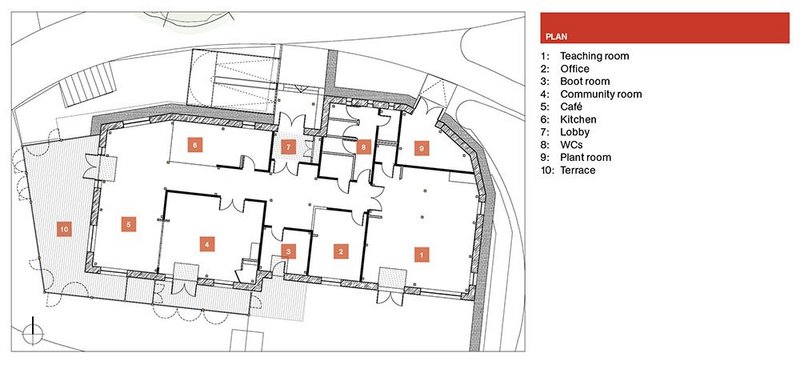 The Eco-Hub is a delightful, simple building and is a lesson in how to build sustainably using the right balance of natural, low-embodied materials with more sophisticated high performance products and systems.

Bradshaw adds that straw bale construction – an excellent insulation and low-embodied material – has a future, but it is bulky and isn't appropriate where space is limited.

'All materials have their place and have a hierarchy of use,' says Bradshaw, 'But as architects we should try to reduce the use of high-embodied energy materials in buildings. High-embodied materials such as steel, cement and plastic can still be used discreetly in buildings, but where appropriate'.
View looking east from the community room through partitions to the café
'Embodied energy in materials is important because as we design more efficient buildings, the energy in use decreases and the embodied energy becomes a greater proportion of total energy use'
She adds: 'Embodied energy in materials is important because as we design more efficient buildings, the energy in use decreases and the embodied energy becomes a greater proportion of total energy use'.

Andy Simmonds, a practitioner and chief executive of AECB, agrees, adding that a big barrier to specifying natural low-embodied materials is cost.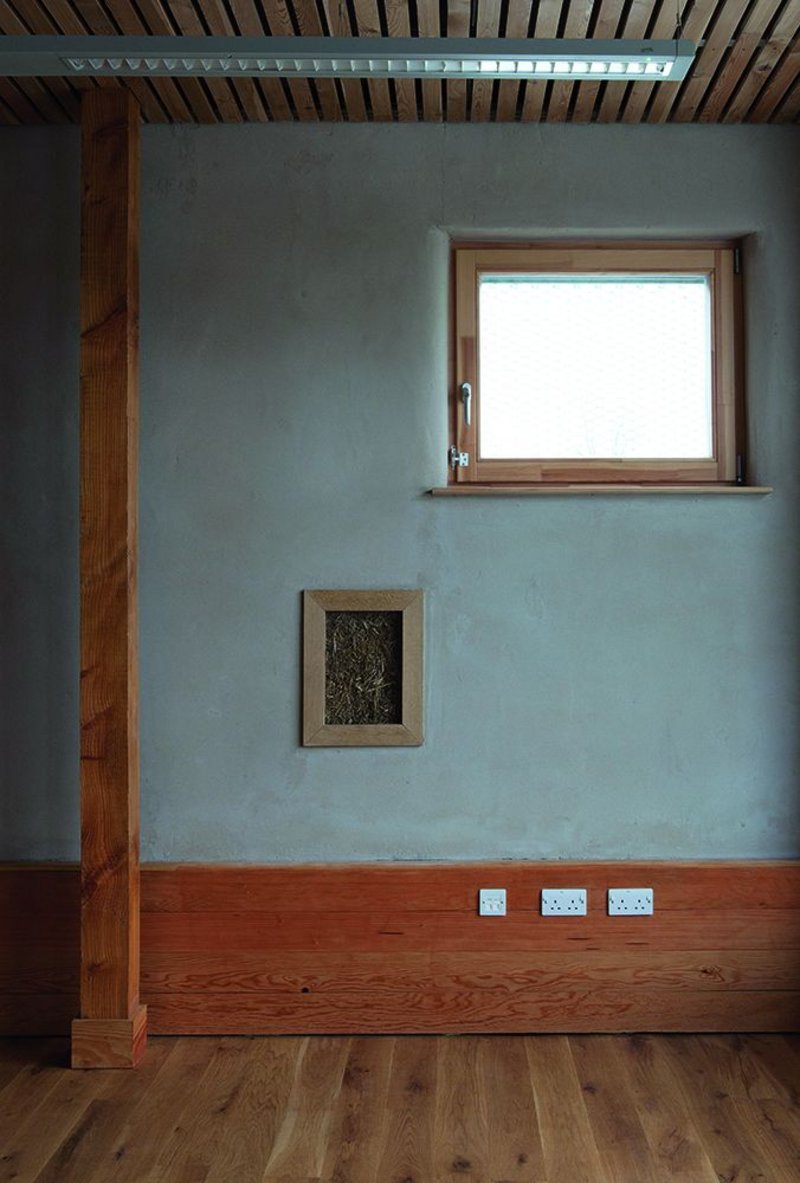 Small frames looking through the plaster to the bales beyond tell visitors about the walls' build-up
'Oil-based materials are generally seen as cheaper, making it harder to justify the use of natural fibre products to clients. Architects are endlessly struggling with this 'materials versus energy in use' dilemma, and would surely use more sustainable materials and products in buildings if manufacturers and suppliers were on a more level playing field, rather than one tilted by fossil fuel subsidies,' argues Simmonds.

He adds: 'As a profession, we often over-complicate building and services designs, so architects and clients could also aim for simpler buildings, and spend the resulting savings on energy efficiency and less biosphere damaging products'.
---
MAKING MATERIALS COUNT
RORY BERGIN, PARTNER, HTA DESIGN

'The operational energy performance of homes is the prime driver rather than the performance of the materials. We are getting to a point where it is difficult to improve on the operational performance and the next area of innovation is in the life cycle impact of the construction process.

I believe industry needs to move away from 'opinion' to 'fact' in the debate about materials. A way to achieve this is to produce Environmental Product Declarations for materials. EPDs are certificates produced from a life-cycle assessment of a product. They describe the amount of environmental impact it generates – not only as an amount of CO2 produced, but also as a complete range of environmental impacts.
We are seeing increasing awareness in the importance of EPDs, and standards such as BREEAM, LEED and SKA recommend them. The Department of Communities and Local Government is doing a standards review which will hopefully produce an update. There is much more residential construction than commercial, and a requirement for residential life-cycle assessment would be welcome. We are working with BioRegional on an LCA of its One Brighton project by testing a piece of software – eTool.

Most of HTA's residential work HTA is design and build. We can propose and need ammunition from the Code for Sustainable Homes.
Many people don't think longer than five years, but a building is longer term and if we thought about this more we would have better buildings. We need some regulatory recognition that materials have an impact, and an impetus to use assessment tools like eTool to measure the impact of our designs at an early stage.'
---
MAKING MATERIALS COUNT
ALAN SHINGLER, PARTNER, SHEPPARD ROBSON
'What issues do architects face on commercial projects and how do you balance quality materials? That's a tough one. There is no industry-recognised tool that architects can use to make a value judgement. New European standards stemming from CEN/TC 350 aim to ensure consistent product assessment, potentially enabling material labelling – voluntary Environmental Product Declarations.

There is a general consensus from industry that the whole life carbon cost of the material should be measured, but embodied carbon is still measured in different ways. A further complexity is the carbon in use benefit that a material or product may have so it's a fine balance.
Simply put, the 'whole life' of the material needs to be considered. Recycling material at the end of its life it helps to mitigate the carbon cost but we should also be specifying materials that are designed to last for as long as they are intended to be used. We recently had a project in China where we re-clad a hotel. The client intends to demolish the hotel in 20 years so we specified bamboo. As well as being a local low-embodied material its design life is appropriate to its use.

Fit-out is another area of focus because materials are frequently replaced, so it is all the more important that their whole life carbon profile is considered before specifying. After fitting out the BBC's new offices in Salford we worked with Deloitte to measure the carbon footprint of the materials specified. We benchmarked it against other schemes to show how responsible specification of materials saves carbon without sacrificing quality, aesthetics or durability'.
---
Credits
Client: LB Haringey
Architect: Anne Thorne Architects
Project manager and engineering services: NPS Group
Contractor: Vinci Construction UK
Straw bale walls: Straw Works