InterActiveCorp HQ, Manhattan, New York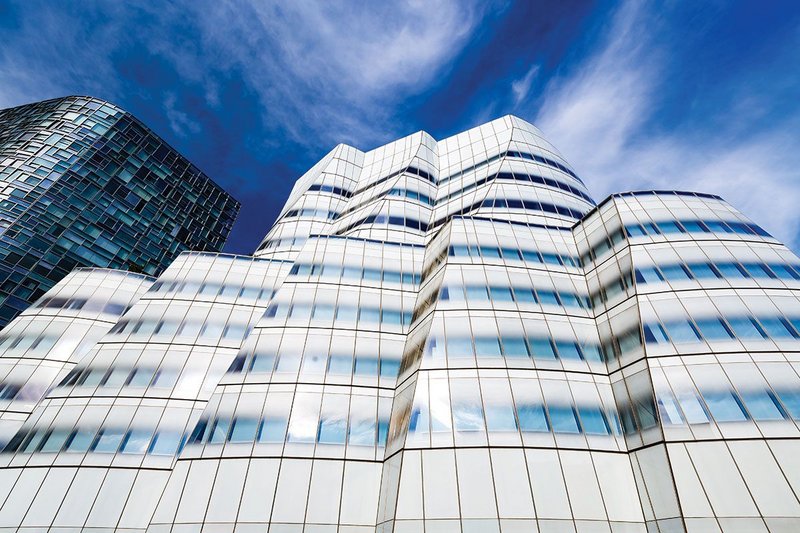 While talking in superlatives about her love of architecture and the desire to 'capture the expression and dignity of buildings', Mary­land photographer Dee Thompson isn't giving up the day job quite yet. Her father having worked in construction, she might have grown up surrounded by drawings of plans and elevations, but Thompson has been a lawyer for 30 years, currently an attorney to the US government, specialising in contract and environmental law. The latter, she claims, 'drawing you into notions of space and context', spurred her on to attend the technical courses that would help her to dev­elop her second, photographic, skill set. 'I've always appreciated legal nuance – how law is about extrapolating base arguments to align them with higher principles,' she tells me. Perhaps that's why she believes that no single image can capture a building. 'In a different light they change to take on a particular look or character': nuance indeed.
Holding that thought, Thompson fully intends to return to Frank Gehry's 10-storey InterActiveCorp (IAC) headquarters in Manhattan's Chelsea district, the 2007 building that preceded his impressionable 2011, stainless steel clad skyscraper, 8 Spruce St. This is altogether a more subdued creature; a sail-like, white-glazed facade billowing out over a large part of its city block, its expansive feminine horizontality counter-pointing the brusque, melted masculinity of his later tower. Thompson wants to shoot the building at night when it takes on a different guise and can be read in silver bromide negative. Asked which of them is more appropriate for the Big Apple, the jury, it seems, is out. 'They are two very different structures telling two very different stories,' she says – just like the best Judge Judy dilemma.