Jestico + Whiles maintains a healthy respect for Nottingham's past with its bold leisure regeneration project at the former Boots' site
With 14.5ha of derelict land and a decade of development ahead, where to do you start? At the old Boots manufacturing base in Nottingham, now dubbed the Island Quarter, the plan was for a landmark building at the site entrance with a hotel. But as Jestico + Whiles worked through it with client and landowner Conygar Investment Company, a new project emerged that would bring the city into the area for good food and live events. It is like a meanwhile use on steroids, an activation of the place. It is called number 1. Of course.
Island Quarter, previously Boots Island, has been problematic for the city for many decades. By 1993 Boots was planning how to redevelop its old manufacturing zone but in the end chose to sell instead. It is bordered by big roads – the A60 and A612 – the Nottingham and Beeston Canal and a railway line. There have been plans, of course there have; it is minutes from Nottingham mainline station and it's just a couple more than that into the dense brick of the Lace Market and then the city centre. But it is not an easy location. Typically, for post industrial land, it had been home to gasholders and even now a gas pipeline runs through it above ground. It has roofless warehouses of bricks from Nottingham Patent Brick Company and lots of buddleia.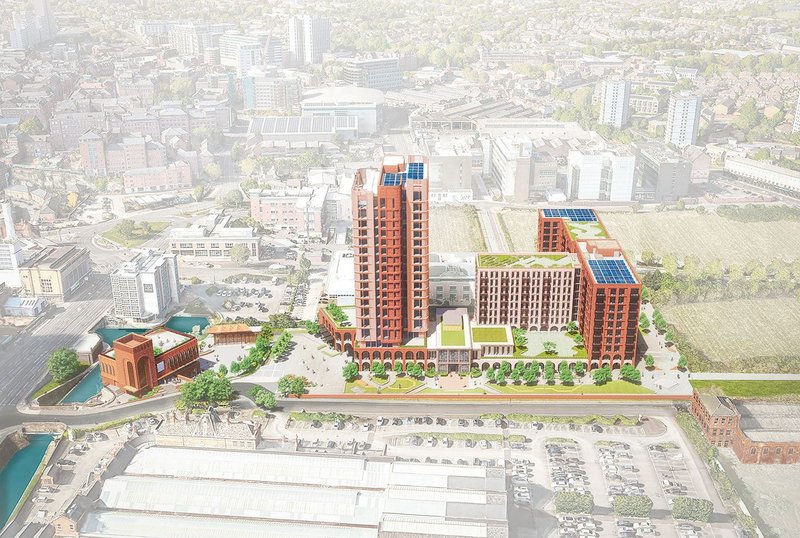 Number 1 sits on the city centre corner of the site, with Jestico + Whiles' 'blended use' building to the west. The site extends behind.

Credit: Jestico + Whiles
Perhaps the most decisive factor in ensuring that number 1 was no larger than 1,782m² was the discovery of a major Victorian sewer running through the masterplan envelope that Jestico + Whiles inherited from masterplanner Leslie Jones. And nobody wanted to risk breaching the 10m exclusion zone of an active sewer. So now there was a smaller structure to be designed, tucked into a corner alongside the canal. These restrictions have actually made for a good building that has a town scale rather than that of a supercharged regeneration area; therein lies much of its charm.
The project's other special ingredients are the brickwork and canalside location. Here it is impossible to avoid the father of Nottingham's Victorian architecture, Thomas Chambers Hine. Opposite number 1 is a Virgin Active Gym, its running machines whirring beneath the canopies of Nottingham London Road Low Level station, a Hine's building. Although that's rather twiddly for modern tastes, it's easy to trace the influence of its arches on number 1. You see that influence again on walking through the Lace Market to Jestico + Whiles' calm and generous interpretation of round arches on the Adams Building, also by Hine's. An outsize arch acts as a beacon at the front of the building. Early plans for glazing to mark out the stair tower were scuppered by concerns for overheating, leaving just a ghosted-out shape in brick with a slim stripe of glass that somehow works as a convincing composition. Caged plant at the top level justifies the stair tower's extra height, giving it a comfortable presence. At low level the arches create a colonnade effect alongside the canal, but keep their elegant length with brick piers reaching down across the plinth to touch the towpath.
James Dilley prefers to think of design as being about experience rather than architecture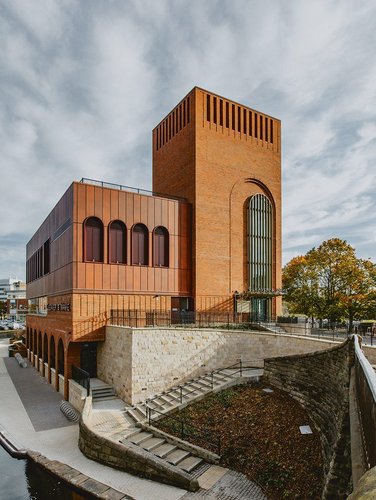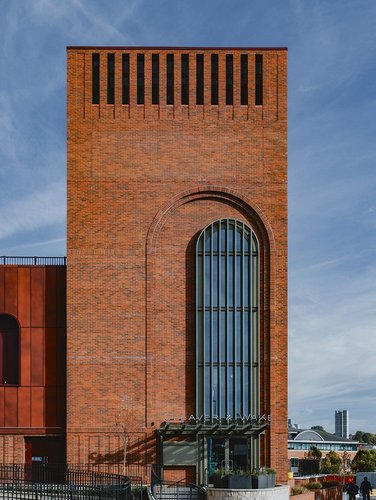 This meeting of building and canal has been eased by a widening of the towpath and the removal of a 3m high engineering brick wall that cut the canal off from its surroundings as it leaves the city. Instead, a gentle slope now rises to a protected, sunken gathering space bounded by a bandstand (and a substation, though you wouldn't notice) and the café and takeaway bar of Binks Yard at number 1 on the other side. Studying it closely, you see the hard work resolving numerous levels but it feels like a natural space, and a good one to catch the sun, or the last of the evening light glistening on the canal.
Like Hine's corn warehouse on the site, Jestico + Whiles' building reduces its scale as it rises, the arches taking a slimmer form in the Corten-style aluminium cladding on the top floor. In here is the event room, which has city views from St Mary's Church to the local incinerator chimney. All arches have effective, directed uplighters emphasising their shape. In the middle of the building a band of glass marks out fine dining at Cleaver & Wake.
Jestico + Whiles director James Dilley prefers to think of design as being about experience rather than architecture. 'We have blended uses, not mixed use, now,' he says. Hospitality lies at the heart of so many building types, from laboratories to retail – perfect for a practice with a strong line in hotels. This 'handshake building', he says, is intended to do just that, while fronting up the east-west route and sporting a linear park. 'It is a theatre of arrival to animate the Island Quarter,' he says.
Conygar is taking that theatre seriously. It acquired the site in 2017 – it is the investment company's biggest by far, and so far it has retained the bars and restaurants rather than letting them out. Its spokesperson describes it having a 'long term commitment to the site', including retaining the student housing that was already under way. That doesn't seem to have translated into any significant push for high performance sustainable building however. It has a concrete frame – local contractors weren't up for tendering on a hybrid CLT frame – with air conditioning and the option of natural ventilation in the event space. Carbon wasn't part of early conversations, although overheating was. And of course there is fossil fuel – Michelin-aspiring cooks still use gas.
In the meantime Conygar and Jestico + Whiles have planning approval for a far larger building next door, where the language of arches will continue around the base with a forum for bars and restaurants; build-to-rent homes and offices will fill the rest of the building. A bid for the Levelling Up Fund to help with bringing the 183m of listed warehouses to life with trees popping out of them and a rooftop tree nursery has been unsuccessful, which is a shame, not least because it would have unlocked a substantial chunk of the site for housing. Huge blocks of student housing are already out of the ground and a bioscience building is also planned, as is an update on the plans from Studio Egret West later in 2023.
I haven't talked about the interiors or the build, taken on by CPMG as executive architect and Macaulay Sinclair as interior designer. It is clear there were some decisions where cost, supply issues, or perhaps aesthetic confusion took precedence. This means some critical points just miss the mark: the stairs are just on the wrong side of bling, floors and skirting boards are a rather excruciating hotchpotch of terrazzo types, the window frames of the events space are chunkier than they should be, and paving gives no sense of solidity or investment. These types of little details on the first finished building undermine confidence in the long term quality of it and the Island Quarter. But they are also things that Conygar could avoid in future with some simple moves. I hope it does; Nottingham's Island Quarter is a really significant development for the city.
IN NUMBERS
Total contract cost £9m
Cost per m² £5050
Restaurant building 1,782m²
Annual CO2/m² 38 kg
Form of contract Design & build
Credits
Architect Jestico + Whiles
Executive architect CPMG Architects
Interior designer Macaulay Sinclair
Client The Conygar Investment Company
Structural engineer Tier Consult
Civil engineer BWB Consulting
M&E consultant Elementa
Environmental consultant Elementa
Transport consultant Axis
Landscape architect Axis
Acoustic consultant Elementa
Project manager WES Consultancy
Main contractor Sir Robert McAlpine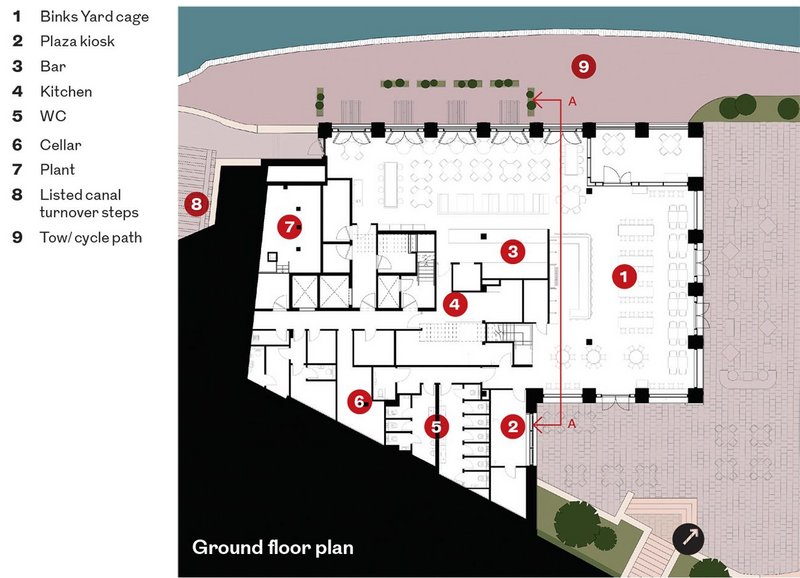 Ground floor plan.

Credit: Jestico + Whiles