Stair at the Fondazione Feltrinelli, Milan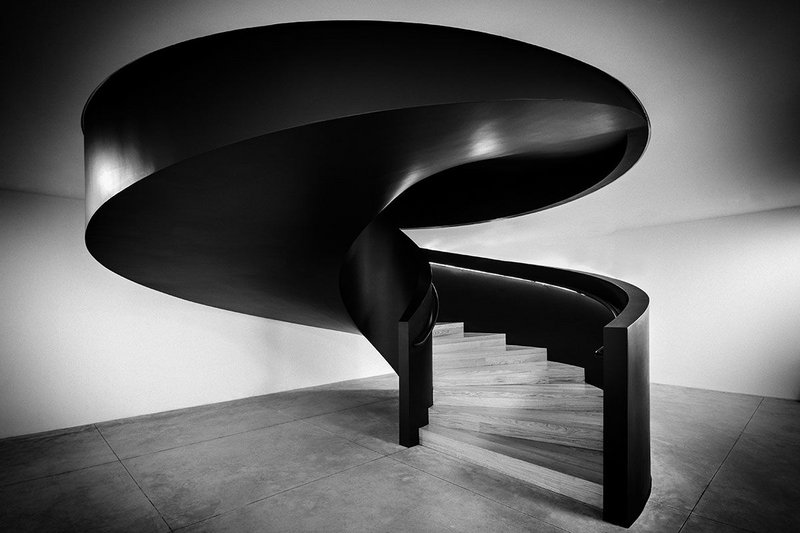 Given that she's devoted a whole series of images to the study of the liminal space bet­ween floors, one can safely assume that Slovenian photographer Danica Kus has a bit of a thing about stairs; more specifically, those by Herzog & de Meuron. Kus has photographed the firm's work at the Tate Switch House and Madrid's Caixa Forum, among others. In this image, she concentrated on its spiral at the Fondazione Giangiacomo Feltrinelli, a Milan-based research body dedicated to the study of contemporary society. 'Staircases appear extraordinary to me – like the journey of life,' she says, explaining the impact of this one's dark, slow vortex. The basement that it descends to from a spacious lobby above was a constricted volume and the spiral's indulgence surprised her. But capturing it was, like the journey of life, beset with difficulties.
'The staircase was huge but the space was tight. I had to resort to a 17mm wide-angle lens which caused enormous distortion – until I managed to find the "sweet spot" where the room and stair form felt right relative to each other,' she recalls. Kus may have been reminded of a wreath of smoke as she pressed the shutter – or not; either way, the shot is rendered in chiaroscuro.
Kus studied economics at Slovenia's Maribor University before moving to Brussels with her partner 18 years ago. It was only there that she discovered a passion for photography that she'd previously been quite unaware of.
'When I started to work in the red light of a darkroom it felt like entering another world,' she recalls. So perhaps her stated desire to photograph the grand spiral stair of H&dM's Blavatnik School of Government at Oxford would feel, in every respect, like coming full circle. Life's funny like that.