Peter Barber made a rare foray into brick to extend and refurbish Thames Reach Employment Academy, mixing traditional materials with contemporary methods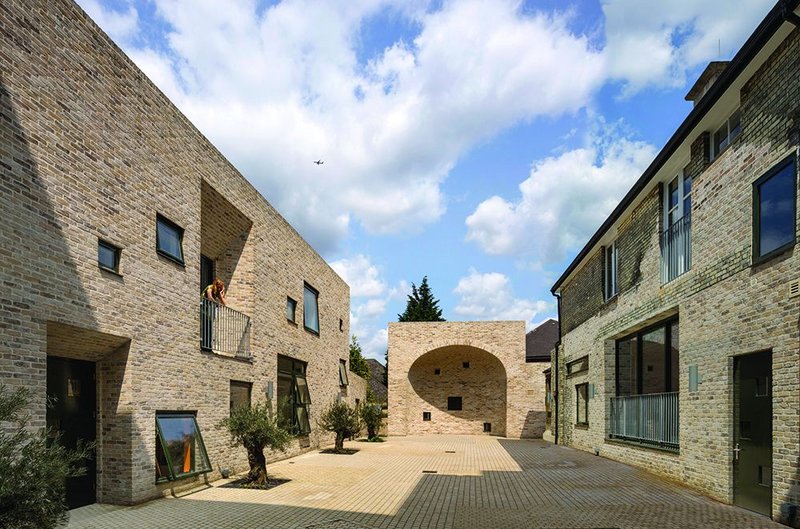 A new courtyard, formed at the rear with a mixture of new and old accommodation, is the heart of the new training and employment advice facility.
As master of the crisp, rendered form, Peter Barber is not generally known for his work in brick. But when it came to refurbishing and extending a distinguished Arts & Crafts-era listed building for the Thames Reach Employment Academy in south London, contextual brick seemed most appropriate.
'I'm always interested in an architecture that looks heavy and grounded, even when working in render. I like the idea of a building with a look of permanence about it,' says Barber, who enjoys the resulting patchwork of old and new brick and the addition of new picturesque forms.
The project was to provide training and advice facilities for homeless and long term unemployed people at the Poor Law Guardian building in Camberwell, designed in 1904 by ET Hall, architect of the Liberty & Co store on Regent Street, among many other buildings. The new addition needed to work well with the original, refurbished building as well as providing appropriate accommodation and spaces that might facilitate informal, chance encounters with the clientele.
The architect suggested removing a deep extension at the rear of the building and creating an L-shaped courtyard flanked on one side by a rebuilt wall to the existing structure. This wing contains a café run by clients training in catering industry skills. Opposite, a wing of new accommodation houses workshops for training in skills such as bricklaying and carpentry, beneath classrooms and lecture space.
Facing south, a brick domed structure described by Barber as an exedra, Mihrab recess or, less exotically, an external break-out space, completes the courtyard. Assisted by window seats, an inset terrace and deep reveals in the new wing, this new courtyard has become the social focus of the Academy.
The existing building was characterised by turrets and mini-towers to the east. Barber added a four-storey tower at the north end, providing office accommodation above a ground floor garage and backing onto the rear of the niche in the new courtyard.
While the front of the original building used a red brick, the rear utilised Cambridge Whites which the architect responded to with Wienerberger St Ives Cream Rustica brick.
'There is a re-emergence of brick as a material but a lot of what is used is quite hard and engineery,' says Barber. 'I was interested in a complex brick that was quite rustic with immense variety of colour that looks old fashioned, as if it could be a local brick.'
Construction is a mixture of traditional masonry and contemporary methods, including bricks bonded onto a fibreglass carrier for the vaulted brickwork.
The project also involved restoring the original red brick and stone facades of the main building, which was for many years occupied by Southwark Council.