The UK's first large-scale affordable housing scheme built to Passivhaus standards shows that sustainable homes can be made available to those who need low running costs most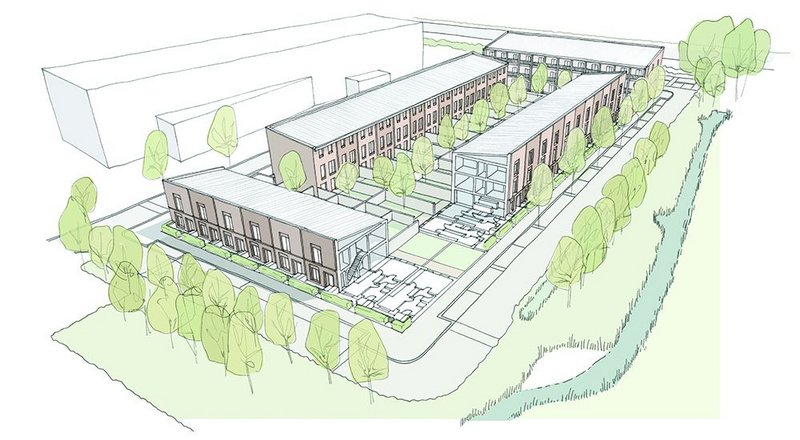 The Rainham scheme is set out as a block, with the arrangement of the elevations taking advantage of orientation.
Faced with either paying the rent or keeping warm, many social tenants will be tempted to choose the latter, leading them into arrears. This gives social landlords an incentive to introduce energy saving measures when building new homes. Many now see the Passivhaus approach as the best way to achieve environmental and social goals.
A Passivhaus scheme in Rainham, east London, is attracting government interest – from housing minister Kris Hopkins to Richard Blakeway, housing advisor to London mayor Boris Johnson. It is one of the projects being monitored by the Zero Carbon Hub as part of its work to develop a strategy for building zero carbon homes by 2016.
New Road Rainham is designed by Maccreanor Lavington Architects and based on a partnership between Circle Housing and developer and main contractor Climate Energy Homes, which acquired the former brownfield site from the Greater London Authority. The project aims to demonstrate the potential of the efficiency standard in an £8.1m new build affordable housing scheme.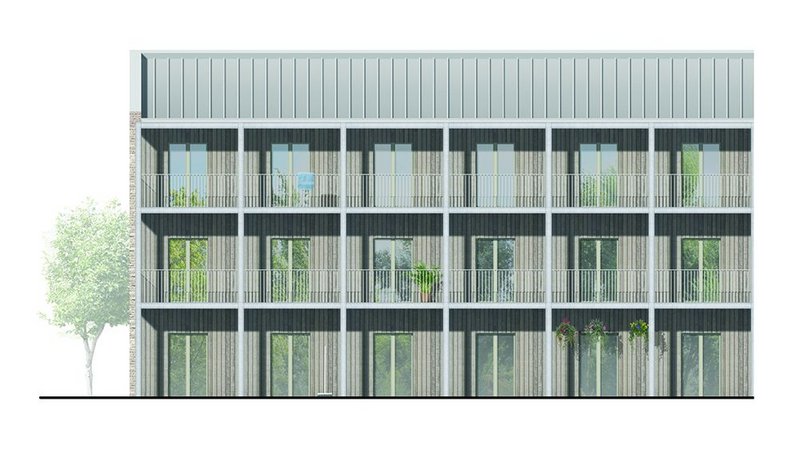 The southern elevation gives living room spaces the benefit of the sun while the continuous veranda provides shade.
Mark Bradbury, development consultant at Climate Energy Homes, claims the development will be the first Passivhaus-certified, 100% affordable housing scheme in the UK. 'There have been one-off or very small pilots, not all of which have achieved certification and most of which have gone significantly over budget,' he says, 'But we believe this is the first full scheme to be delivered as 100% affordable and all to Passivhaus standard.'
The Rainham project also marks the first use of Climate Energy's ecoTECH build system – a structurally insulated timber framed panel system designed by CEO and founder Christine Hynes – on a Passivhaus scheme. The firm is confident that the factory assembled building system will achieve the rigorous standards of airtightness and thermal insulation Passivhaus requires.
'We went for Passivhaus certification to demonstrate that with our build system we could achieve the standard at a lower cost, more quickly and more easily,' says Bradbury. 'Circle Housing was also keen to partner on the project as energy bills are a major issue for its tenants and building energy efficient houses at the outset will reduce the need for retrofitting in the future.'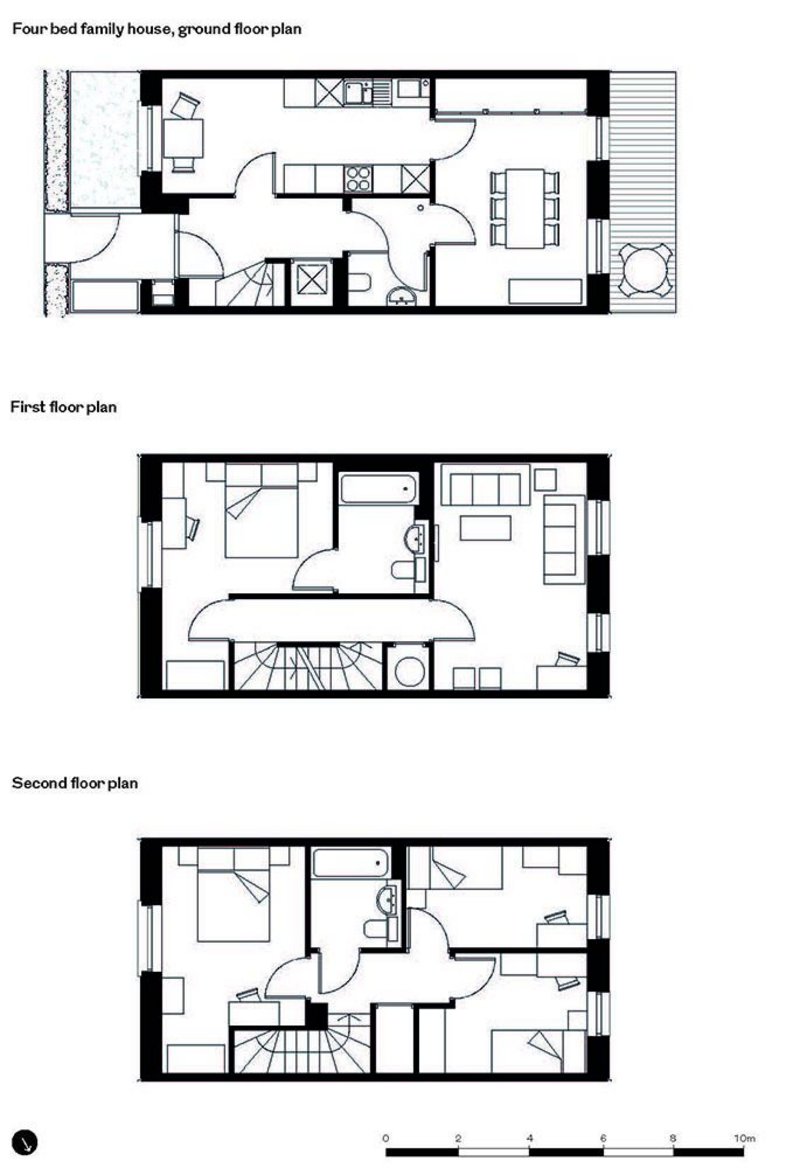 The project will provide 51 new affordable rented homes of one, two, three and four-bed dwellings. Four brick buildings will form a rectangular block: three of two or three storey terraced housing, and one of flats set over three storeys. Each house has front and back gardens; each apartment has its own balcony.
Future occupiers of the Rainham scheme can look forward to reduced energy bills. ­Sally Godber, director at Warm, the scheme's Passivhaus consultant, anticipates a 90% reduction in heating energy over current building regs. She says the largest houses, with a net floor area of 114m2, will typically use 1,700 kW per year. Tenants will only pay around £100 a year for heating, for which the scheme's airtightness has to be below 0.60 air changes/hour at 50pa. This measurement is roughly comparable to 1m3/hr/m2, which is used by building regulations.
Getting involved at pre-planning stage meant Godber could influence key changes to ensure the development met Passivhaus standards. For example, on the front elevations of the townhouses the number of windows was cut from two to one at each level. This reduced the amount of glass used by around 30%, but also shortened the linear dimension of frame – the weakest point in terms of thermal conductivity. All windows are timber-framed and triple glazed. 'We spent a long time looking at these aspects which can make a huge impact on the energy and comfort of the buildings,' says Godber.
This was Maccreanor Lavington's first foray into Passivhaus, although Gerard Maccreanor had designed and built his own home to Passivhaus standards in the Netherlands. Dominic Milner, project leader at the practice, says they relished the opportunity and learnt a great deal from it.
'We were keen not to deliver an eco-hairy-shirt-looking scheme,' says Milner. 'We wanted it to be quietly sustainable, not brag about its credentials. Sally [Godber] became involved at just the right time, because we'd reached the limit of our knowledge. With the massing and orientation set, she helped us examine the elevations and get advice on complying with the Passive House Planning Package pre-assessment. Sally did both the Fabric Energy Efficiency assessment and the daylight assessment, which was beneficial because thermal and daylight performance criteria can conflict. This means a smaller percentage of glazing is likely to ­provide a more thermally efficient facade, but larger windows admit more daylight'.
Godber's advice meant the apartment block underwent most reworking. Its essential rectangular shape remained, but it had a complicated floor plan using recessed balconies which didn't line up between floor levels, so the architect completely redesigned the internal layout. The result is a building of a simpler form with fewer cores. Bedrooms are now on the cooler, north side, while the living space is on the south with access to a continuous verandah which prevents overheating in summer and allows low angle sun in winter.
'There was a huge amount of complexity in the apartment block and what the architects have produced is fantastic,' says Godber. 'They listened carefully to our comments and took on board how to incorporate them'.
The scheme is expected to be complete by summer and Warm will continue to monitor its progress, along with practice BDG Design (South), as Maccreanor Lavington was involved only until planning. It is the first time many of the sub-contractors have worked on a Passivhaus scheme, but Godber is confident it will meet the criteria given that factory constructed elements are mainly being used, which have had a fairly consistent quality.
Future tenants, as well as Circle Housing, will be hoping that Rainham delivers on its promise of warm and comfortable living that doesn't break the bank.
Credits
Client Climate Energy Homes/Circle Housing
Architect Maccreanor Lavington
Sustainability engineer Warm
Structural engineer BRP Associates
Planning consultant RPS
Project manager/cost consultant PRP
Contractor and developer Climate Energy Homes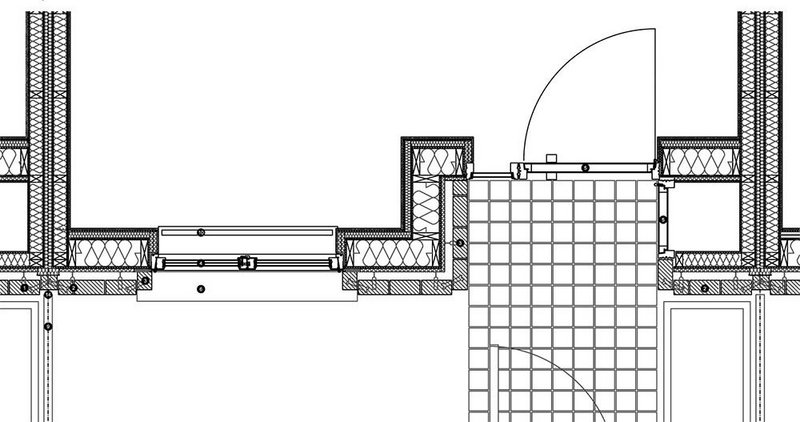 Maccreanor Lavington's drawing of the panels in situ
Affordable Passivehaus
EcoTECH is a factory made, structurally insulated, timber framed panel system. It is designed to deliver the fabric energy efficiency credits of levels 4, 5 and 6 of the Code for Sustainable Homes. An enhanced design with thicker insulation (210mm thick panels) has also been developed to meet stringent Passivhaus standards for the Rainham scheme. U values here will vary across the site, from 0.10W/m2K to 0.15W/m2K – generally roof and floors will achieve 0.10 and walls 0.15. The scheme has been cost benchmarked by EC Harris, comparing a traditional build at level 4 of the Code for Sustainable Homes with ecoTECH Passiv. EC Harris estimated that the cost of the overall scheme (just under £1,400/m2 on this brownfield urban site) using the ecoTECH system to achieve Passiv build, will be 6% cheaper than a traditional build at level 4. After completion of Rainham, EC Harris will carry out another cost comparison on the actual costs. Mark Bradbury, development consultant at Climate Energy Homes, says the company is confident the cost savings of the ecoTECH build system versus traditional build will remain at around 6%, with a 50% programme saving.
---