Wright and Wright adds another tower to Lambeth Palace's historic collection with a subtle, solid and respectful new library building
'Jam factories', they used to call them. Long before the modern variants of architectural insult ('academy for secret police', 'alien spaceship', 'prison' etc) the 'jam factory' put-down was applied to various modern civic and cultural buildings in brick. Most notable of these was Elisabeth Scott's Shakespeare Memorial Theatre in Stratford-on-Avon, which opened in 1932. I've wondered if there was an actual prominent jam factory somewhere to which these buildings were being compared. I suspect not. Why jam, anyway? Why not chocolate, or baked beans?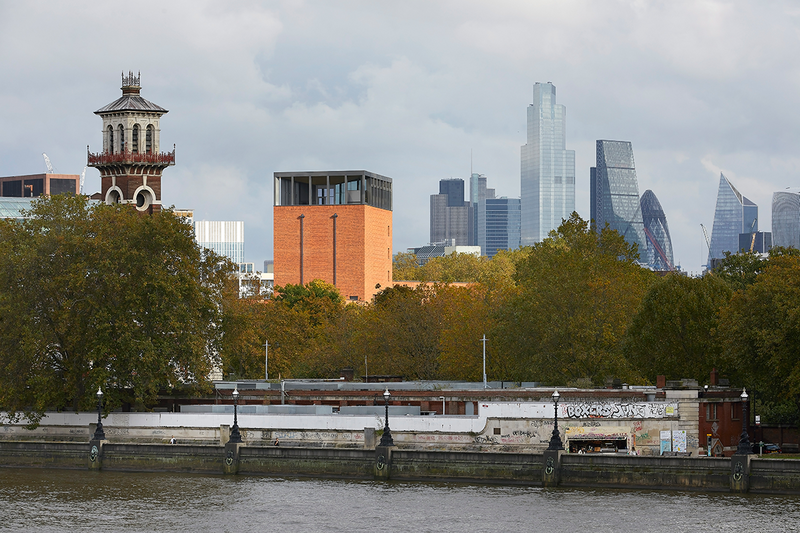 There is a new tower in town and it is not like the other ones. Credit: Hufton + Crow
The new Lambeth Palace Library by Wright and Wright (profiled here) is a bit of a jam factory on that curious basis, then. Its hand-made brick laid in various textures is rather better than the inter-war examples and includes 'Bishop bond', a recessed cruciform pattern, and the use of random blue headers: both of these are nods to the old palace. It has the equivalent of a blocky fly tower, it has the relevant paucity of fenestration, it has the merest touch of restrained glamour in the lofty foyer, it even has the cast-iron rainwater hoppers and downpipes that you saw on Scott's theatre. It has duly attracted some criticism from the keyboard warriors who like to reach for their architectural analogies ('like a railway signal box' was the oddest) generally homing in on its industrial look. As in the jam-factory era, the objection seems to be always that the building in question does not look like what it is, but something else which should be somewhere else. As if everyone instinctively knows what a museum-conservation grade archive building by a river in the vicinity of a medieval ecclesiastical complex should look like.
The Church of England wanted a straightforward building. Nothing fancy, because that would have looked self-indulgent. But good: robust, long-lasting, not over-complex or energy hungry. This is, in fact, as much of an industrial as a cultural building. Beneath the brick skin it is in-situ concrete. The tower rises to nine storeys, with flanking wings of four and five storeys topped with a lot of PV panels and terminating in staircase towers which visually narrow the ends. It is just a fraction higher than Hopkins' Evelina Children's Hospital opposite, so that you can see over it. Only two of these levels – ground and first – are busy with people, plus a seminar room and viewing platform at the very top of the tower. The rest is storage of the collection, floor after airlocked floor of rolling steel shelving, still being filled when I visited pre-lockdown 3. Hence the lack of windows. No basement levels because to go deep like the British Library, here right next to the Thames with its flood risk, was considered unwise: another client caveat. There were some late tweaks post-Grenfell such as the inclusion of a second staircase in the tower which ate into the space but even so there is 20% expansion space for the collection.
So this building is not very densely inhabited, with a maximum staff of 38 and perhaps 120 visitors if all reader and seminar seats are taken, plus a number wandering around the public areas. You could call the place a cold store, if you wanted to wind people up with another analogy. Though a cold store with a relatively small but imposing double-height reading room, a low rear wing of conservation studios, much-improved garden landscape by Dan Pearson incorporating an enlarged lake (originally put there by Rosalind Runcie in the 1980s) which helps with the building's cooling. There will be public access to the foyer and mezzanine where there is some exhibition material on display in satisfyingly old-fashioned glass display cases. For special events, you will be able to ascend to the roof terrace which has one of the best views in London. But it's mostly a by-appointment kind of place, certainly not a tourist destination. No café. No access to the palace gardens behind which you can glimpse through the building from the street – unless you work at the Evelina, in which case you are welcome. But the rest of us can get in there on open-garden weekends.
The plan is cranked at the main core rather more than the curve in the road at this point demands, so the east wing peels away from the street to allow a wedge of landscape. The plan is also relatively narrow so as not to take any more land than necessary. And besides, as Clare Wright points out, Lambeth Palace – HQ of the Archbishop of Canterbury and the Anglican Communion worldwide – is all about towers which have accumulated since medieval times, so the case for height was there. Of course the Church Commissioners had debated whether the library/archive should be here at all, or housed off site somewhere – Swindon is always mentioned in this context, as it is well-connected and so many cultural institutions have their stores there. The collection was previously divided between the palace itself and an outpost in Bermondsey. But on this the Church made up its mind: the collection, which is an unparalleled insight into not only British history but of the Church worldwide, should be built in the palace grounds, which itself is just across the river from the Palace of Westminster. Church and state: the collections intertwine the two. For instance they have the prayer book of Elizabeth I and her execution warrant for her sister, Mary, Queen of Scots.
Wright and Wright has done one of its garden-wall buildings, placing this in line of descent from its library projects at Magdalen and St. John's Colleges in Oxford. It was undoubtedly the firm's experience working with historic buildings and gardens – especially libraries – that won it this job. It is a building with no back really, given that its entrance, and a projecting glazed visitor gallery, are on Lambeth Palace Road, but it does act as a defensive barrier to that busy road. This is noticeable. I have been in the Archbishop's garden previously and what should be a kind of contemplative paradise was somewhat degraded by the constant noise and fumes of the passing traffic. On the garden side, the new building embraces the much-improved landscaping and shelters it from this. The well-daylit conservation studios in particular benefit, looking across the lake, while the long views down the garden from the palace are preserved. It might be large, but it's still a garden outbuilding in spirit, set well away from the palace proper.
Inside, the reception and reading room are somewhat British Library in feel – modern with an awareness of history, a few well-chosen materials (stone, brick, wood, bronze, brass). The entrance foyer is an exercise in cruciform design, the weight of the tower and its stacks above taken by four stout brick-clad columns and a massive concrete slab forming the ceiling. This in turn is incised crossways, the centre marked by a circular light fitting with brasswork details. The Christian symbolism is clear enough.
Overall this is a subtle, rewarding building and landscape, acknowledging its workaday function while enriching it as a place of study and of huge cultural and historical value. If it's a jam factory, to paraphrase Inigo Jones, it is the handsomest jam factory in England.
---
IN NUMBERS
£23.5m contract cost
5400m2 area plus extensive landscape works
6.55g CO2/m3
24.6% on site energy generation
300,000 bricks
22km shelving
BREEAM Excellent
Traditional JCT 2-stage contract
Credits
Client Church Commissioners for England
Architect (design and execution) Wright and Wright
Landscape architect Dan Pearson Studio
Structural engineer Price & Myers
M&E engineer Max Fordham
Cost consultant Fanshawe
Project manager Stuart A Johnson Consulting
Main contractor Knight Harwood
Suppliers
Bricks Ibstock Swanage
Window systems and doors Schueco
Shelving Rackline
Lifts Schindler
Architectural metalwork and chandelier MCJ
Bespoke furniture Benchmark
Blinds and curtains Soltech
Fire suppression misting system Fireworks