Gollifer Langston's Garden School in Hackney, London, is one of the last Building Schools for the Future projects. It's a good place to grow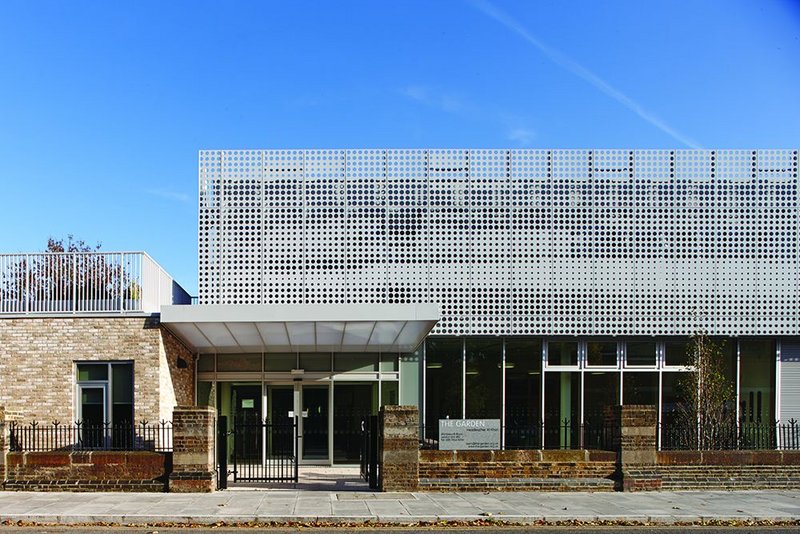 A punched facade unifies staff room and main hall above a more open ground floor.
A warm white block, with holes punched into the aluminium facade, the Garden School in Hackney is one of the last vestiges of New Labour's Buildings Schools for the Future programme. But more importantly for the autistic children of this deprived London Borough, it is a place of care and safety where visual timetables and an expertise in the pedagogy best suited to them can be administered. Architect Andy Gollifer inherited the outline for a scheme that united primary and secondary special needs schools onto one site, among low rise Victorian terraces.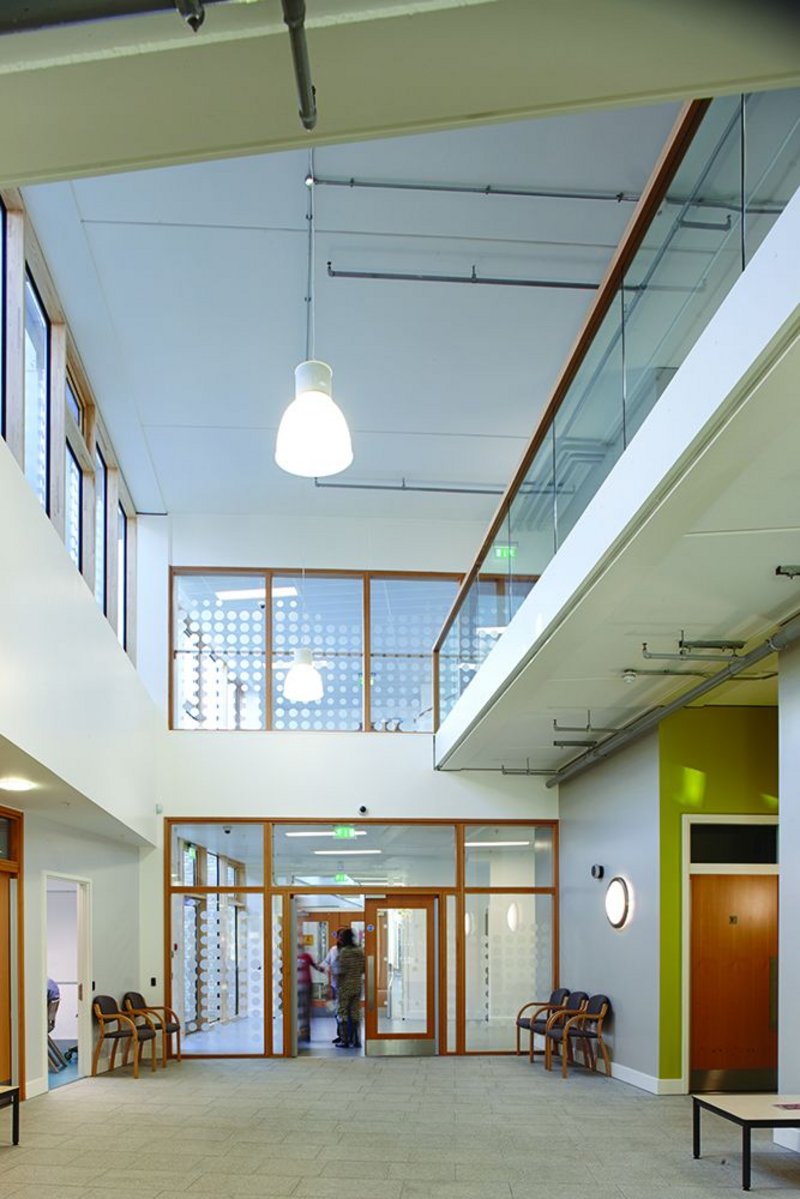 Double height spaces in the foyer and at the knuckle of the building bring in light and give it a lift.
Headteacher Kt Khan might describe the children as challenging but so too were the neighbours, confronted with a bulk of accommodation and the needs of its pupils. In a move that worked for school and pupils as well as locals, play areas will be edged with insulating layers of green calm once the 32 trees and plants chosen for their sensory properties have grown. The front of the school was brought forward to face an adjacent small park. Unlike its heavy set predecessor crouching at the back, the front terrace tucked behind a historic wall suggests openness and this is the intention – a cafe is to follow. One level up, a terrace for the 100 or so staff overlooks the park one way and low school roofs, rubbled and planted brown-roof style, the other.
Inside, control is ever present in air lock delays on the front door, the minimisation of electrical sockets and a high adult to pupil ratio. But it is downplayed, with positive behaviours suggested rather than enforced by the design. A wall projecting into the classroom entrance helps reduce the sudden fearful experience of open space. Withdrawing rooms with low light and study carousels give a better chance for concentrated study. Wide corridors allow students to be accompanied by a member of staff each side if necessary.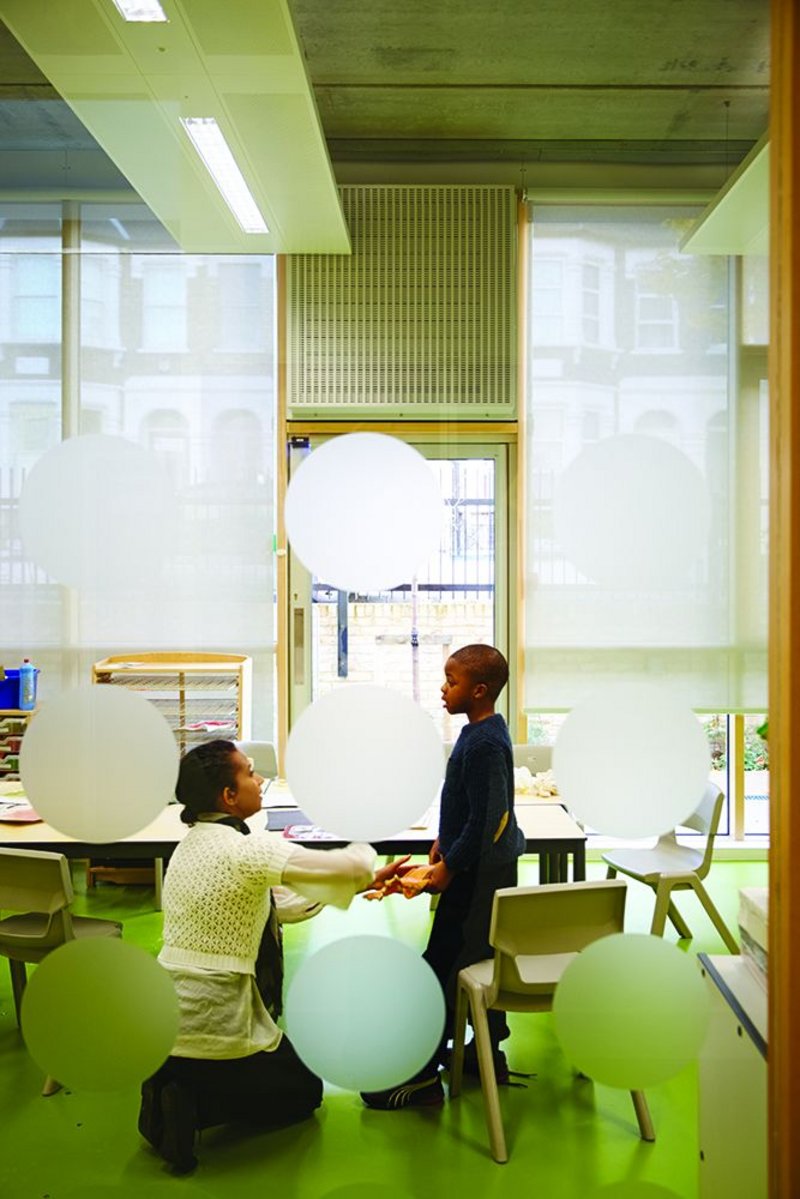 Primary school classrooms are sunk a little below street level in deference to the nearby terraces, but create a sense of a sheltered space.
Sturdily-fenced small external spaces under canopies has children bouncing off excess energy on trampolines even on a wet day. And, despite the sheer effort of creating a space and materials with it that are robust enough to withstand the daily punishment of these troubled children, there are moments of lightness and beauty throughout the building: the double height entrance, long east-west corridor for older pupils, little bits of borrowed light, good simple materials used with timber-framed curtain walling inside and warmth to the bricks. Gollifer points out that many of those materials are now off the standard list for schools use. As someone who was in on the start of more than a decade of educational investment with City Learning Centres (RIBA J February 2004, page 29), and has now seen it out, he has real fears for the future of school buildings. But while the children of the Garden School are here they will be well looked after.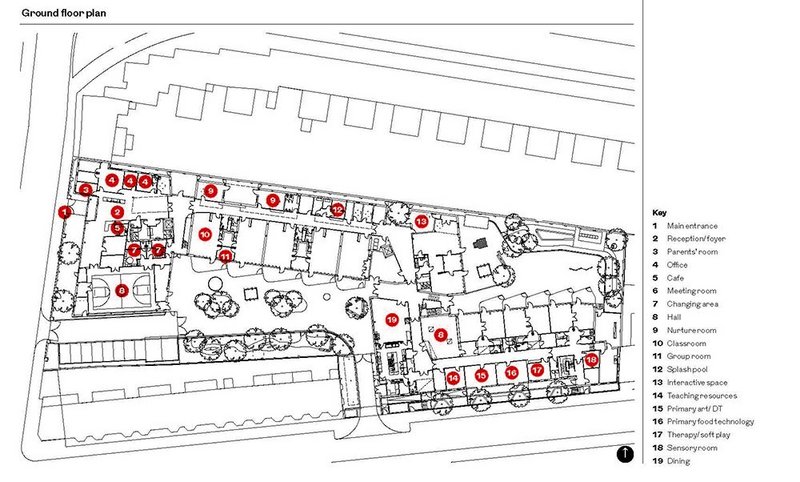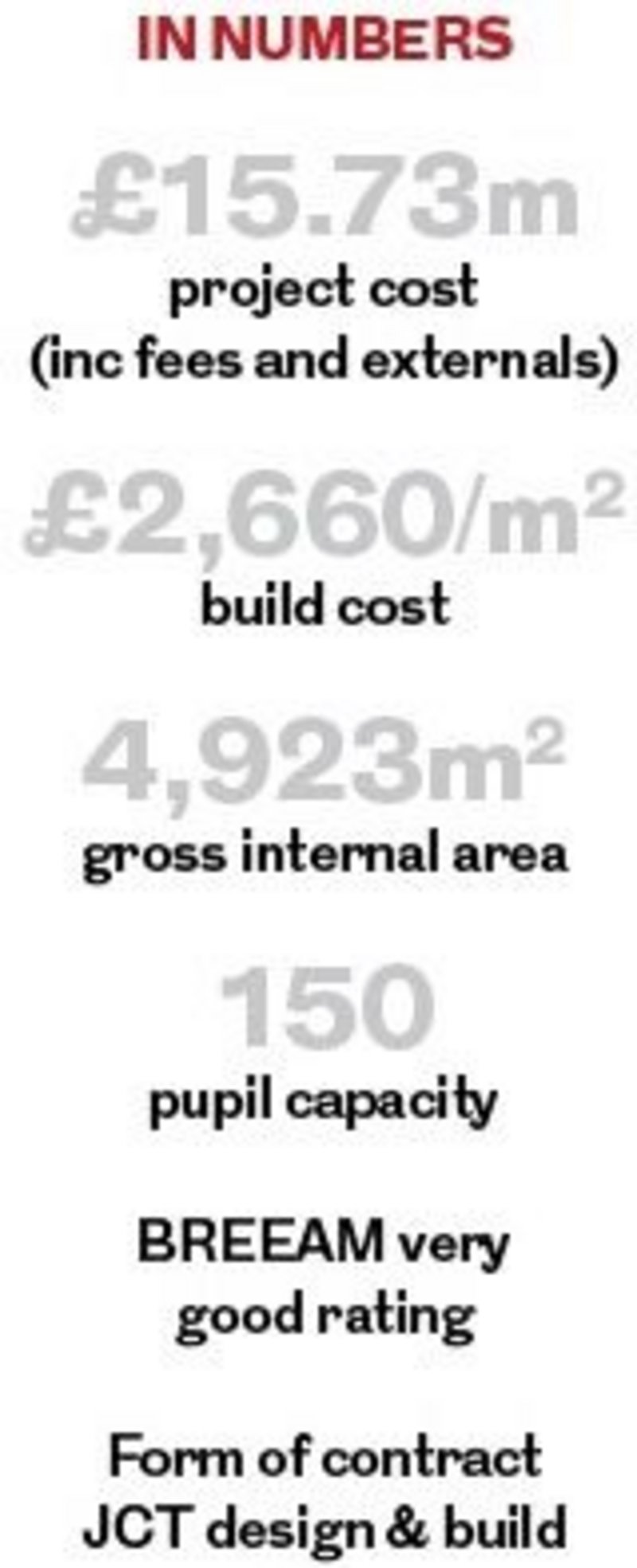 Credits
Client London Borough of Hackney, local education partnership with Mouchel Babcock Education
Contractor McLaren Construction
Architect and landscape Gollifer Langston Architects
Structural engineer Mouchel Structures
M&E / sustainability Max Fordham
Cost consultant Cyril Sweett
Transport consultant Mouchel Transport
SEN educational specialist PSI; Liz Malcolm
Suppliers
Polycarbonate Duko UK
PV panels Evo Energy
Floor finishes Flood Flooring
Brickwork Grangewood
Timber flooring Junkers
Lifts Kone
Internal doors M&S Contractors
External doors Martin Roberts
Metsec framing Drytech
Windows MIS Architectural Aluminium