A striking colour scheme and canal side imagery give strong character to reorganised school spaces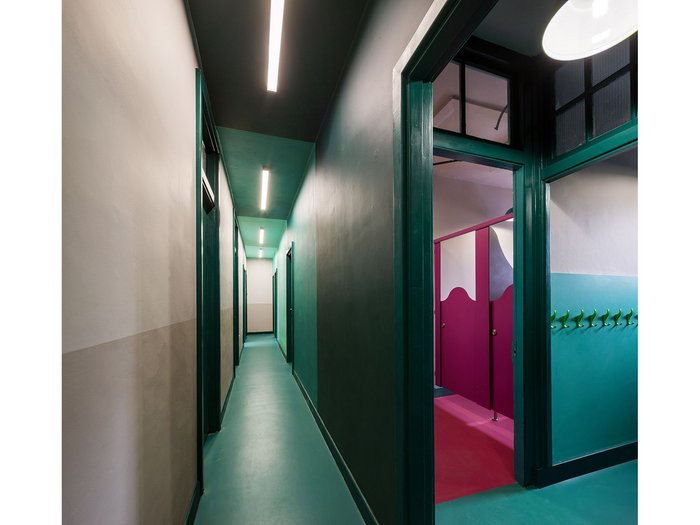 Tucked along the tight edge of the Regents Canal in north London, Rosemary Works School is Aberrant Architects' first school design. But the topic is something the practice had been thinking about even before it was commissioned by the independent school's governing body, with its investigation into Oscar Niemeyer's Brazilian standardised school building programme for Venice Takeaway at the Venice Biennale in 2012.
While there are few standardised elements in the reordering of the interior of these Edwardian buildings and various accretions, a lot of thought has gone into how the next phases can be plugged in with as little disruption as possible. Already, spaces around the school are populated with playroom structures drawing on the canal side language of barges. The design also borrows the vertical datum of Edwardian walls that we are all so familiar with – walls divided into three by the dado rail and picture rail with frieze above – to zone the walls with elements for children down below, for staff above and plainer surfaces at the top.
Soanian circulation from the dark corridor into the light of learning.

· Credit: Simon Kennedy

Progressing from on colour to another.

· Credit: Simon Kennedy

Science and art classrom with radiators in turquoise.

· Credit: Simon Kennedy

Science and art classroom, the furniture matching the paint schemes .

· Credit: Simon Kennedy

A glimpse of planes, complexified by colour.

· Credit: Simon Kennedy

Entrance, no primary colours here.

· Credit: Simon Kennedy

Settling down to work in the nursery room.

· Credit: Simon Kennedy

Columns a bold reminder of the building's past.

· Credit: Simon Kennedy

Playing boats inspired by the canal barges outside the window.

· Credit: Simon Kennedy

Forget blue and green should never be seen. Add a bit of purple as well.

· Credit: Simon Kennedy

Pipework and windows in pink against the blue background of wall and floor.

· Credit: Simon Kennedy

Reception class, the right hand wall naturally splitting into three parts.

· Credit: Simon Kennedy
Avoiding primary shades with a restrained brightness, the colour scheme is striking. It is the colours that pull you from one room to another in a mildly Soanian way, the dark greens, blues and greys making internal corridors worth travelling. Pipework, cisterns and radiators are picked out in contrasting colours – an acknowledgement of the older elements of the building, their colours strong against more recessive wall colours. Nooks and window seats have been added, modulating the larger spaces of the classrooms. On a very tight budget, with limited space for manoeuvre, Aberrant has given great character to the spaces.