Mons wanted an icon and Libeskind – with H2a – has obliged, but beneath the characteristic exterior it's a pretty familiar layout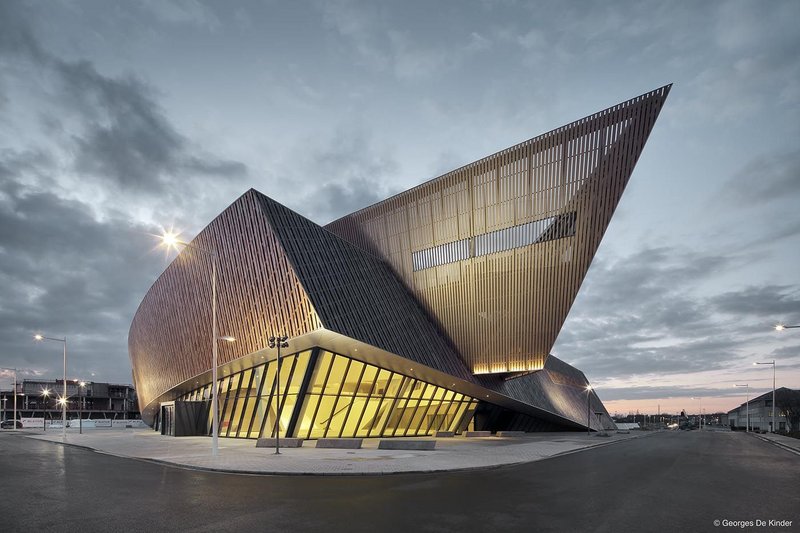 Icon duties accomplished, but what is it pointing towards?

Credit: George de Kinder
Daniel Libeskind is an architect who comes with a weight of expectation. His work is still widely thought to be full of portent, and understandably: this is the legacy of his early work such as the Jewish Museum in Berlin, Felix Nussbaum museum in Osnabruck, and of course his masterplan for Ground Zero in New York, where he is based. As a long-time 'paper architect' who finally got to build, he is assumed to base his work on strong theoretical foundations. We expect the often startling geometry of his buildings to be generated by something vaguely psycho­geographical. But in the Belgian city of Mons, he has done none of these things. Studio Libeskind is these days a 100-strong generalist architectural practice with a signature style and a 30-person office in Milan, run by Libeskind's son Lev. So nobody should be amazed that it can turn out relatively run-of-the-mill commercial buildings such as this: the Mons International Congress Xperience (sic) or MICX.
Like arenas, the conference centre is just one of those newish building types that every city has to have. Holding meetings is an industry in itself, something powerfully attractive to a post-industrial city such as Mons in French-speaking Belgium. The city wants to make itself a profile for business. So naturally it wanted a high-profile building. And since the city is a European Capital of Culture this year, a new building by a star architect – rather than the more typical dumb boxful of auditoria, big rooms and break-out space – is just the ticket. Having won the competition Libeskind duly threw some shapes, but nobody's pretending this is an especially significant building. Icon assignment completed, move on. But actually it's quite practical.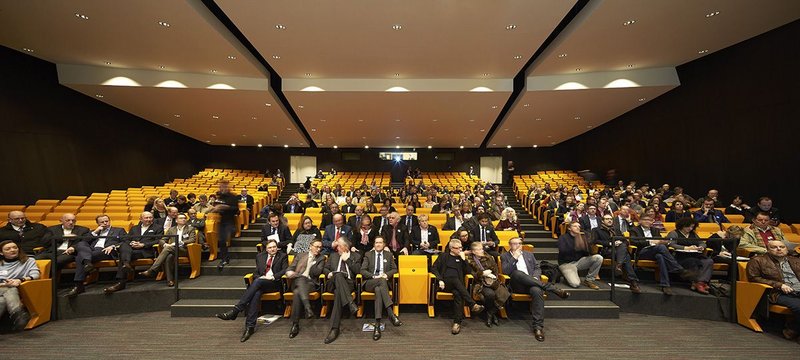 Look hard and you will see Daniel Libeskind in the front row of the main auditorium.
Arriving by train in Mons, you immediately see a glaring image problem when it comes to Capital of Culture presentational gloss. There's meant to be a new railway station by Santiago Calatrava there, but they are barely past the ground-slab stage. You can see the €27m MICX across the tracks, but the pedestrian bridges that will take you there haven't been finished yet. So you have to take a taxi a long way round. What this tells you is that the site of the MICX – and the complete regeneration area alongside it and beyond it which it heralds – is an attempt to reclaim that liminal wrong-side-of-the-tracks territory that most such cities have. Mons proper is set up on a nearby hill, hence its name: these lowlands with the railway and the sadly neglected River Haine were beyond the pale.
The form of the concrete-framed building is less complex than it appears at first glance, being nearly square in plan at the base where maximum numbers of people assemble. As it rises, however, it gradually turns into an ellipse, expressed by two interlocking spirals – one clad in widely-spaced timber (Robinia) strakes over a black waterproof membrane, the other in similarly-coloured pale bronze aluminium slats of the same dimensions. Libeskind's aim is to populate the exterior as well as the interior of the centre: so on the side facing the city (where the delegates go, while the centre's administration is on the other side), you can emerge onto a timber deck which then leads you up steps to a green-roofed enclosed garden and thence to a typical Libeskind device, a viewing platform with mesh floor expressed as an arrow shooting out of the facade.
Trouble is, views are better from the terrace on the town-facing side, where you are not caged in by the structure. The arrowhead is really there to express the dynamic of the swirling composition, and tellingly a simplified version of it is now the MICX logo.
Inside? The usual schedule of accommodation is followed: a three-level building totalling 12,500m2 with capacity for some 2000 people, and a parking garage beneath. There are three auditoria of differing sizes and good-feeling acoustics, various meeting rooms, offices, break-out spaces. A large milling-around area on the ground floor leads to an informal catering section. Libeskind and his co-principal Stefan Blach have introduced some variety in the form of a grand stair – treads in the local bluestone which also features in the paving outside and in. The half-landing at the turn of the stair is a room-scale space in its own right, a place for informal chats as you gaze down at the throng below. What with this feature stair and the rather good yellow-orange auditorium seating (made by Poltrona Frau) in faintly Deco manner, there's a bit of a Busby Berkeley sense of occasion imparted. It could easily be a multiplex cinema. Low-energy in use through geothermal heating, heavy insulation and photovoltaics, it has achieved Belgium's B Valideo status, equivalent of BREEAM Excellent.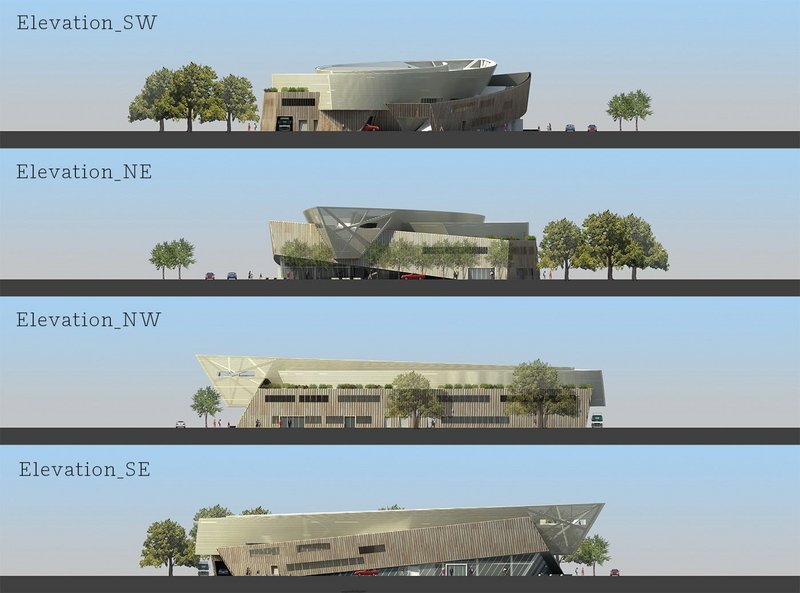 It is a relatively low-budget, design and build, affair, which saw Studio Libeskind working alongside local architecture firm H2a Architecte & Associés. As he observed at the opening, 'It's a public building – we had to be wise with the resources we had – in a design-build project you have to be very flexible.' That means that the fine materials are concentrated at the points of maximum population, while things get very ordinary away from the limelight. Again, like an Odeon. Might they start a film club here I wonder?
---
IN NUMBERS
Cost: €27m
Total floor area: 12,500 m2
Outside terrace/viewing platform 470 m2
Auditoria of 500, 200 and 100 seats
16 meeting rooms
160 m2 of photovoltaic panels
157 car parking spaces
3 floors plus one parking
Credits
Client City of Mons
Architect Studio Libeskind (USA) in association with H2a Architecte & Associés (Belgium)
Structural engineer Ney & Partners
Acoustic engineer Venac
Electrical engineer Putman (Belgium)
Mechanical engineer Energys (Belgium)
Facade engineer Somec Group
Auditorium seats Poltrona Frau
Doors: Svedex