Lightroom in King's Cross is a four-storey space for immersive installations, opening with an exhilarating multiscreen dive into the work of David Hockney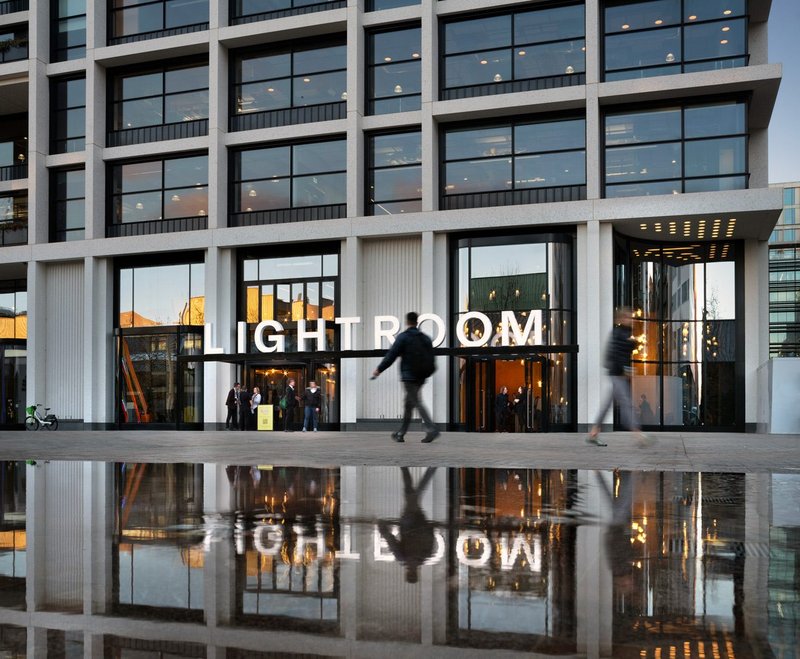 Exterior of Lightroom, a new immersive venue designed by Haworth Tompkins.

Credit: Philip Vile/Haworth Tompkins.
'It takes a huge amount of work to create a space that's almost featureless.' So says Haworth Tompkins director Roger Watts about Lightroom, an immersive art venue completed by the practice at London's King's Cross. Watching the opening show, David Hockney's Bigger & Closer (not smaller & further away), the mesmerising nature of the images ensures that the last thing on anyone's mind is the minimal setting, nor indeed the huge effort that went into creating this spatial blank canvas.
Housed in the base of an AHMM office building, Lightroom overlooks one of King's Cross's new public spaces, Lewis Cubitt Square. The space was never originally intended for these sorts of performances. Instead, it was planned as a sister theatre to the London Theatre Company's Bridge Theatre at London Bridge, also designed by Haworth Tompkins.
AHMM duly provided a four-storey box within its new building but, during the pandemic, plans for it to be used as a theatre were shelved. Instead, London Theatre Company collaborated with design studio and production company 59 Productions to create a 'fully projectable space' for temporary immersive installations, with capacity for 380 people in promenade. As well as showcasing the creative work, the hope was to redefine the relationship between viewer and artwork.
The new space presented the design team with two key challenges. Firstly there needed to be a foyer and circulation area to serve as acclimatisation zones, mediating between the outside world and the largely subterranean venue. Secondly, this venue had to deliver a suitably neutral environment for a variety of projection-based shows.
Lightroom's foyer and circulation areas quite deliberately share a material palette and restrained elegance with The Bridge. Whereas in the latter, an array of copper-mesh pendant lights creates a distinctive foyer when viewed from both outside and inside, at Lightroom, a similar tactic is used with 280 paper lanterns by Static Light Company. Conceived as a 'cloud' over the stairs, these preside over a gathering space of seating/café space arranged around a staircase leading to a lower foyer. At the rear, the outer face of the top of the performance area is clearly visible, its walls covered in copper-toned plaster. A copper-topped high table wraps around the timber staircase.
The journey continues from the lower foyer via a long ramp, building anticipation and allowing the audience to adjust to the lower light levels required before entering at the bottom of the performance space.
'The longer route really helps to separate you from the outside world and get your eyes trained to prepare yourself for the experience,' says Watts.
This takes place in an 18.5m-wide, 26m-long, 12m-high box with moveable seating arranged informally around the floor. At the back, a raised bank of seating has a dual function: it also conceals the lift equipment needed to access the many video projectors.
Haworth Tompkins worked hard to create a smooth neutral backdrop for the projections and to conceal all services – banks of speakers are hidden behind fabric screens within the concrete walls. The floor is carpeted to allow people to walk around during the performance if they wish without disturbing others with their footsteps. It also provides a pleasant place for those who want to view from the floor, including young children, who enjoyed rolling around on the projected images during preview shows of the Hockney show.
Watts expects the gathering area to be well used, not only before a show but afterwards, as people discuss what they've just seen. 'Foyers are really important spaces in their own right,' he says. 'You need somewhere to prepare yourself to face real life again.'
The Hockney show is, as Watts puts it, 'a work of art in itself' which is both powerful and moving. Many in the art world deride the concept of immersive art as a showy gimmick, and critics have generally given the show a lukewarm reception, disappointed variously with the choice of content, the style of presentation and the lack of critical input. I'm not sure this is fair. Hockney himself is both co-creator and narrator, and that is what gives this art experience a massive edge over presentations of work by long-dead artists. We are seeing what he wants us to see, and hearing about it from the artist himself. It is true there are no critical voices, but would you really expect that? This is not a documentary, rather art as cultural entertainment.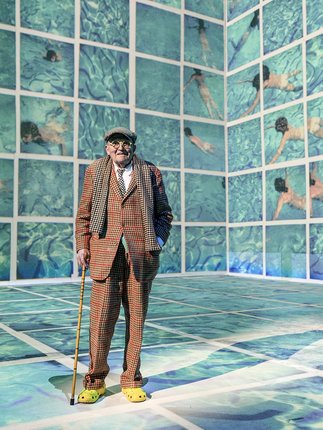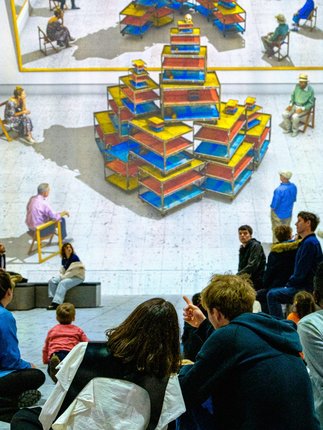 For me, the overwhelming impression is an exhilarating dive into Hockney's work with the artist as our guide. Taking in drawings, paintings, photographic collages, theatre design and his recent iPad designs, this is by no means exhaustive – you may not glimpse your favourite Hockney painting – and it can be elusive, with the hour-long loop of presentation ensuring that the dizzying images appear and disappear at pace, when you may have wanted them to linger longer. Certainly, it leaves you wanting to see more of his work in more conventional settings, and surely that's a good thing.
In the future, Lightroom may yet fulfil its original theatre destiny. Until then, it provides a new type of venue to add to the lively mix in this new quarter of London.
David Hockney: Bigger & Closer (not smaller & further away), until 4 June, 2023, Lightroom, 12 Lewis Cubitt Square, London, N1C 4DY
Credits
Architect Haworth Tompkins
Structural engineer Momentum
Services engineer Cundall
Project manager Bristow Consulting
Quantity surveyor Bristow Consulting
Contractor Borras Construction
Fire consultant OFR Consultants
Approved inspector: AIS Chartered Surveyors
Acoustics Cundall/Gillieron Scott Acoustic Design
Catering Keith Winton Design
Foyer lighting Static Light Company