Maccreanor Lavington craft a virtuoso mega-facade using advanced offsite techniques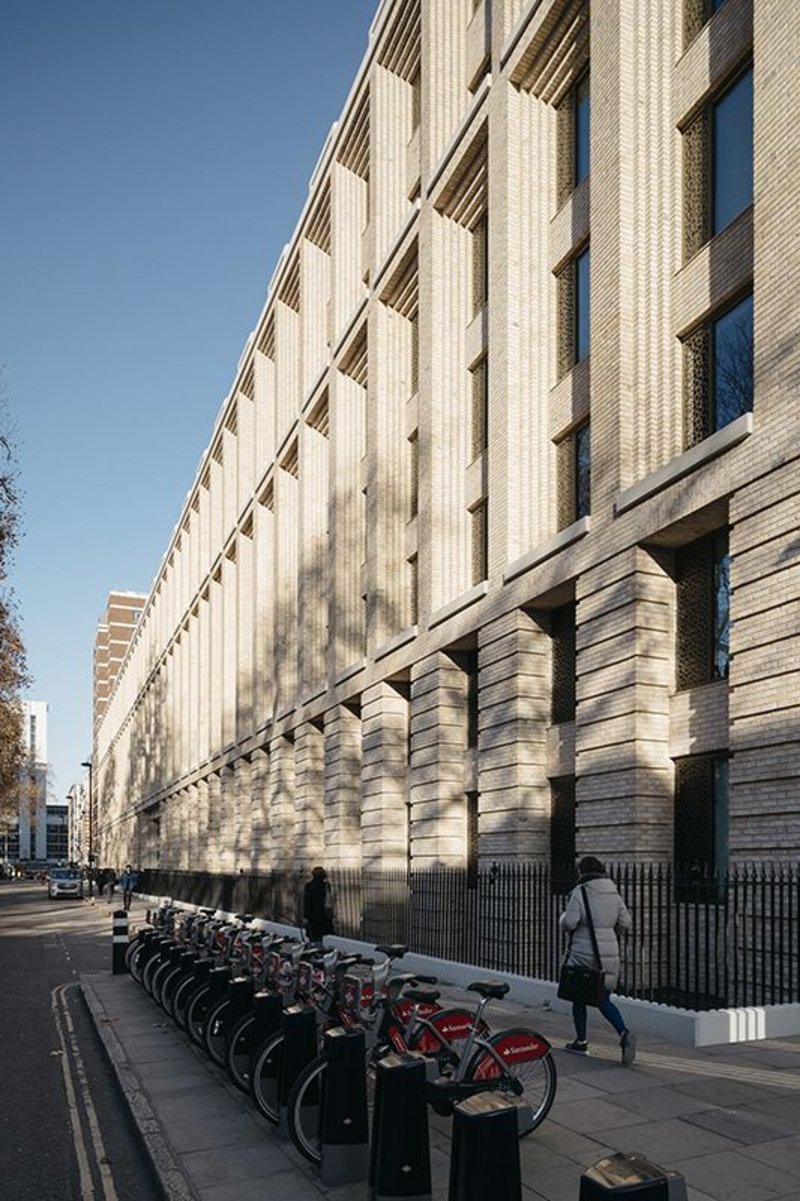 View North along Cartwright Gardens, a stripped classical composition.

Credit: Tim Crocker
There is nothing wrong with facadism when it's a facade as good as this, by architect Maccreanor Lavington for the University of London in Bloomsbury. With an area of 4,500m2, 118.5 metres long by 28m high (nine storeys excluding basement), it is a megastructure in itself. Behind it are 1,200 student rooms. Called 'Garden Halls', the frontage of this £140m development was made in chunks offsite.
You might think that this slot-together approach would lead to a simplified, unsubtle or cheap-looking design, but far from it. Whether you see it through the trees across Cartwright Gardens (a Georgian crescent, just south of King's Cross) or walk right past it, there is no hint as to the factory-made nature of this very sophisticated, highly modelled brick cliff. 181,000 bricks, since you asked. It happens to be an object lesson in articulation, breaking down what could otherwise be the daunting bulk of a huge hall of residence into visually pleasing units.
Ground and first floors are expressed as an engaged, rusticated colonnade, bricks being recessed every fifth course to achieve the effect. These mutate into two giant-order bands: third to fifth floors, and sixth and seventh floors. Finally, eighth and ninth floors are expressed as attic dormers. A lower building on the corner of Leigh Street is done with punched windows in darker brick.
You want to know how they did it. Here's how: the building behind is largely by another firm of architects, TP Bennett, with the facade treated as a separate design exercise by the client, University Partnership Programme or UPP. The cost savings brought by concrete-section prefabrication allowed time and money to be spent on good Danish brick (buff waterstruck Petersen) while the close attention to the modelling of the loadbearing facade, especially the stepped brick details, means that there are far fewer movement joints necessary than on a 'traditional' site-laid brick facade of such a size – and the joints that are needed are visually 'lost' in the solid-and-void deep modelling. It is made largely of T-shaped prefab column-and-beam sections. Specialist precast subcontractor was Thorp Precast under overall contractor Brookfield Multiplex on a design and build procurement process.
The aim was to make a facade that appears to be monolithic rather than modular, and Maccreanor Lavington has succeeded in this aim remarkably well. For Richard Lavington, it's a matter of an appropriate modelling for a building of this scale which 'embraces the repetition inherent in the brief for student halls'. It does this with several window treatments and depth variations consistent with the overall facade design. So the overall composition is what you see, not lots of stacked rooms. This is of course a neoclassical device and indeed this is a stripped-classical building. It conveys a sense of restrained power. And it works down to detail level, such as the bronzed metalwork security grilles to the opening sections of glazing, and the area-basement railings.
In this way a very large new building in a conservation area improves it – not only because it replaces previous unsatisfactory 1950s and 1960s buildings, but because it does not try to be neo-Georgian, instead channelling the kinds of large commercial and industrial buildings that were inserted into such areas in late Victorian and Edwardian times. Goodness knows how many different facade studies were done before this was decided on but the end result is excellent. It is a pleasure to glimpse through the foliage or to stop and stare at: the pleasure of seeing a well-designed, well-made building that does not confuse size with scale.