Surman Weston's MacEwen-shortlisted house turned teaching kitchen, School of Food, provide foods education in schools at a time when child food poverty has become a national issue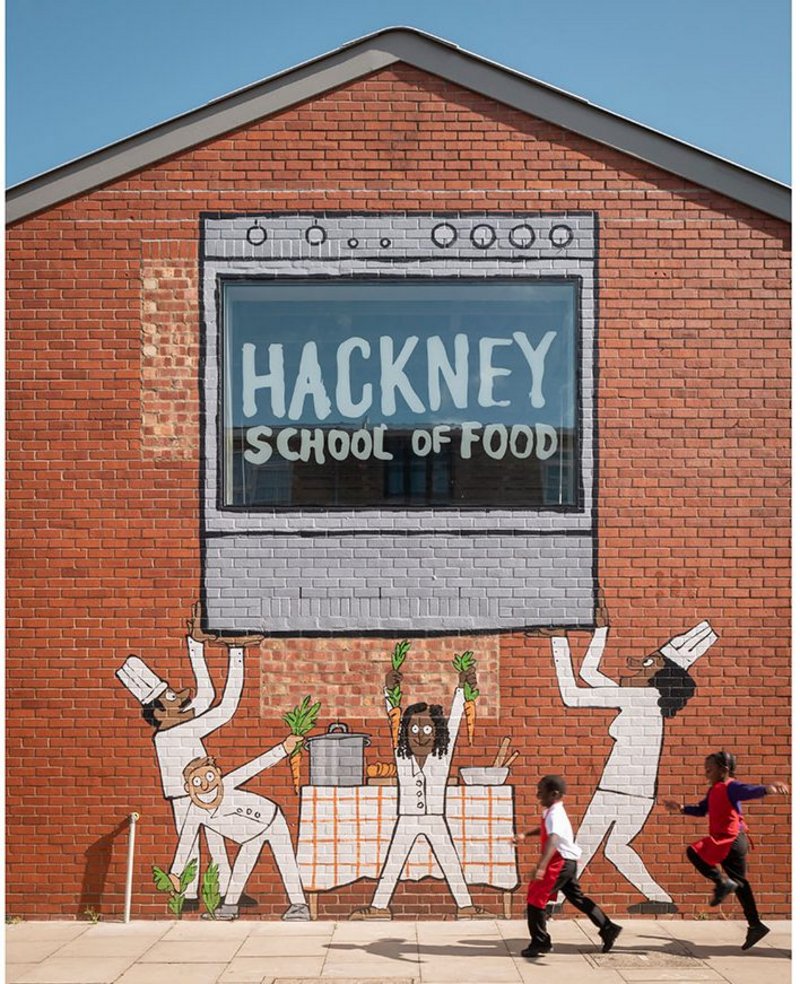 Hackney School of Food, designed by Surman Weston in Hackney, north east London. The mural gives the community building a clear public presence.

Credit: Jim Stephenson
Building Hackney School of Food
'They've done very clever things with quite a basic space,' says judge Hugh Pearman of the Hackney School of Food, a project to improve food education in schools.
Designed by Surman Weston in a former caretaker's house, this timely initiative is a partnership between the three-school LEAP Federation and charity Chefs in Schools, and is located at the Mandeville Primary School site in Hackney, north east London.
The School of Food's mission is to provide food education in schools at a time when child food poverty has become a national issue. As well as helping children learn about the connections between growing, cooking and eating, the facility trains school kitchen staff. In an area of high deprivation where 50% of primary school children are entitled to Free School Meals, the initiative seeks to engage in a fun, non-institutional way and to help stem incidences of dietary-related disease.
The school and associated kitchen garden were completed during lockdown, and although its opening programme was inevitably curtailed by Covid-19, it still managed to teach 600 children in 2020. As well as children from the LEAP Federation schools, these include classes from all over the borough, and it hopes to host 4000 a year when conditions allow.
For Surman Weston, the big challenge was the austere budget, especially given the need to accommodate the cost of asbestos removal and the technical specification for three-phase electric power and adjustable-height cooking units.
The practice didn't let this restrict its ambitions for the retrofit. While externally, the building still has the form of a house, inside it is transformed by the masterstroke of removing the first floor to create an impressive double-height single space. The space is structurally reinforced with perimeter beams and its fabric is upgraded with new insulation, windows and doors. Yet traces of its domestic origins, such as the bathroom tiles, are still visible, adding interest and character. Lights draped around the space give a fun, celebratory touch that counteract both the rough and ready aesthetic of the walls and rafters and the clinical requirements of a professional kitchen. This is arranged around the perimeter and a central island unit providing 10 cooking stations, each for a group of three children.
According to Surman Weston director Percy Weston, both the kitchen and garden really come alive in use, with children enjoying harvesting, cooking and eating. A second phase is planned on the site and there are hopes that the School will be a prototype for further facilities elsewhere.
'Chefs in Schools is an exciting organisation to work with. It's been a very fruitful project – the most socially impactful we've worked on,' he says.
---
Credits
Cost: £309,000 (including landscape, cooking equipment and services)
Landscape and external works: 237m2
Cost/m2 (buildings): £3,843
Cost/m2 (landscape): £337
Client LEAP Federation and Chefs in Schools
Contractor Modernarc Ltd.
Structural engineer Structure Workshop
Services engineering consultancy Peter Deer & Associates
Graphic design and illustration Jean Jullien
Artist (mural and signage painting) Claire Ward-Thornton
Landscaping consultancy Miria Harris (stage 1), Lidia D'Agostino