Glancy Nicholls regenerates a former Thornton's sweet factory as a civic amenity in Belper's Unesco heritage site to reach MacEwen Award shortlist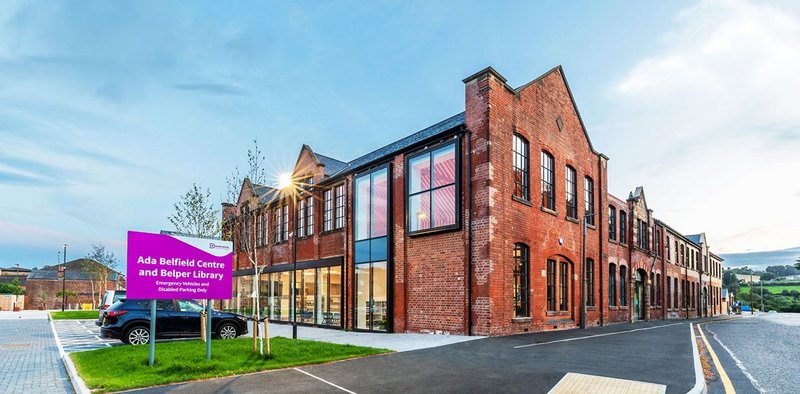 The one-time Empire Theatre became part of a factory complex and now houses Belper Library. Credit Glancy Nicholls Architects
This long-derelict factory complex is now a new public library, cafe and dementia care home in a part-newbuild, part refurbished complex with a new pocket civic square. It's in the Derwent Valley Mills Unesco World Heritage Site: great care was needed with what was built here.
It is a rare piece of public patronage, of good quality, alert to its context, on a long-derelict brownfield site. Opening up a previously inaccessible part of town, it is designed as a modest civic set-piece as much as a building. Viewed from up on the valley sides of the Derwent it sits well with the grain and colours of the town. Unesco need not worry. Nor did judge Kathy MacEwen, who declared, 'A library with a care home is a fantastic idea – both unusual and stimulating.'
Indeed, this is an unusual combination of uses to find. A public library is an obvious civic type, a care home not usually. Here they are contiguous and respectful of each other, reading as single building. Before its residents moved in, it functioned for a short period as an official small Nightingale Hospital, treating Covid-19 patients.
Birmingham-based Glancy Nicholls won the MacEwen Award in 2018 with another care home for DCC up the valley beyond Matlock. Practice co-founder Patrick Nicholls says it all comes down to the dedication of his clients' drive to radically improve the quality of such facilities in the county. Hence the quality of this project, delivered for around £3,200/m2. The library is much more accessible and better positioned than its forbear, overlooking a new pedestrian civic space with a new café strategically placed on its corner.
The stone public frontages of the library and southern flank of the care home give way to red brick, textured in various ways, on the wings of the care home behind. This picks up on the retained redbrick-with-stone-dressings facade of the old factory buildings which have an important value as part of the industrial and social history of the town.
This publicly-funded complex is likely to have a considerable catalytic effect. Having such a key public facility here will help encourage private development of a sympathetic nature on surrounding vacant sites. 'Its impressive that the local authority is willing to invest in the project and execute something worthy,' noted judge Sue Stringfellow. 'The public square is an important addition.'
---