John Gilbert Architects worked with Stewart & Shields to tackle fuel poverty and make the benefits of Passivhaus design affordable in its MacEwen shortlisted scheme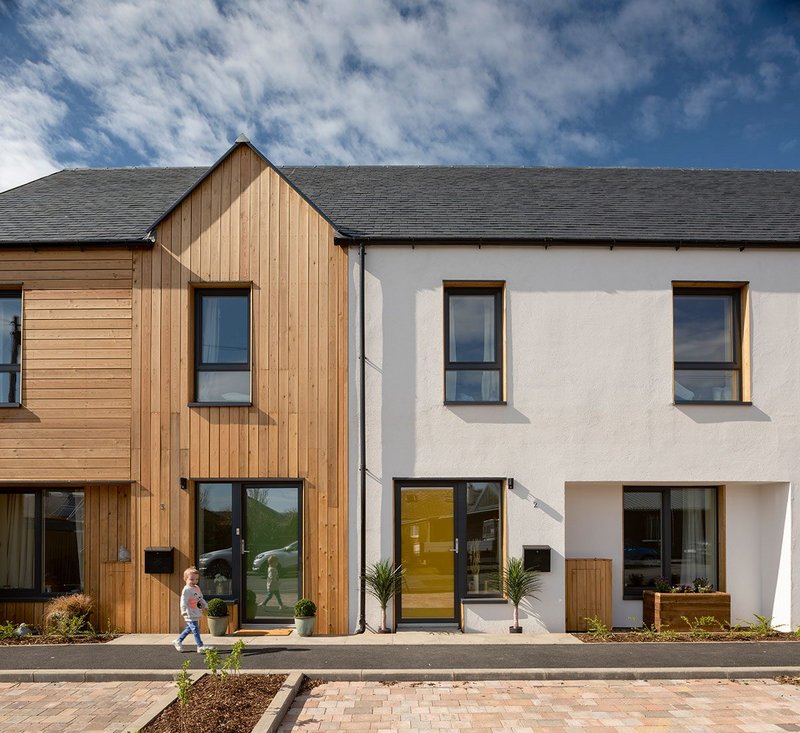 Springfield Terraace, a development of three Passivhoos houses for social rent at St Boswells for Eildon Housing Association. The houses were designed by John Gilbert Architects and built by Stewart & Shields.

Credit: Tom Manley
Building Passivhoos
Location Multiple across Scotland
Architect John Gilbert Architects
Building type Housing
Frustrated at the difficulties of realising Passivhaus homes for social rent in Scotland, Glasgow practice John Gilbert Architects and contractor Stewart & Shields set out to jointly develop an affordable design and build model.
The result is Passivhoos, a timber-framed system for Passivhaus homes. Five projects have been completed for community-based housing associations with 150 more units in the pipeline. As well as tackling fuel poverty, many are in rural areas, enabling young working families to stay in their communities.
'Eliminating fuel poverty is a key social aim of the project,' says Matt Bridgestock, a director at John Gilbert Architects. 'There are also significant health benefits of Passivhaus standards of construction as well as the sustainability benefits of reducing carbon.'
The largest Passivhaus scheme in Scotland so far has been eight units, which will be surpassed by two Passivhoos projects in 2021.
'There was a perception that Passivhaus was too expensive. We've shown that you can build it with the same money people are using to build the basic Building Regulations ones,' says Bridgestock.
The joint venture partners refined design and build processes. Stewart & Shields built full-scale prototypes of the houses in its factory, enabling the contractor to train site staff and 20 apprentices in Passivhaus techniques.
The team is now undertaking a three year research project (funded by Innovate UK) and has employed a dedicated design manager. Working closely with Strathclyde University architecture department, it aims to develop new processes and techniques to further improve performance and reduce costs. This includes research to improve air tightness between floors and reduce overall embodied energy. The Passivhoos team hopes the concept will enable a 'quiet step change' in the standard of social housing in Scotland. The aim is to scale up production to 50 units a year in two years time and 150 units in five years.
Judges felt the project proved Passivhaus was achievable for social housing.
'It's great – and important – to have a model of this type that's affordable and replicable,' said Kathy MacEwen.
Credits
In numbers
Area 95m2 (typical 3 bedroom house size)
Cost per m2 £1800
150 Passivhoos units in the pipeline
Architect John Gilbert Architects
Contractor Stewart & Shields
Engineer Design Engineering Workshop
Employer's agents NBM Construction Cost Consultants, Langmuir & Hay
Passivhaus support Highland Passive, Passivhaus Associates, Warm Associates