Conservation and innovative design underpins Hugo Hardy Architect's MacEwen-shortlisted restoration and transformation of Rectory Lane Cemetery in Berkhamsted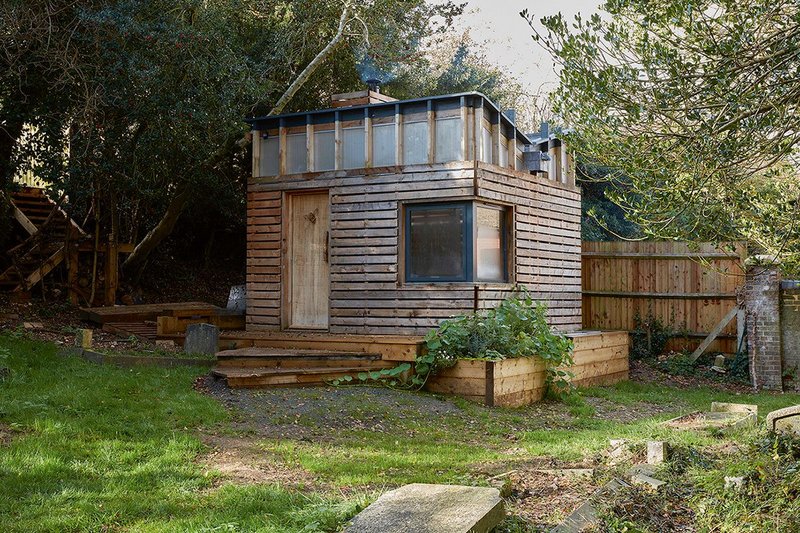 The volunteer hut at Rectory Lane Cemetery was built by the volunteers.
Building: Rectory Lane Cemetery
Location: Berkhamsted, Hertfordshire
Architect: Rectory Lane Cemetery Team including Hugo Hardy Architect
This is a three-year, £1 million National Lottery Heritage-funded project to conserve and landscape a neglected 1.2ha cemetery by the volunteer Friends of St Peter's Berkhamsted.
A unifying design by the landscape architect created three zones, with accessible paths and parking and estate fencing. There's a performance canopy, Celebration of Life wall, repurposed Sexton's Hut, a willow-woven 'sofa' and Volunteer's Retreat in the wildlife area – built by volunteers. There were different bespoke seating designs by Alder Brisco and Andrew Ingham of Denizen Works.
The judges were impressed with the 'intelligent' and 'subtle' spatial interventions. 'It turns around a space that normally feels daunting,' said judge Beth Bourrelly of BDP.
Conservation and innovative design has underpinned the transformation of this dead space. Events have been developed including 'The Graveyard Shift' and 'Seeing the Light'. The space is now used by more than 60,000 members of the community.
It as a resource, a living place: a place of pilgrimage, for interring ashes or adding beautiful glass tiles to the Wall to commemorate loved ones. People can connect with nature to restore health and well-being, exercise dogs, do Pilates or enjoy views and wildlife. The project weaves public participation, enjoyment and celebration with a restored sense of personal space, dignity and sanctuary.
One user wrote: 'You have created a very special place for our community ... each time I come here I've seen all sorts of people, from the youngest to the oldest and all in between, connecting with the beautiful surroundings as well as each other. A perfect combination of inspiration and reflection'.
MacEwen highlighted the importance of the cemetery as model public space: 'Local spaces have become really important in the last year. There are 30,000 struggling cemeteries and there's significance in seeing the potential of a cemetery, especially now we need to claw back all the public space we can.'
---
Credits
Client Friends of St Peters, Berkhamsted (Client)
Architect Hugo Hardy Architect
Landscape Architecture Above Zero, William Jackson Design
Additional architects Alder Brisco + Andrew Ingham, Denizen Works
Engineer Ian Stephenson
Willow art Hazel Godfrey
Glass Jessica Ecott
Engineering blacksmith Stokes of England
Ironmongery SDS
In numbers
Cost £1,250,000
Area 1.2ha (whole cemetery)
Cost per m2 £103