Portsmouth community centre repurposed by Pritchard Architecture from Treadgolds' heritage buildings, tools and machinery secures MacEwen shortlist place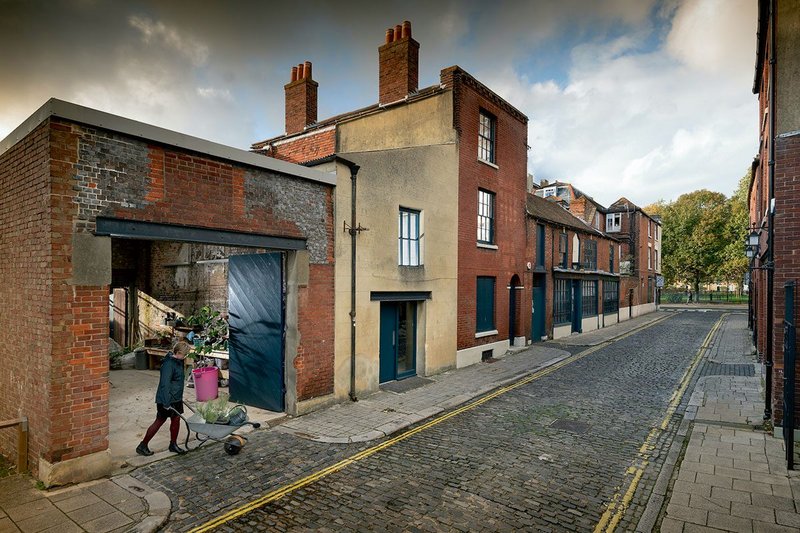 Ironmongery business to community centre in Portsea; the entrance to the community garden is visible to the left.

Credit: Peter Langdown Photography
Building Treadgolds (Phase 2)
Location Portsea, Portsmouth
Architect Pritchard Architecture
Building type Community centre
'Our challenge was to create usable space without losing the atmosphere,' says architect Giles Pritchard of Treadgolds, a historic ironmongers in Portsmouth now repurposed as a community centre.
And what an atmosphere. Although Treadgolds shut up shop in 1988, its contents were left intact – piles of metalwork, nuts and bolts, machinery and tools within a sprawling workshop complex dating back to the 18th century. After a short period as a museum and many years out of use, the much-loved but deteriorating building was sorely in need of renovation, and a new purpose sympathetic to its heritage.
This has now been found – to the benefit of both the buildings and the surrounding community of Portsea, traditionally associated with dockyard workers and now among the most deprived areas in the country. Many locals still have fond memories of the ironmonger. Now, they can revisit it as a community centre and garden for the John Pounds Community Trust, which is dedicated to improving community health and wellbeing.
Local practice Pritchard Architecture has worked on the re-use for the last few years and been in close contact with community groups. Following the community garden first phase, the second phase provides flexible spaces for training, study, leisure and social purposes. It is hoped this will also help foster community pride in the neighbourhood.
The design approach has been respectful to the grade II-listed premises while securing the fabric of the building and providing appropriate space for its new uses. Interventions are clearly delineated, with still unrestored areas revealed behind glazed screens. A new floor over the retained original enables a robust large space for multiple community activities on the ground floor, with a training room created on the level above. Materials are robust and simple to suit both the industrial aesthetic and the tight budget.
'People are wowed by the buildings and the remains of the machinery. We were really keen to keep that atmosphere and not strip it back to something more sterile,' says Pritchard. 'It's been great to work with community groups to see the building come back to life in a new use.'
Funding permitting, proposed later phases will introduce creative workspaces and reactivate the old forge on the site, with a view to selling products in the old Treadgolds shop.
---
Credits
In numbers
Cost: £350,000 (phase 2) excluding VAT
Cost per m2 £1,300
Client: John Pounds Community Trust
Architect and project manager Pritchard Architecture
Structural engineer Marbas
Building services engineer Nicholas Owen Associates
Contractor T Coleborn & Sons
Quantity surveyor Michael Edwards Consultant