The redeveloped Agar Grove estate revives the idealism of the 1960s to help solve the problem of resident fuel poverty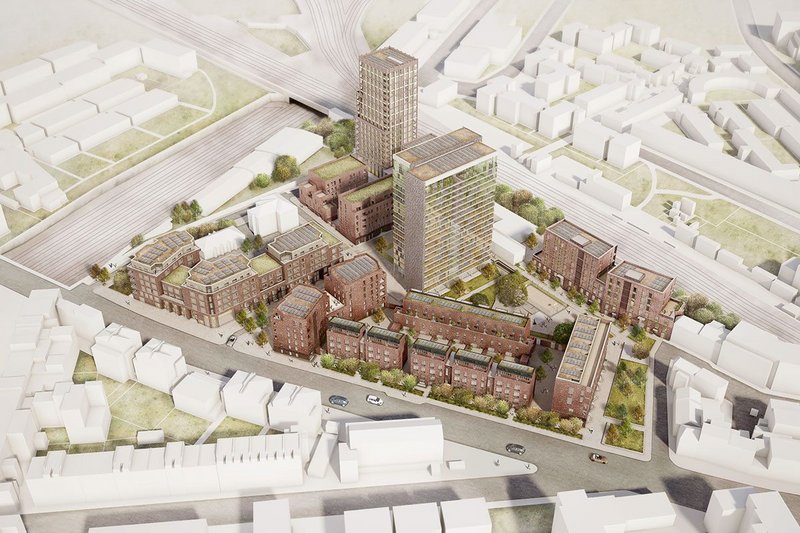 Model of Agar Grove with Mae's three blocks in the foreground.

Credit: Jim Stephenson
Many of the housing estates built by Camden council in the 1960s and 1970s are still highly regarded – schemes commissioned by borough architect Sydney Cook and designed by figures such as Neave Brown, Benson & Forsyth and Peter Tabori. Not the Agar Grove estate, completed in 1966 to a design that predated Cook's tenure. Organised in a series of H-shaped blocks and a tower, its apartments were small, substandard and often overcrowded. Its redevelopment, to a masterplan designed by Hawkins\Brown and Mæ with landscape architect Grant Associates, is one of Camden council's largest community investment projects and will replace dilapidated stock with almost 500 homes.
Residents voted in favour of redevelopment over refurbishment, and the project is being carried out in phases, with residents of each existing block rehoused within a phase of the new development. The first phase, designed by Hawkins\Brown, completed in 2018. Mæ's second phase comprises three blocks around a long, narrow courtyard on the north-west corner of the site. Its first residents have just moved in. The tallest block, facing Agar Place, provides 23 homes for market sale. Two longer, lower blocks facing Agar Grove and Hazelbury Way contain 34 homes for social rent.
Further phases will result in more social housing and homes for private rent, and an existing tower stripped back to its concrete frame and refurbished. Of the eventual total of 493 new homes, 345 will be built to the Passivhaus standard (which reduces heat loss through super-insulation, high levels of airtightness and mechanical ventilation with heat recovery systems) making this the UK's largest Passivhaus scheme.
In 2019, Camden council declared a climate emergency and committed to becoming carbon neutral by 2030. But the commitment to Passivhaus at Agar Grove came long before this pledge. For the council, it wasn't necessarily about saving the planet but about its residents, for whom the biggest challenge is fuel poverty. Camden had already done Passivhaus before, at a 53-home scheme in Highgate by Rick Mather Architects. According to the local authority, the approach has already reduced the bills for residents in the first phase of Agar Grove significantly, with some reporting that they haven't needed to turn on their heating, even in winter.
There was a pressure from the Greater London Authority (GLA) to install district heating at Agar Grove, but consultant Max Fordham established that due to the heat loss associated with a site-wide CHP network, a block-by-block approach combined with efficient building fabric offered a better carbon performance. Mæ's founding director, Alex Ely, regards this as a breakthrough in the debate around district heating in London, at a time when the GLA is moving toward requiring London's boroughs to install heating networks in new housing.
Given the fabric-first approach, material specification was an important consideration. The lower blocks were originally intended to have structures made from cross-laminated timber (CLT), with its low embodied carbon. However, the contractor was reluctant to use CLT, so a concrete frame was chosen with brick and block fill, and a parge coat on the cavity side. This works well for airtightness, Ely notes. For example, residents wishing to put up pictures on walls can do so without compromising airtightness.
Inside, the homes are spacious, and each is dual- or even triple-aspect. Split levels are the most interesting part of the layout. They provide separation between generous, loft-like living spaces while still allowing for views and daylight, and consciously recall earlier Camden projects like Neave Brown's Fleet Road. Ground-floor maisonettes along Agar Grove are slightly set back from the street, so that you look out into lush planting rather than the busyness of the road.
The consideration of outdoor space ensures the scheme is a success. Residents previously had no private outdoor space. Now they either have a garden, a balcony or a terrace. Access decks are wide enough to add chairs, creating a space to socialise. These are well used, as are the communal play spaces and vegetable growing areas.
Many who choose to build a Passivhaus are keen to live more sustainably, and are invested in the approach. Here, the residents have not necessarily made that choice, and the council has been careful to produce packs explaining how to manage the homes in both winter and summer. Feedback has been sought alongside quantitative data as part of the post-occupancy monitoring of Hawkins /Brown's first phase. It would be useful to see this extend to the way the spaces – like the split levels and outdoor areas – are used and the impact on health and wellbeing.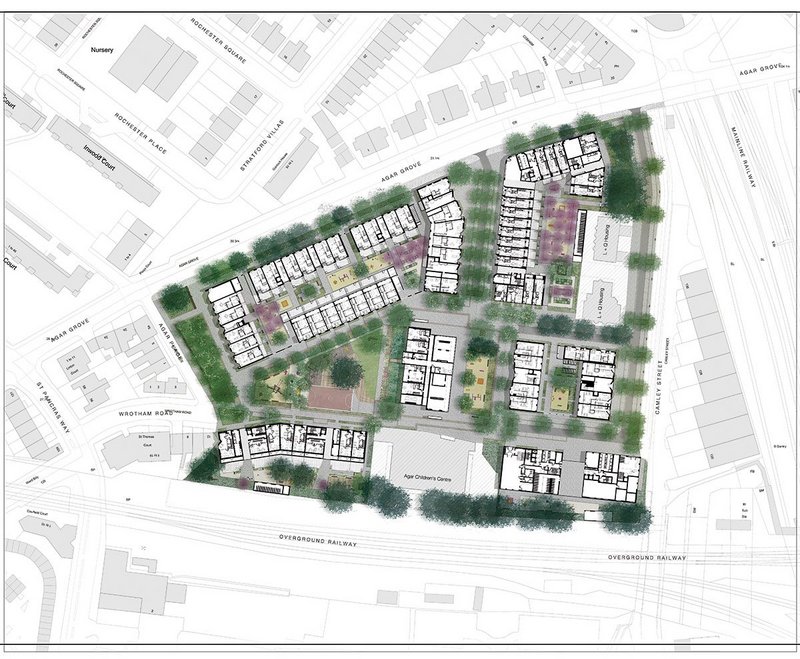 Site plan showing buildings by Mae and Hawkins\Brown.
Achieving the Passivhaus standard in a large, dense development such as Agar Grove is difficult: creating a simple form factor, the correct solar aspect and minimal overshadowing is complicated by the tight urban grain of London streets. Additional challenges were created by the mix of unit sizes required to house the existing residents of the estate. But there wasn't a pressure to max out the development, which might have come from a commercial developer. Instead, the layout was optimised to allow for street space and landscaped areas, and heights are kept to around five storeys.
When asked what changes Mæ would make in future Passivhaus projects, Alex Ely suggests that the practice would avoid inset balconies, which were incorporated in the design before the Passivhaus approach was adopted at RIBA Stage 2. While they create valuable outdoor rooms and lend a feeling of substance to the architecture, they require complicated detailing. Designing to the Passivhaus standard brought other complications too, and Architype – which has extensive experience in that field – has acted as delivery and Passivhaus architect across the whole development to date. Ely says the experience has given Mæ the confidence to go it alone on future Passivhaus projects.
Camden council says it will aim to follow Passivhaus principles on other schemes, rather than seeking formal certification. I'm left wondering if that will see corners being cut: the need to pass strict airtightness tests in order to get the Passivhaus badge of approval focuses all parties, and ensures details are built as drawn. The local authority should be aiming to build on what has already been achieved.
Though Agar Grove missed out on the quality of building happening in late 1960s Camden, it may yet have its chance to become an exemplar housing estate. The architects of its redevelopment were conscious of Sydney Cook's legacy, and wanted to deliver something which would live up to his high ideals but in a new, changed world. Today, it is care for residents and the city coupled with pursuit of a truly low-carbon architecture that drives the development of a new London vernacular.
Laura Mark is an architect, critic and keeper of Walmer Yard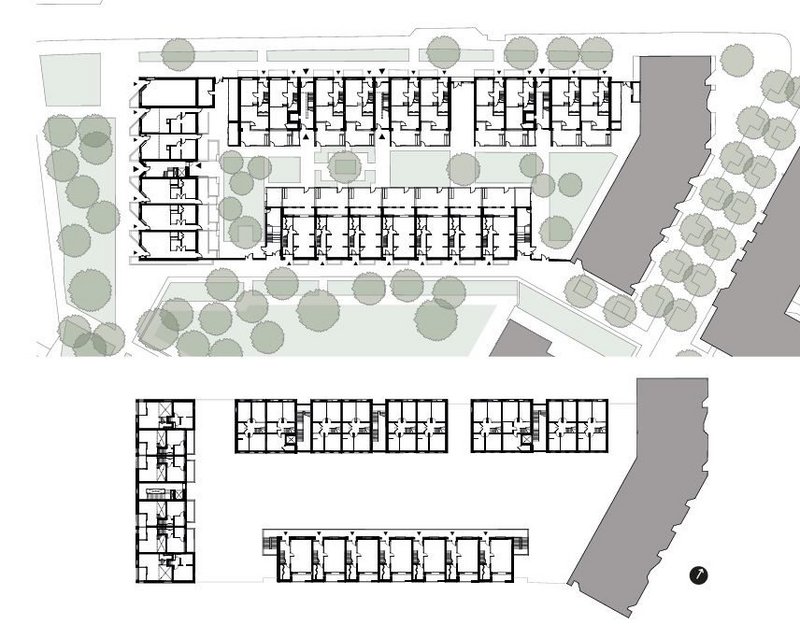 Ground and typical upper floor plans.
Credits
Client Camden council
Architect Mæ
Project manager and QS EC Harris
Structural engineer Stantec
Sustainability and MEP Max Fordham
Landscape architect Grant Associates
Passivhaus advisor Warm Associates
Contractor Hill
Contractor's architect Architype
Collaborating architect Hawkins\Brown