'Great example of temporary architecture'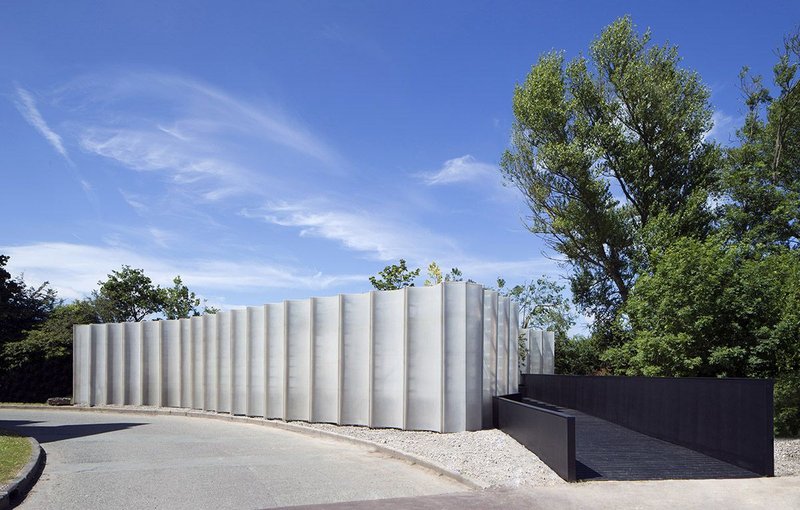 The new Maggie's Merseyside has a life expectancy of seven years.

Credit: Luke Hayes
Carmody Groarke for Maggie Keswick Jencks Cancer Caring Centres Trust
Bebington, Wirral
Maggie's Merseyside cancer care centre is a new interim facility in the outstanding natural landscape of the Wirral, Merseyside. The centre offers the surrounding area free practical, emotional and social support for people with cancer, their families and friends.
'Obviously Maggie's has been massively applauded,' said Hugh Pearman. 'This stands out because it is temporary and reuses parts of other buildings in its construction.'
Built in the grounds of specialist NHS cancer hospitals, Maggie's Centres are welcoming places where qualified professionals offer a programme of support that improves physical and emotional wellbeing. As the Clatterbidge Cancer Centre proposes to expand its services into central Liverpool, Maggie's required a creative, interim solution to advance alongside the hospital's future plans.
Although the judges felt images of the interior looked slightly uninviting as a space to talk about cancer, the new Maggie's is adjacent to the hospital facilities and is sited to regard a single, magnificent panoramic view over fields. Each room takes advantage of this view while overlooking secluded gardens enclosed by the building's perimeter. This creates a series of treatment rooms for communal meetings and singular retreat with a direct and therapeutic connection to nature.
A series of treatment rooms for communal meetings and singular retreat have a direct and therapeutic connection to nature
The construction takes advantage of seven radically improvised and transformed site cabins, including the 11m long 'London Dresser' commissioned by the mayor of London for the 2012 Olympic celebrations and designed by Studio of Cinematic Architecture. The reused structures are arranged efficiently around mature trees on the site, and the centre enveloped in a bespoke fibreglass wall that creates a mixture of inside and outside spaces, and contributes to its unusual identity.
'It is a great example of temporary architecture: reusing one temporary building for another is a really nice idea,' said judge Amanda Levete.
This will be one of the first 'interim' Maggie's; eventually, primary oncology care will move permanently to Liverpool City Centre. Its lifespan is seven years.
---