Antithesis of a hospital's sprawling oncology units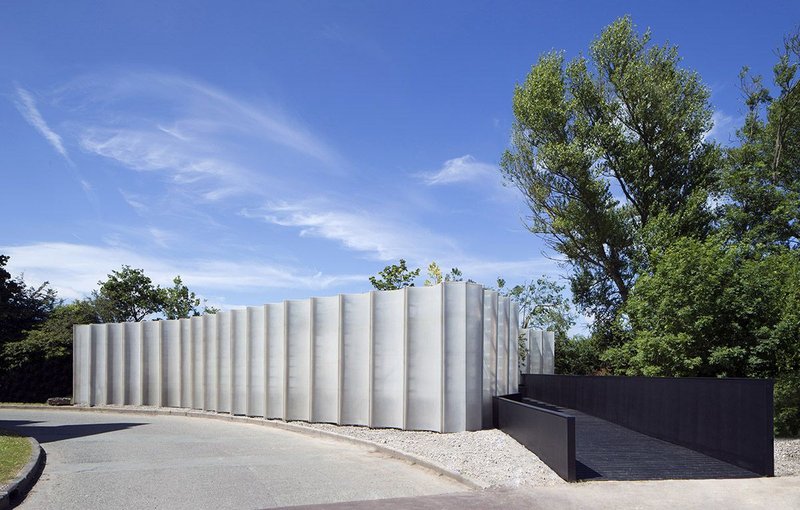 Credit: Luke Hayes
Carmody Groarke for Maggie Keswick Jencks Cancer Caring Centres Trust (Maggie's)
GIA: 117m²
Small Project of the Year
This temporary building, although unobtrusively placed in the far corner of a car park in this top cancer centre on the Wirral peninsular, is far from retiring. Vertical sheets of industrial GRP cladding approached by a long ramp suggest something special – perhaps technical or art installation? But the fact is this beautiful little Maggie's Centre is a collection of cabins, a secondhand enclosure from the London Olympics exhibition, a concoction of scaffolding tubes, some industrial cladding and cheap internal fluted fibreboard.
So how is the building quite so elegant and refined? Carmody Groarke explained in poetic terms that though it had little to work with, the overriding objective was a sense of calm and repose for the user and a place to contemplate and enjoy nature in peace. This has been achieved at a tenth of what would normally be an acceptable budget for such a project.
Internally, spaces lead seamlessly through to the fulcrum (re-used exhibition module) with an all-glass wall looking directly over a small corner of countryside – the antithesis of a hospital's sprawling oncology units. The question remains, just how temporary should such a building be? Surely if the siting and the architecture is appropriate and successful then this little gem deserves to survive its transitory planned life span.
See other winners in the RIBA Regional Awards 2015 – North West
---