A place of discovery and self-empowerment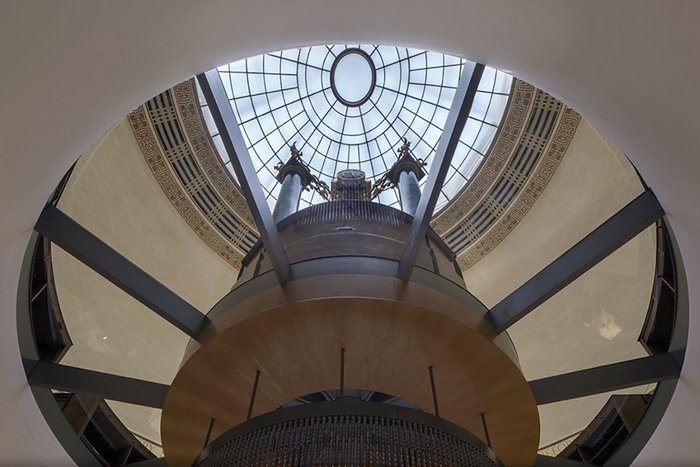 Ryder Architecture for Manchester City Council
Contract value: undisclosed
GIA: 12,500m²
Client of the Year Award
Conservation Award
Manchester Central Library is part of the wider refurbishment of Manchester's town hall complex, and the judges felt that it is a building that has to be experienced to be appreciated – it is almost impossible to convey in photographs. The grade II* listed 1930s library had become tired, cluttered and no longer viable. Its existing symmetrical circular structure was disorientating. Stairs were enclosed and uninviting. The full bravery and ambition of the client and design team was revealed during the jury's visit, from the huge task of re-apportioning the stacks to carving out new circulation and rediscovering the wonder of the central reading space. This building reminds us all of what a library can be; more than just a place of quiet contemplation and learning – a place of discovery and self-empowerment. The place is alive with activity, and not all quiet reading.
· Credit: Morley von Sternberg

· Credit: Morley von Sternberg

· Credit: Morley von Sternberg

· Credit: Morley von Sternberg
The building demonstrates the clear advantage that forward thinking conservation has over sometimes narrow minded preservation. This could have been a simple refurbishment, giving the building a bit of extended life. Instead it is a reinvention for the 21st century of a building that posed huge challenges. Through a careful assessment of historic value and a clear strategy, the architect has delivered a building that will give back to visitors for generations to come, allowing them to appreciate in a new way the important historic elements but to also overlay a new chapter for what is a great asset for the city of Manchester.
See other winners of the RIBA Regional Awards 2016 - North West
---