Rigour of detailed design attains a clarity of intent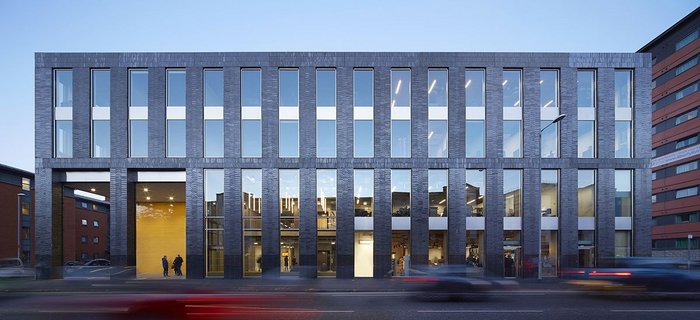 Feilden Clegg Bradley Studios for Manchester Metropolitan University
GIA: 3,998m²
Contract value: £7.6m
This lively and well-conceived project in central Manchester builds on architect Feilden Clegg Bradley Studio's portfolio for Manchester Metropolitan University, sited next to its Stirling shortlisted Manchester School of Art. But it is quite different in use and general ambience. From outside the immediate impression is one of precision – with a very ordered differentiation between the mechanical pattern of the German brick-faced precast system and the simple vertical glazing slots – which on close inspection reveals its high quality.
· Credit: Hufton & Crow

· Credit: Hufton & Crow

· Credit: Hufton & Crow

· Credit: Hufton & Crow

· Credit: Hufton & Crow

· Credit: Hufton & Crow

· Credit: Hufton & Crow
Inside however, there is a different order of activity and fluidity in the long-span open spaces, welcomed with enthusiasm by the vice-chancellor, students, the union general manager. This is a building for students' 'out of class' activities, yet feels an integral part of the university. It's difficult to pinpoint exactly why this is, though not a city centre 'club', the design echoes some of Manchester's iconic late night venues. Yet through rigour of detailed design it attains a clarity of intent that's almost academic. Although the building is not expensive by any means, the little touches (door handles, hinges, balustrades etc) show how a committed architect can imbue a project with a sense of quality.
See other winners in the RIBA Regional Awards 2015 – North West
---