March House on the Thames by Knox Bhavan shows what can be done by working closely and in detail with an interested and receptive client
'I think the big story about this house,' says Sasha Bhavan – as we sit on a mid-century Danish settee looking out to the Thames at Cookham – 'is that it's all about our client. This house is designed around her and all her beautiful belongings.' Said client is a retired dancer, keen boater, accomplished landscape designer (in evidence here) and appreciator of fine art and film. And when she first commissioned Knox Bhavan (having admired its RIBA National Award-winning house at Crowbrook) she supplied the architect with a catalogue detailing the purchase history of every item of her furniture. Artwork and lighting were equally carefully curated. This is very much a 'shoes off' house.
But an equally big story is that of the client-architect relationship, which is very strong here. 'We learnt a lot from each other,' acknowledges Bhavan. 'She was very exacting, she attended every site meeting, she asked questions, she was interested and willing to understand why certain things should or couldn't be done. And she's a great client because she looks after things so beautifully.'
The client was very exacting, attended every site meeting, asked questions, and was interested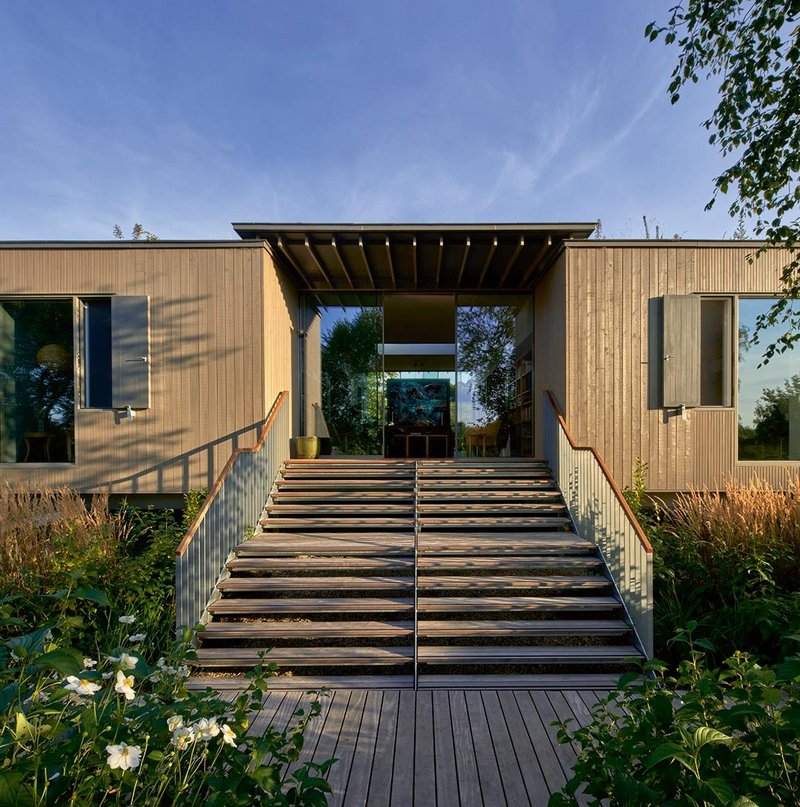 Glass doors open onto steps leading down to the river and jetty.

Credit: Edmund Sumner
The one-storey house, which sits on a sizeable plot, is comparatively small (166m² internally). It replaces an ill-performing 1920s house, at imminent risk of flooding, with an elegant, light-footed building that seems to hover – thanks to its system of galvanised steel stilts on concrete piles – in a garden of fruit trees, silver birches and tall, gently rustling grasses.
The building's offsite construction of oriented strand board cassettes was achieved in collaboration with engineer Price & Myers and digital manufacturer BlokBuild. It has already garnered considerable praise for its effective use of modern methods of construction (MMC) and its flood mitigation strategy. During seasons of flood, water passes safely under the house into meadows beyond.
Internally, the plan is 'a little like a tartan quilt', explains Bhavan. The centre is open-plan and cruciform, with the four corners occupied by bedroom suites and kitchen. Along the north-south axis – capped by large glass doors and their terraces – the roof height is raised, creating a contrast of scale and an expanded space. Living and dining areas here are separated by a free-standing wall. The front door is at one end of the east-west axis. 'When you come in, it is slightly tantalising,' says Bhavan. 'We didn't want everything to be revealed at once.' Indeed, one's gaze is drawn to the opposite wall, where a mid-century desk is framed by a window with a fruit tree beyond – a staging that would make the desk-manufacturer weep at its beauty.
What made Knox Bhavan's project at Crowbrook so successful was its adaptation to the needs of its disabled client. Here, with admirable clear-sightedness, the client has anticipated her own future needs. To the left of the entrance is a sliding partition, leading to a self-contained suite of guest bedroom, anteroom, toilet and shower room. This could accommodate a live-in carer with privacy. A lift could be retrofitted near the porch, if needed. 'I am happy to grow older in this inspiring home', she says, and I can see why.
A circular rooflight illuminates the shower, to somewhat holy effect. The centre of the house is lit by the central rooflight, which is curved on one side for a more diffused light. The projection of raindrops on the curved surface is mesmerising, as is the effect of leaf shadow on the external cladding slats. What the house lacks in frills, it makes up for in quiet moments such as this. 'Part of the thing about making things beautiful is to not overdo it', says Bhavan. 'Don't throw everything at it. Keep it simple.'
That simplicity belies a lot of complexities below the bonnet. Not least was a protracted planning period involving the Environment Agency (resolved in 2018), and Covid delaying construction. Contingency plans were needed in case of flooding, which also risked ruining any materials left on site. Finally, the cassette manufacturer discovered that the access road was too narrow, requiring a re-size.
A book of architectural drawings, gifted from architect to client, demonstrates from the thickness of its spine alone the enormous amount of work that went into creating this house, and says something about Knox Bhavan's conscientiousness. 'It's all detail-detail-detail', says Bhavan. 'Everything has been incredibly well worked out'. She is particularly proud of the electrical drawing: 'Electrics are always really hard to get right but they are all perfect here because we knew exactly what everything was and where it would go', she says. Every item of furniture has been drawn in its correct position; some pieces are even integrated into the fabric, requiring specialist carpentry.
The home's frameless windows do not open, maximising expansive views. However, insulated shutters do, allowing natural ventilation. Concealed mosquito screens – a hazard of riverside living – can be drawn across them. The house is full of such solutions, many of which emerged as the project evolved: greenhouse shutters to avoid a brise soleil, a projector rather than a television, an extra-wide reeded-glass bathroom window (request from client; specification challenge for architect). 'We were wracking our brains for some of these', Bhavan admits.
Despite its difficultly to procure, this reeded glass window now seems an indispensable detail. Although the exterior of the house seems plain, quality materials and finishes compensate for the lack of frippery. The exterior is characterised by a combination of wooden and metallic textures, and again, rather like the tartan quilt, subtly celebrates linear and grid-like patterns.
Banister railings and larch cladding strips echo the vertical corrugations on the adjacent boat house and outbuilding. Around the windows and shutters these larch boards become narrower, planed rather than sawn, to cope with tolerances more precisely. Horizontal lines on the decking are matched by the open tread staircases leading to the porch and sliding door. The cage structure of the shed – a kind of open greenhouse – contrasts this linearity with its lattice, and somehow even the rodent mesh at the bottom of the boathouse is aesthetically in keeping; along with the stilts, the overall effect is some sort of industrial modernist chic. Catches for the shutters resemble winches for hauling up boats. Old photos of wooden barges and boathouses have provided loose inspiration and context.
Part of the thing about making things beautiful is to not overdo it', says Bhavan. 'Keep it simple.
The home is energy and resource efficient: 'When the old house was demolished, everything was reused.' Bhavan says. 'The client's children repurposed it in their own self-build projects'. It runs an MVHR system, with a planted roof contributing to insulation. A bog-garden uses water run-off. Existing trees were left in-situ. And thanks to its engineering, the home is protected from a 1 in a 100 year flood, beyond the requirements stipulated by planning. There is one watery eventuality this achingly pristine home could not mitigate for, however: that of its architect spilling a glass of it over the floor, with comedic repercussions. But that is a story for another article.
In numbers
Site area 2130m²
GIFA 166.6m²
Credits
Client Private
Architect Knox Bhavan
Design team Sasha Bhavan, Fergus Knox (project architect), Katherine Johnson
Structural engineer Price and Myers
Services engineer Paul Bastick & Company
Quantity surveyor Ian Thompson & Company
Main contractor Philiam Construction
Timber frame subcontractor BlokBuild
Joinery Five Furniture