Mikhail Riches' Stirling-winning Goldsmith Street is everything social housing should be, but Right to Buy could scupper its fine intentions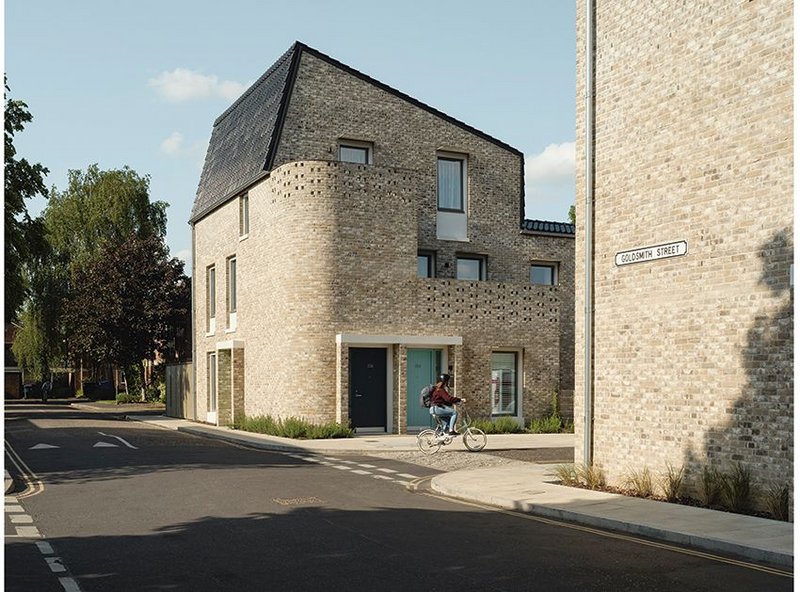 View along Goldsmith Street of one of the apartment blocks. Each has its own external space and front door.

Credit: Tim Crocker
You've probably seen Mikhail Riches' Goldsmith Street, Norwich in the press: it's on the Stirling Prize shortlist of six (which it later won). But before we get into the details of what makes it an interesting and deserving project, there are two things you need to know.
The first is that this 93-dwelling scheme, of 45 houses and 48 apartments, is 100% social housing – not affordable, not shared ownership, not with separate private and social playgrounds, just good old social rent housing that Norwich council built itself. The second crucial fact is that even though residents only finished moving into their new homes in June, they can immediately purchase them through Right-to-Buy – with a government discount. There is some ringfencing of what Norwich spent to build them but if the value of the homes goes up, the council will have to observe discounts of up to £82,800, which means the maximum allowance has more than doubled since 2012.
The backdrop to the project is that Norwich City Council has a housing waiting list of about 4,000 people. On top of what it already provides it needs to build an extra 270 homes a year, 240 of which must be socially rented while 30 can be shared ownership. Although the council owns a quarter of the city's total stock, roughly 15,000 homes (a quarter privately rented, the rest mainly owner occupied), before 1984 it owned 25,000, which was then 50% of the total. And it still loses about 150 homes through Right to Buy every year, so just to stand still it needs to build 420. Between it and housing associations, the council plans to provide 180 in 2019.
The figures are a long way off meeting demand, but Goldsmith Street's contribution was made possible by legislation that acted concurrently and in opposition to the increased discounts available to council tenants buying their homes: the 2012 Housing Revenue Account Reform that gave local authorities greater control over their income, debts and finances. It was the first piece in a jigsaw of restructuring that has led to some councils once again building socially rented housing rather than relying on housing associations to build affordable homes for them, as they had done for years.
When the RIBA competition for Goldsmith Street was launched by Norwich council in 2008, this had been the planned approach. The local authority backed the competition to instil a level of quality and ambition, but it would be the responsibility of two housing associations to deliver the 100 homes. The competition received 105 responses, from as far away as Japan. Mikhail Riches' scheme won because its proposal for 14m wide terraced streets based on the layout of the cherished Victorian Golden Triangle area nearby won a casting vote from a former tenant of the sheltered housing that once stood on the site – and because it was the lowest rise and had the greatest number of houses. But the credit crunch happened, and Norwich was unable to sell the site. It remained vacant until 2013 when, enabled by the 2012 legislation, the council decided to complete the scheme itself and called up Mikhail Riches again.
In the intervening years, however, the council had become interested in Passivhaus, particularly as a means of tackling the fuel poverty which is one of the priorities on its corporate plan. It had already started work on developments of two, eight and 10 Passivhaus homes, and asked Mikhail Riches to amend the original passive solar design to Passivhaus certification.
'At that point we had done a scheme called Clay Field in Suffolk which was passive solar,' explains Annalie Riches, founding director, Mikhail Riches. 'BuroHappold had done the post-occupancy and discovered the houses performed really well. Even with less stringent airtightness and U-values they had reduced fuel bills significantly for residents… But Passivhaus wasn't really known in this country. We hadn't had much experience in it, so it was a massive learning curve.'
The houses were already designed in south-facing terraces with 15˚ pitched roofs to avoid overshadowing in winter and get light into the rooms in low sun, but there were extra considerations, from no letterboxes in front doors to having to redesign the gas supply and soil pipes because of airtightness and cold bridging.
'We were introduced to Passivhaus by Hastoe Housing Association – advocates who have done a number of schemes,' says Andrew Turnbull, senior housing development officer at Norwich. 'Then Broadland Housing took us to see theirs in north Norfolk and what won our councillors and senior managers over was speaking to the tenants who said it was a fantastic environment to live in. They talked anecdotally about health benefits including reduced asthma and eczema.
'One of the other things was the quality aspect, that you don't get a performance gap with Passivhaus. It does what it says on the tin and you hold the contractors to it throughout construction so there's no getting out of it.'
Approached from Midland Street, off the main north-west thoroughfare out of the city centre, Goldsmith Street describes a series of seven terraces laid out east-to-west over a two-bay grid that reconnects routes and opens up what had been culs-de-sac. The estate unravels on a non-uniform 1.2ha plot that had been earmarked for development for a long time. It squeezes behind a stretch of tiny 1990s houses in the foreground and several mid-rise 1960s blocks of flats either side, some on their own mini ville radieuse landscaped settings, some in rows, as well as a flint walled church to the rear.
It hurts to think of the grand effort and ambition that built these houses being so easily exploited by politics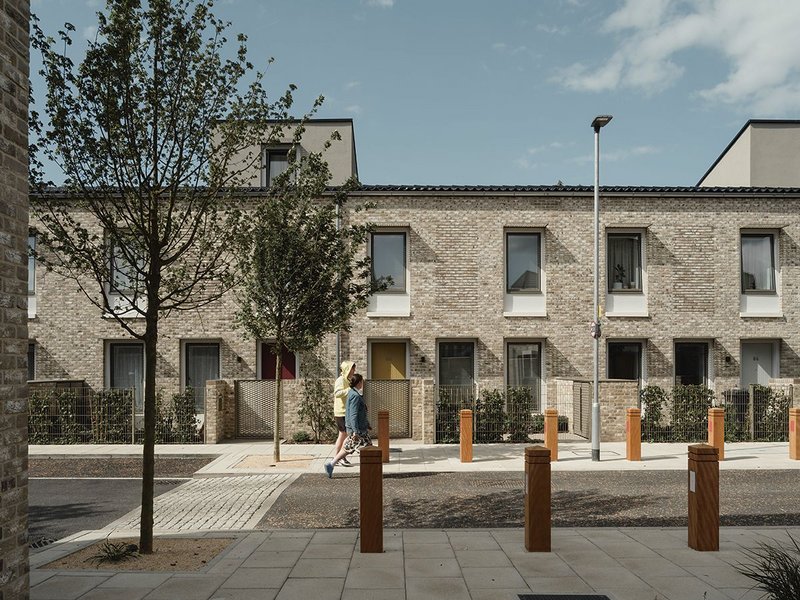 White surrounds on the windows make them look like eyes on friendly, if a little sad, faces.

Credit: Tim Crocker
Within this, the estate is split in two by Greyhound Opening, a central avenue that leads between the two-storey terraces, past a pair of mesmerising large-leafed tumbling Indian bean trees on a green to the right, through to the site-width terrace at the back. Bookending every row of houses are taller three-storey, hipped-roof blocks of flats. Each apartment has its own front door, opening in plan onto a mega structure of closed-off twisting staircases which removes the need for communal areas that require maintenance and can be a source of conflict. These are all one-bed with their own terrace whereas all the houses have two bedrooms except for five wider dormered four-bed ones.
'Originally we designed two-bed apartments and three-bed houses, but the bedroom tax came in and they were removed in response to that,' explains Riches. There are roughly two types of houses. Those entered from the south have a landscaped front garden and those entered from the north don't, butting straight up to the pavement with internal plantation window shutters provided by the council instead. All, however, have their own rear gardens, which back onto further resident-only closed-off landscaped alleys or ginnels, wide enough for children to play in, visible to parents over and through the slightly lower than standard slatted fencing. In one, children have put up a basketball net, in another hopscotch markings are fading. The spaces have been used for community barbecues and get-togethers too. Where possible Mikhail Riches and the planners have tried to get rid of cars and roads to foster a sense of community, replacing them with street gardens full of plants, flowers and young trees. The whole estate only has 70% capacity for parking and much of it seems empty.
The houses themselves are built with longevity in mind – a fabric first approach of textured buff brick, glossy black pantile roof tiles, triple glazed aluminium windows and Cadisch mesh electricity boxes, bin store panels and garden gates as well as tiny individual window brises-soleil.
As you walk around the estate the most crucial corners are curved, streets are tree-lined, bollards are solid timber, flower beds are tucked into any in-between space and there are 15 front entrance colours to allow each house or apartment owner to identify themselves by their chosen colour. Despite a £1m value engineering exercise mid-way through the project, there is also enough special detailing to give the architecture itself some extra character – ghost window recesses, scraped out pointing and brick balcony balustrade perforations. The things that were dropped to bring the scheme into the £17.3m total cost include the rear brick facades, replaced with render; zinc roofs replaced by tiles (far more appropriate for the Dutch-influenced Norfolk context); and ceilings in the bedrooms, so they are now open to the rafters, and more convenient for the council when residents move out.
It's impossible not to realise the houses and estate have been built with the uttermost respect for residents, community, architecture, context, wider environmental agenda and architects as well (it was even procured through traditional contract). The place looks and feels lovely. There have been, though, extra costs involved – it is estimated Passivhaus added 10-15% . But compared with many locations in the UK, the £1,875/m2 construction cost is very reasonable. Happily, the council wishes to build more using 2019 legislation that has lifted borrowing caps, and get closer to meeting the annual 420 home deficit. It's good news for the housing crisis.
Yet there's an underlying hopelessness to this project. Norwich City Council has gone above and beyond what's usual to create better spaces and communities, with lower maintenance and upkeep. The ginnels are brave. It will have benefits beyond social housing, allowing Norwich planners to demonstrate to private developers 'the impossible' they can achieve too. But ultimately the whole scheme is a big risk for the council, which may not reap the rewards of its long-term view if the residents do choose to buy their homes. The council cannot use all the money paid to build more, and nationally 40% of ex-council homes end up in private rental with far higher rents – paid sometimes by the local authority itself.
It hurts to think of the grand effort and ambition that built these houses being exploited so easily and cheaply by politics. Councils should be building council houses, they should be able to provide local people with local homes and they should be constructing and designing them using quality materials and innovative ideas, ready for a different environmental future. But right now it doesn't make that much sense. There needs to be protection. It could start with scrapping Right to Buy for new-build homes.
---
In numbers
93
homes in phase 1
8,058m2
GIA
£14.9m
construction cost
£1,875
cost/m2
29kg/m2
Estimated total CO2 emissions equivalent
Credits
Architect Mikhail Riches with Cathy Hawley
Client Norwich City Council
Contractor RG Carter
Structural engineer Rossi Long Consulting
M&E Greengauge Building Energy Consultants
Passivhaus consultant WARM Low Energy Building Practice
Landscape architect BBUK Studio
Quantity surveyor Hamson Baron Smith
Project manager Mer Construction Services
CDM co-ordinator Goddards CDM
Approved building inspector Build Insight
CAD software ArchiCAD