Birmingham Conservatoire, designed by Feilden Clegg Bradley Studios, brings a chunk of much-needed quality architecture to the city's Eastside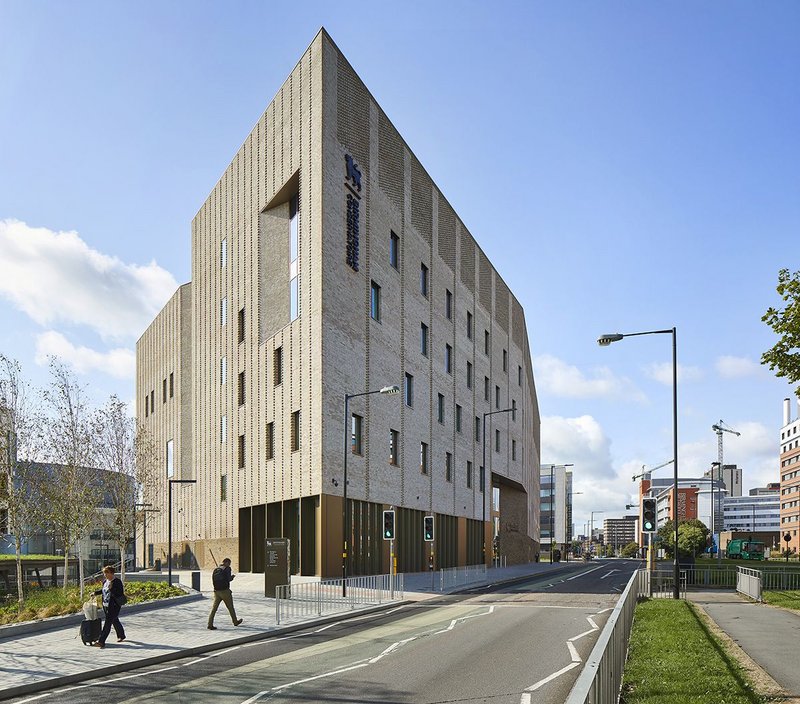 Credit: Hufton+Crow
Like city centre approach roads across the UK, Jennens Road in Birmingham is full of large, cheap, shouty blocks with a panelised inhumanity that is acceptable only when viewed from the equally invidious position of a traffic jam. Attempts to break up the mass with nominal attic extensions or different types of panel layered on something rather similar seem destined to fail, the materiality is just not convincing. Any density gains from five or ten storey blocks are lost to car parking and dual carriageway.
When I saw the early visualisations of Feilden Clegg Bradley Studios' designs for the Royal Birmingham Conservatoire facing Jennens Road in Eastside I understood the critical reaction in the city. The blank red brick facades looked harsh, a reminder of the concrete brutalism of the ring road and Bullring that the city was working hard to soften. In response, partner Tom Jarman went back to them with a softer buff brick and a design of rhythmic vertical lines of protruding perpends that visually anchor occasional windows while giving some sense of articulation, or maybe even decoration. It's all in the shadow and detail and suggestion. Jarman thinks of it as an 'urban castle'. Though the cognoscenti might view this sort of brick and detail as unimaginative, it is done subtly and well. Seen against Jennens Road – or even the back of its neighbour, Grimshaw's Millennium Point – it looks like a work of genius. Having seen how it is handled one might even revisit fears of a 'blank' Birmingham red stock brick facade and see how it could have drawn out echoes of the city's not-so-distant great edifices.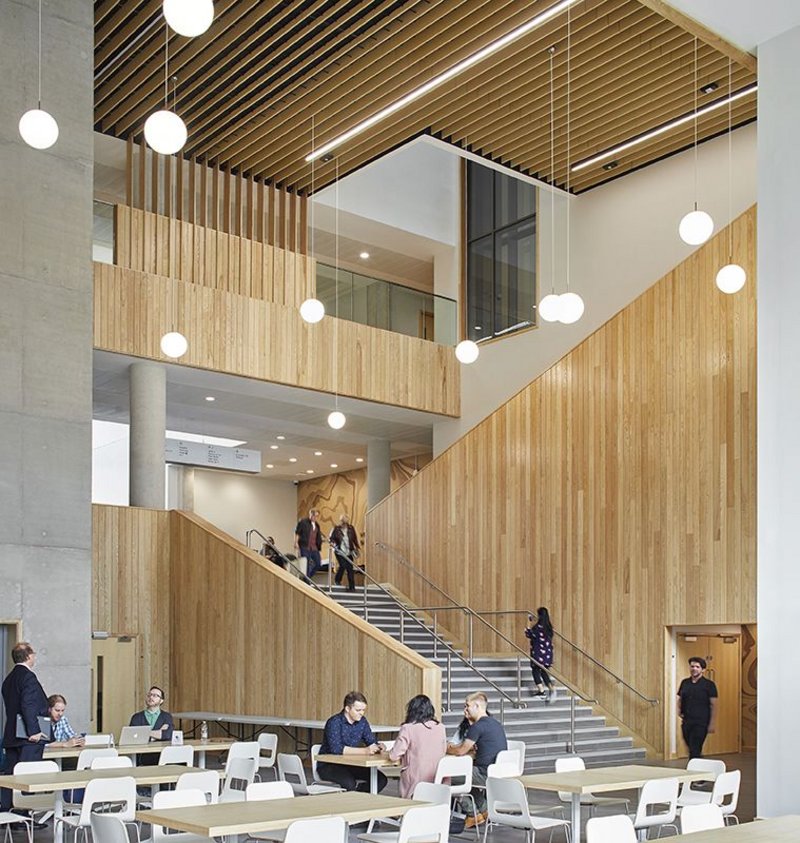 Credit: Hufton+Crow
But how did the conservatoire come to be stuck out on the edge of Eastside? Navigate the remnants of John Madin's Birmingham Library on the other side of the centre and you may still see the signs promising that the Conservatoire is open there – pointing to dingy stairs in a concrete undercroft that even bright geometric signs can't quite cheer up so close to a building site. Argent's development Paradise is taking over this part of the city, first with hoardings and cranes, then with 1.8 million square feet of offices. The International Convention Centre and Birmingham Repertory Theatre are sitting out the development alongside Mecanoo's city library. The Conservatoire, one of the elite group of music teaching colleges, recently awarded a coveted royal title, has been brought into Birmingham City University, thus its triangular plot on Eastside where the university is rapidly expanding its campus.
This has been an area in flux for some time. Many plans have been put on hold by the long gestation of HS2, which would cut through it and come to rest at the old Curzon Street Station. However, the city invested, with some foresight, in Eastside City Park, an intense and well used park designed by Patel Taylor which holds a great sense of city promise. Getting to it from the Conservatoire involves a convoluted set of level changes through Millennium Point or a car park.
This sloping site – with its 3m drop – also defines the lower storeys of the building. Enter from Jennens Road and the building is set out before you, reaching up to the concert hall one way and stepping down the other to a lower route to Eastside through a convivial café in a double height space with chamber recital hall off it. The foyer has the polite spaciousness of the best concert hall foyers, a backdrop that will come alive with the warmth of audience anticipation and, more often here, of music students. The working atrium allows watching and participation. An organ studio is designed with the focus of a chapel while black box studios add an extra dimension to what the conservatoire can offer. Tucked away in a corner, almost in a basement and with quite a different character, is the conservatoire's very own Eastside Jazz Club, where leaning on a bar for a smoky evening mesmerised by the piano seems all too natural.
Project architect Colin Cobb was hearing these spaces even as he was perfecting their technical details, visiting recording studios and collaborating with the acousticians. As we walk round he perches at the piano and drops into a piece that you feel he has been wanting to play in these spaces for some time. The recital hall is the least remarkable of the performance spaces, part rehearsal room for the main concert hall above, part flexible space with bleacher seating ready to roll aside. But as Cobb picks up the rhythmic pace on Nils Frahm's Hammers the room expands and stretches – the sound flexing then concentrating the mind.
There is no such performance on the main stage where conservatoire principal Julian Lloyd-Webber is leading a tour. Instead Professor Lamberto Coccioli, architect-trained but here head of music technology and client lead through the project, takes over the controls and demonstrates the concert hall in its many, differently lit, guises. The lights show it as rather beautiful with its bowing zigs and zags of panels above a tripartite plinth of end-on ply. As this is a place of teaching above performance, the 191m² stage is designed to take an orchestra of 120, while it seats an audience of just 493. This wouldn't make commercial sense (though some of the staging can be removed to allow an extra 53 seats) but will likely make full scale performances very powerful. This is the driving generator of form and structure for the whole conservatoire, the 8000m³ volume and acoustic box-in-a-box required for the best performance – inevitably leaving some rather blank walls which are partially compensated for by the texture of the bricks.
There are practice rooms on every floor. Beyond level two, where there is no longer an excuse for larger performance spaces and the circulation that goes with that, they feel rather like they close in on you. But these cellular spaces are necessary for the 650 students who need to perfect their art with six or more hours of practice a day – much of the teaching in one to one classes. The previous building had an 80% occupancy rate, this one has an extra 25 practice rooms – most with opening windows, a recognition of the exertion that goes into playing an instrument, though the university rule is to avoid opening windows. And though they might look similar, different types of instrument did demand different designs – brass and percussion, for example, being set up on the fifth floor with a very thick floor slab insulating the rooms below.
The conservatoire is a strange hybrid of a cultural building and a higher education one. The £42.5 million project came in at a budget of £4,106/m². There were savings: for example the stairs to the first floor will seem narrow when there is an audience and there were cuts elsewhere. The target cost was originally lower, pegged on build costs in the education sector, but there was recognition by the client that acoustics and the huge volumes of the concert hall required more money if this was to be a world class conservatoire. But the contribution of this building to the site is equally important and starts the process of investing Eastside with a much-needed sense of permanence and solidity.
---
IN NUMBERS
Construction cost £42.5 million
GIFA cost per m2 £4,106
Area in m2 10,350
Credits
Architect Feilden Clegg Bradley Studios
Client Birmingham City University
Main contractor Galliford Try Plc
Structural /civil engineer White Young Green
M&E /cost consultant Hoare Lea
Landscape Planit-ie
Acoustic Hoare Lea Acoustics
Project manager BCU In-house PM
Theatre consultant Charcoalblue
Suppliers
M&E mtech
Brickwork Caxton
Partitions Mansell Finishes
Windows & curtain walling Bennett Architectural
Cladding Construction Profiles
Joinery Parish
Timber flooring Axiom
Sound system Vanti
Stage engineering JC Joel
Acoustic absorption RPG
Externals
Brickwork Floren (upper brick) & Weinberger (lower brick)
Glazing Kawneer
Alu. cladding United Anodisers
Roofing IKO Permatec
SFS Metsec
General Internals
Partitions British Gypsum
Flooring Sheet materials - Tarkett
Timber flooring Havwood
Ceilings Armstrong (metal and fibre tile) & Hunter Douglas (timber slat to foyer)
Internal doors David Smith St Ives
Specialist Internals and AV
Acoustic panels and joinery RPG Europe
Theatre seating Auditoria Services
Stage engineering systems J&C Joel
Venue speaker systems Meyer Sound