Care, passion and attention to detail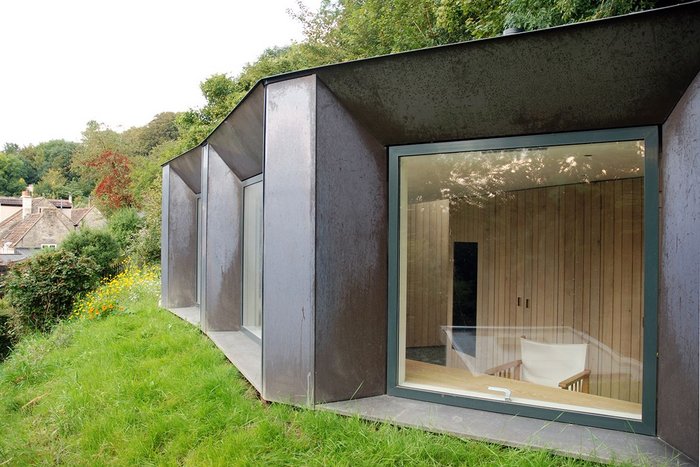 Stonewood Design for Steve Darling
Contract value: £150,000
GIA: 29m2
Embedded in a steep bank, this little building serves as a space to work, sew, play guitar and sleep. Climbing mossy steps, the entrance reveals itself in an oversized hinged glass door set in a swath of oxidised copper cladding. Entering the space one is greeted by an unusually low ceiling and the perception of thick walls create a feeling of secure retreat. Rough sawn timber panels with crafted recessed handles open up to reveal storage for the various activities.
· Credit: Jo Chambers

· Credit: Jo Chambers

· Credit: Jo Chambers
Further investigation unearths a compact copper-clad bathroom lit from above. The rear of the building is cut into the bank, allowing the landscape to flow over it in the form of a turf roof, while the front elevation provides fantastic, elevated, framed views of the surrounding countryside. The care, passion and attention to detail shown by the architect are particularly commendable.
---
See other winners in the RIBA Regional Awards 2015 – South West and Wessex