5th Studio's Westlegate housing and retail scheme regenerates a broken edge of Norwich, knitting it back into the medieval street pattern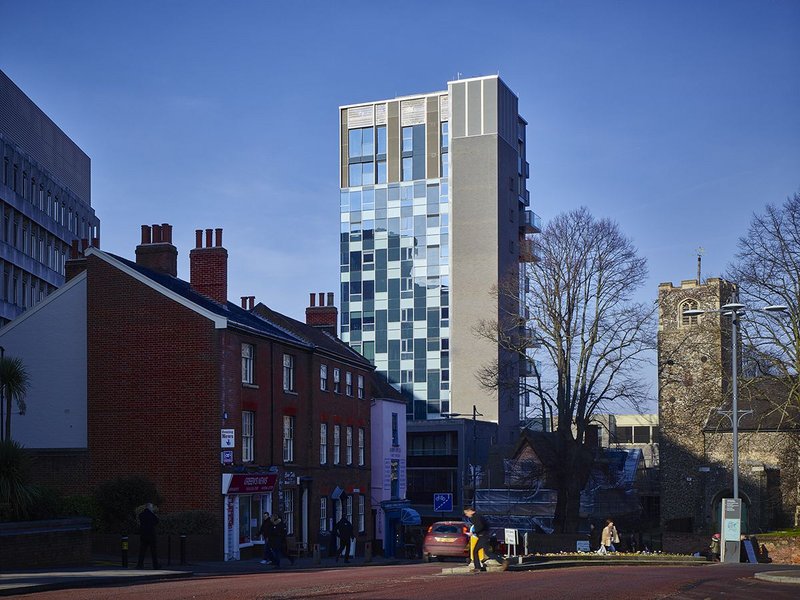 Just the name Westlegate tells you that this is a site on the edge, at the gates of the old city. And Norwich does still thrive on being an old city. Its cathedral and narrow streets peppered with independent shops and coffee houses bring visitors from all over Norfolk and beyond. The city knows how to deal with scale: to the north its city hall benignly overlooks the city's large market square. But at Westlegate, up the hill from the River Wensum, the intimacy of the medieval lanes comes up against the largescale forms of John Lewis and the concrete behemoth of Norwich Union (Aviva)'s offices. Westlegate Tower was one of this breed when it was built in 1962. A 10-storey block with podium, it housed Norwich Union for many years but chilly patent glazing and relatively small floor plates didn't guarantee long term tenants. By the time Cambridge-based 5th Studio got planning to reconfigure it in 2012 it had been empty for seven years. Now it is a residential quarter.
5th Studio does architecture and urbanism: the small team has reimagined the Lea Valley, before and after the London 2012 Olympics, mapped Crossrail and master­planned the North East Cambridge development. So it is not surprising that it studied the history of the Norwich site, the inn that once stood there, the 17th grade two listed cottage-cum-café at its corner and the yards and lanes around it. Building on the surface car park allowed the firm to re-establish a little of this grain and bring back the vanished Lion and Castle Yard. This cut-through to a court makes for a more interesting – if occasionally dour – piece of city. Not only that but extra homes and a new entrance to the tower open onto the yard, as does a dining hall of a restaurant (yet to be let). This defensible, though deliberately not private, space has the potential to bind its residents a little closer, through happenstance.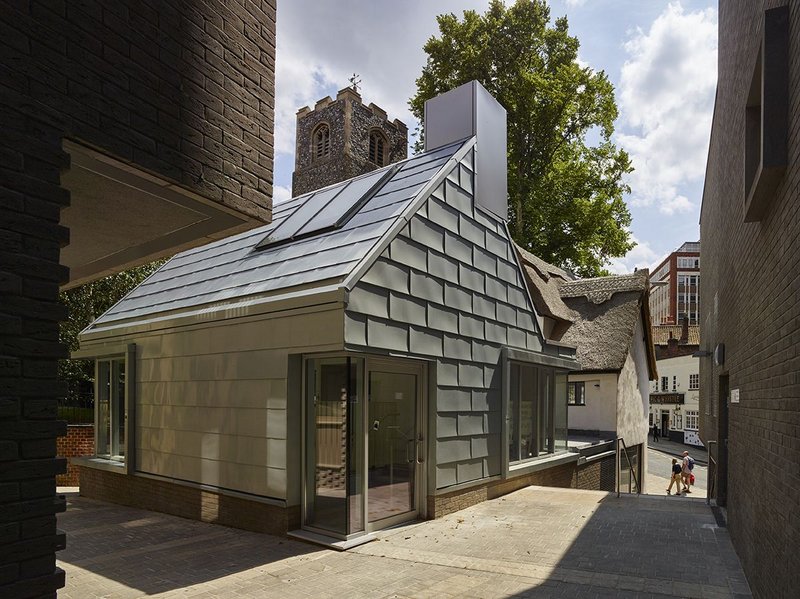 The new low-rise development now surrounding the tower between Westlegate and Timber Hill certainly binds the development back into the city grain. A three storey building, it takes on the same scale as its older neighbours, though it is dug into the ground so the shop unit still has a good floor to ceiling height. This is occupied by an artisan baker who has started the fit out with huge ovens, sitting alongside a café area which will bring life to the shop front, as will that evocative smell of baking bread. All this inside a brick envelope that has enough decoration to avoid bland but not too much to draw attention to itself.
Taking on the tower and its base were Ian Fox and Julian Wells, previously of London-based developer Targetfollow and now starting up FW Properties. Westlegate was its first development outside London. Against local market expectations the pair thought there was value to be had in bringing city living back to the centre. Unlike the revival of this sector in cities such as Manchester and Leeds over the last few decades, city living in Norwich doesn't spell cramped two beds on top of noisy bars. Most of the tower's flats take the whole floor plate, a generous 140m2. 5th Studio's Tom Holbrook pictured retirees moving in from the suburbs, exchanging larger, more isolated homes for these city pads with people and amenities on hand. In the top floor penthouse the resident we meet is only too happy to have swapped acres of grass cutting on a large farm for city pubs and dramatic views – that reach as far as Yarmouth. He revels in the sense of fellow-feeling among residents one year after moving in.
The penthouse flat is part of a three storey extension to the tower. This is perhaps surprising, given that in the local plan it was marked as 'negative landmark' and planners were keen to see it removed altogether. But as well as helping the economics to stack up, Holbrook maintains that extra height, along with a new cladding treatment, has allowed the building to realise itself as a tower, rather than sitting slightly squat near the top of the hill. Holbrook also diagnosed the simplicity of the cladding as one of its problems as a landmark. The practice's task of turning it into flats was as one of the issues – in terms of conflicting scales – and an opportunity to articulate the block. As a result the cladding is broken up into panels of glass and spandrel panels on shifted grid that interrupt some of its linearity, balconies project from one facade or another rather than setting up a rhythm for each floor. And at the top, double or triple storey panels of expanded metal mesh are used as an overlay, increasing scale rather than reducing it to the domestic level. It is true that it avoids the unremitting meanness of many residential blocks of this size.
Standing alone, at the edge and in the same ownership, is a historic cottage, its low ceilinged rooms most recently playing host to a cafe. Extended at the back by a zinc wrapped dining room, this now has potential for a more expansive business, its variety of intimate and airy spaces suggesting a future in fine dining although it has not so far secured tenants, not even the ubiquitous Starbucks. That would certainly add real life to the back court and, with its pitched roof and roof lights that look up and over to the tower and the church next door, it is a good, hidden place to observe – and enliven – this yard. Once that's done, 5th Studio's job will be finished.
---
IN NUMBERS
3,530m2 gross internal floor area
£5.8M total cost
Novated Design and Build form of contract and/or procurement
17.1 kgCO2/m2 annual emissions
---
Credits
Architects 5th Studio
Client FW Properties with Soho Estates
Structural engineer Rossi Long Consulting
M&E consultant BSD, Contact Electrical
Quantity surveyor Bremner Partnership
Planning supervisor Lanpro
Lighting consultant George Sexton Associates
Main contractor Graham Construction
Suppliers
Curtain walling, aluminium cladding, external windows and doors GFS
Steel and aluminium pre-fabricators Warwick ­Engineering
Zinc cladding CEL Group