Reconfigured Segal building is children's inner city Oasis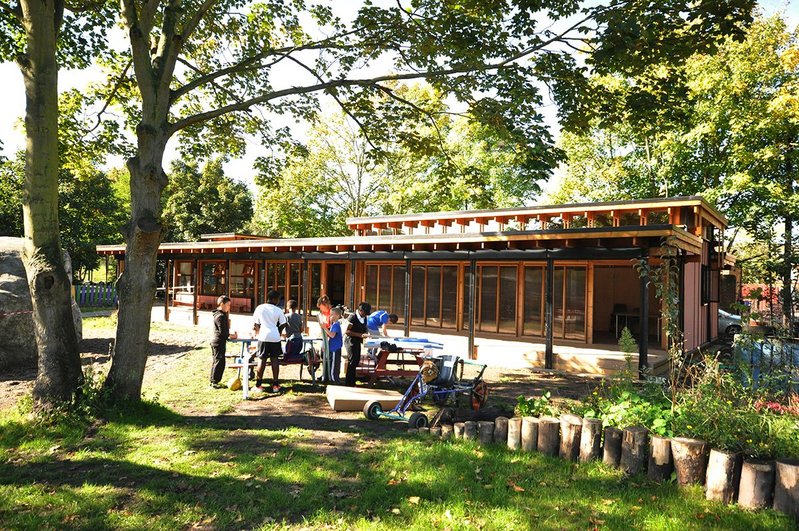 Benjamin Marks and Matt Atkins for Oasis
Stockwell, London
Upcycling rather than recycling, this imaginative project provides a fine new building for a youth charity needing indoor play and administration space – and it was free. Marks and Atkins, Cass architecture students at the time, found that the Segal-method former office of Coin Street Community Builders on London's South Bank was scheduled for demolition unless someone would remove and re-use it, so they leapt into action and claimed it for Oasis. With the support of more than 100 volunteers, they dismantled it into its constituent posts and beams as Segal's design allowed, and moved it from Waterloo to Stockwell. The simple constructional logic of its original design became the key to the material's re-use, allowing it to be cleanly separated and used again in a completely new configuration reflecting the new site and brief. It also made possible the use of high proportion of unskilled labour in the construction.
Marks and Atkins worked as volunteers, forming a good working relationship with the charity. They worked on the site, organised the deconstruction, redesigned the building, secured planning consent and building control approval, and managed the reconstruction process.
As reconfigured, the 200m2 building comprises a new playspace, office, kitchen, veranda, and ancillary functions. It is situated within the playground itself, on land owned by Oasis. Where new materials were needed to meet current building regulations and to replace worn-out elements, the pair found sponsorship. Recent works include landscape improvements.
Now Oasis can house more staff and supervise the playground more directly, leading to it being open more often. The playspace provides Oasis' only decently sized space for indoor play, and has enabled the charity to operate effectively throughout the year.
"This is one of my favourites," announced judge Matthew Taylor. 'It would work well in a middle class area, say, but in this context it's exceptional.' Fellow judge Amanda Levete said: 'It's a great re-use, and a continuation of a really nice story that started in the 1960s. It's about initiative.' And for judge Steve Martin, 'This one scores on all fronts'. Hugh Pearman noted the way it is a new building made with old components for an entirely new purpose. Satisfyingly clever stuff, all agreed.
---