We've learnt to do a lot without the office, but not everything. As the UK starts to open up again, the future workplace looks more sustainable, creative and flexible – and a lot less dense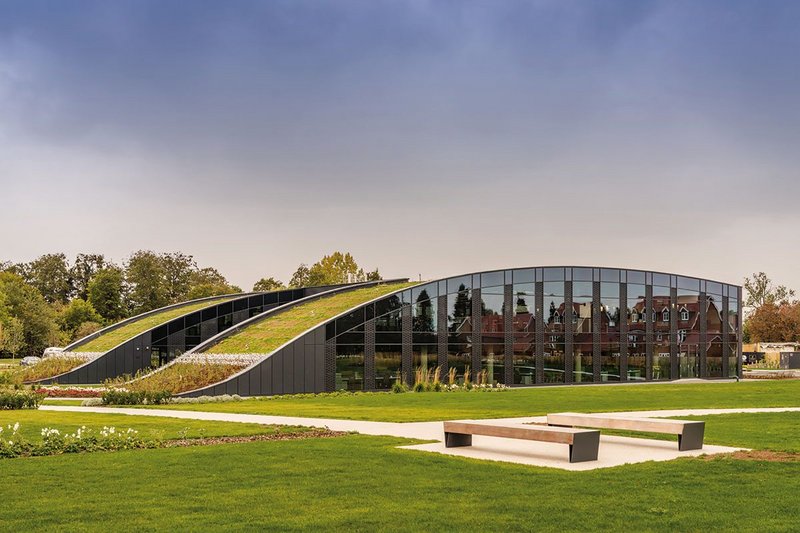 A model for the future? Set in its Oxfordshire AONB, Scott Brownrigg's CABI HQ is lowcarbon, has a living roof and uses passive design.

Credit: Hundven-Clements Photography
Many of us haven't spent a working week sat alongside colleagues in the office in more than a year, yet in that time we have debated, reviewed, surveyed and speculated at length about the ­future of the workplace. As the pandemic and necessary isolation have continued, initial predictions of the death of the office seem to be giving way to more nuanced and diverse views.
'Surveys of our own employees and corporates have found a consensus in that most people want to work from home for one to two days a week,' says Elaine Rossall, head of UK offices research at property consultant JLL, which late last year surveyed 2,000 office workers in 10 countries. Nearly three quarters of its respondents favoured a return to the office, but not necessarily a resumption of previous normality. Almost half those questioned were keen for their workplace to have collaborative spaces and roughly the same share wanted their office to have a direct connection to the outdoors, while almost a third were looking to their employer to give greater emphasis to wellbeing.
Such findings prompted the consultant to forecast qualitative, as well as quantitative, changes for the bellwether London market in a recent report. 'Trends were there before the pandemic but they are now being accelerated,' says Rossall. We're expecting a focus on better quality spaces, with maybe a reduction in secondary assets in location and buildings.'
Already, Rossall says, clients in London and beyond are reconsidering occupancy ratios, with de-densification becoming a buzz­word. Like employees, they are looking beyond old norms, but in their case it is to future workspace that is more flexible, embodies corporate culture and prioritises worker wellbeing. 'Clients recognise they need to encourage people back to the office,' says Rossall. 'The pandemic has made people think about fresh air and CO2 levels. There has been a message from the pandemic that individuals want to be more in control of their working environment, so there is a question of how can you do that'.
This goes hand in hand with the government's drive for net zero carbon emissions by 2050 to push sustainability up the workplace agenda, says Rossall. 'So far 12 million square feet of occupier space in central London has signed up to science based climate targets and that figure is rising very rapidly.' A sector that has been dominated by dense, sealed air-conditioned spaces and a disposable redevelop/refit culture now faces change on numerous fronts if it is to remain relevant.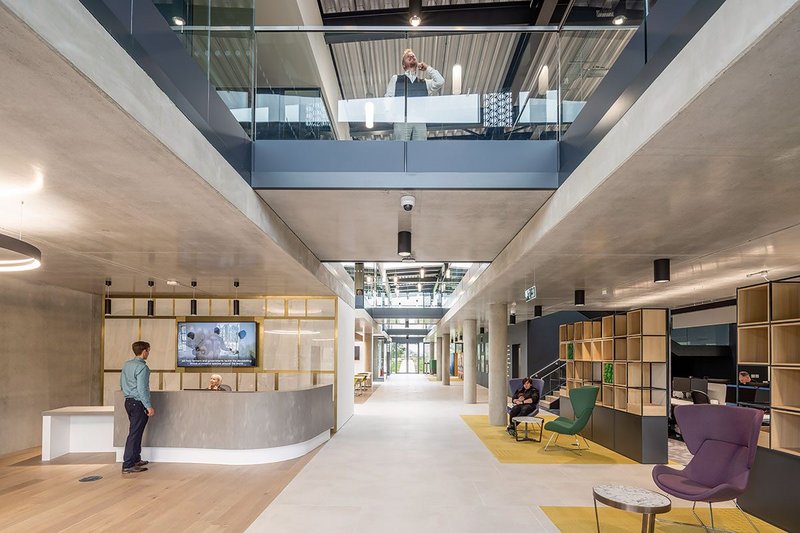 CABI's low occupational density allows collaboration spaces to run along its internal street. The building is naturally ventilated and offers users greater control of their space.

Credit: Hundven-Clements Photography
The pre-pandemic formula of providing mostly desk space with a small proportion of amenity space is being flipped
Space and sustainability
Perkins&Will's interiors practice, which predominantly works with building owners and occupiers, has set its own, more ambitious sustainability target, to reach net zero by 2030. 'Only some of the buildings we are currently looking at are going beyond accreditation. We need to push developments further,' says principal Kate Vine. The firm's open source product information website, Transparency, already details chemicals used in building products to inform more sustainable specification but action is needed on manufacturing processes. 'A lot of the work we do involves stripping out redundant Category A fit-out,' acknowledges Vine. 'For interiors there will be a need to look at how we can create spaces for disassembly, whether that is of furniture or partitions. It means looking at using traditional fixing methods rather than glue, for example. That's something we have to work with the supply chain on.'
Asked to define the post-pandemic office she contends it's too early to tell. 'When we do post-occupancy studies we allow an office to bed in for three months so it will be second or third quarter this year before we start seeing ideas come to fruition,' she explains. 'Every sector could well emerge with different thinking. We won't see the full effects of this for some time.'
In the meantime, the practice is focusing on user well-being and productivity, with research involving its own employees as they return to the workplace. Software linked to cameras in its office will 'read' – anonymously – people's facial expressions. 'It will enable data-driven design and give the capability to understand employee happiness and productivity better,' says Vine. 'We're hoping to pilot it with clients once we have trialled it.'
It is also, inevitably, reviewing how space is configured in some schemes. 'A lot of new builds coming out of the ground are pre-engineered to allow for some flexibility. But the challenge in the UK with a lot of existing stock is what you do with it and how far you bespoke it,' she says. The pre-pandemic formula of providing mostly desk space with a small proportion of amenity space is being flipped, she says, 'so the amenity space could be 60-70% of the floorplate'.
'The convention of designing offices for 1:8 or 1:6 density is something we need to put behind us,' says Ed Hayden, director with Scott Brownrigg. 'We're seeing a push for more generous atrium and collaboration spaces. When it's no longer about jamming in desks, atria and spaces with light and air become more valuable. This will open up the creativity of the office.' That provides scope for more creativity from architects, something Scott Brownrigg has been exploring. It has set out its thinking on how businesses could operate in future, with homeworkers as satellites of a central office core comprising a leadership team, an internal hub for collaboration and an academic hub where knowledge can be transferred. 'We'll see a huge reduction in desks, to be replaced with meeting, collaboration and social spaces that are much more generous,' explains Hayden.
Client demand for flexible space is resulting in a rise in commissions for office/laboratory hybrids and the architect is researching other ways to enhance flexibility. 'We're looking at the idea of adaptive floorplates, which would allow an individual occupier to remove part of the floorplate to fit their own staircase. The pandemic has pushed thinking forward,' says Hayden.
One project indicating the direction of travel is the practice's new headquarters for agri­culture and biosciences not-for-profit CABI, in Oxfordshire. Completed during the pandemic, this low-rise, low-carbon building with its living roof and passive design was created as a response to the environmental ethos of the client and its location in an Area of Outstanding Natural Beauty. Viewed through a post-pandemic lens, it provides a model for how future workspace could better meet the needs of people and planet. Its long narrow wings allow for high levels of natural light while a perforated facade conceals inward opening vents for natural ventilation. 'The design is very much about providing clean, healthy air,' says Hayden. The generous density level of 1:25 enables collaboration space along an internal 'street', while a traffic light system alerts workers when part of the building becomes too hot or air stale. 'One thing we didn't want to do was overload the building with M&E, so we dotted around monitors for CO2 levels, air quality, internal and external temperatures and whether it's raining or not,' says Hayden. 'If you're in an air conditioned space you have no control, so the perforated facade and vents and traffic light system give the individual user control of their environment.'
Such approaches could become more prevalent, Hayden believes. 'We're seeing a push towards the LETI targets, the reduction of embodied carbon and rethinking on air conditioning,' he says. 'Even for the most conventional building we're seeing a move towards greater air change rates and that means more space is needed for plant. We expect there to be a push for natural ventilation. We may see it coming into building regulations and BCO guidance.' Hayden sees office air conditioning norms, which rely on 90% recycled air and just 10% fresh air, being reversed, which presents challenges for buildings not enjoying the rural setting of CABI's headquarters.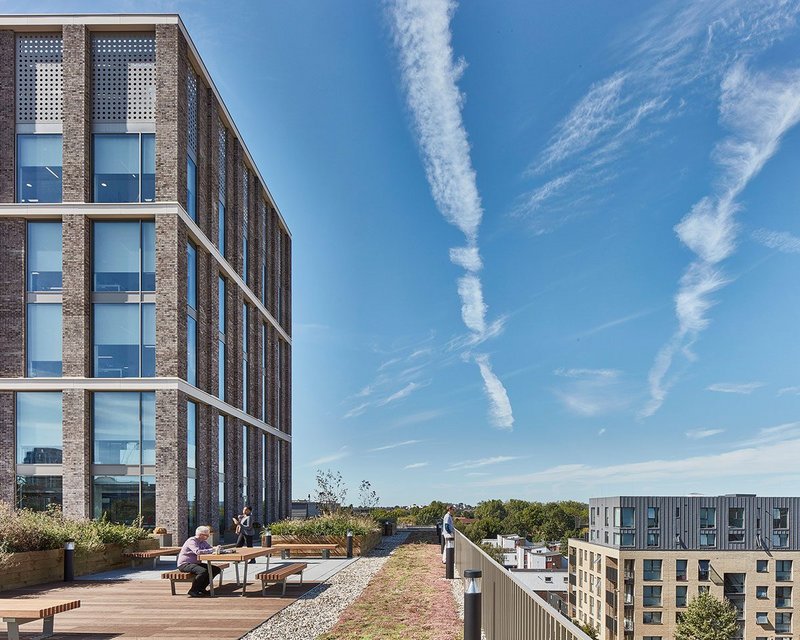 Colindale offices for London Borough of Brent by Hawkins\Brown. The firm is developing its own analytical means of interrogating sites to optimise proposals' environmental performance.

Credit: Ben Dale
We need to enable wind to penetrate the city, so that streets can ventilate buildings well
Air ways
'There's a lot to be said for having a minimum threshold for indoor air quality. We need to go beyond the Health & Safety at Work Act,' argues Francesca Brady, chief executive of AirRated. In the absence of that threshold, her firm has developed a certification programme for indoor air quality. This assesses both designs and existing buildings, with the latter being awarded an AirScore based on monitoring of the fine dust PM2.5, total volatile organic compounds, CO2, temperature and humidity – with air quality indoors compared to that outside.
The company launched last March and so is seeing the pandemic's impact. 'One client letting space found prospective tenants had indoor air quality on their list of priorities, after rent, size and location. Covid has brought this interest about, but we don't think it will go away,' says Brady. 'Indoor air quality has been an unknown for such a long time. We need to know what it means for health and productivity.' She points to the apps measuring outdoor air quality, saying, 'If I'm choosing somewhere to live, I can monitor it using a tool like Breezometer. That'll happen with indoor air quality, so building owners and employers will need to hand back control to occupiers.'
Natural ventilation may give occupiers reassurance and a sense of control, but it won't necessarily ensure good indoor air quality, particularly in urban environments. But design can help to minimise and disperse outdoor air pollution, according to Zuza Jakubiak, architect at Hawkins\Brown. Through her research – carried out via a Hawkins\Brown bursary and in collaboration with building services consultant Elementa – Jakubiak has generated an analytical approach that she is applying to masterplans in the pipeline.
This analysis looks at the site, pollution levels, prevailing winds and their influence on buildings, as well as any vulnerable users and activities relevant to the development. 'I look at maps showing the locations of bus stops or rail lines to identify sources of air pollution,' she says, her trained eye allowing her to pull together a desktop analysis of a masterplan in just half a day.
This analysis informs the design, ensuring it disperses and intercepts air pollution across a building or masterplan. 'We need to enable wind to penetrate the city, so that streets can ventilate buildings well,' Jakubiak explains. 'That's a matter of looking at different heights of buildings to allow air to penetrate and avoiding street canyons and spatial confinement. There is also the need to be careful with air circulation around the building.' Extended canopies on the street and inset balconies are to be avoided in high risk locations, she says, as they effectively trap air pollution. Physical barriers such as trees, hedges or even the building itself can be used to help intercept highly polluted air.
Jakubiak's learning is now being disseminated across the practice in the form of a matrix, joining the growing number of science-based approaches to design. 'We should be going to the source of the problem,' she says. 'Natural, better and passive ways of designing are what the industry is trying to achieve.' What better guiding principle for the future?