MVRDV revisits one of architecture's oldest forms to provide housing and a covered market in Rotterdam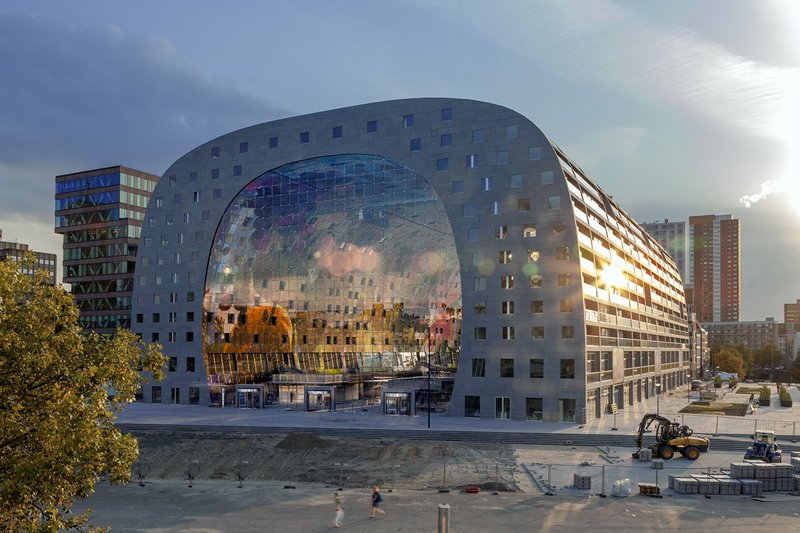 Dutch courage - the Markthal in Rotterdam wraps retail space with housing

Credit: Daria Scagliola and Stijn Brakkee
British modernist architects tend to like the Netherlands because pretty much the whole of this small country – not just the cities, towns and buildings – is designed. It's a complete man-made environment, and much of its design tends to be of the humane-modernist variety. The Netherlands does excellent sober housing, which is why a clutch of good architects from over here get good commissions in the housing sector over there – projects of a quality not so common back home. But there is another side to the Dutch character that is more exuberant, and explains why they were keen on FAT, and commissioned a shopping centre in the Hague from John Outram. It explains the colourful chain-mail overcoat that Mecanoo gave to its Library of Birmingham. And if you've never seen the late postmodern confection of the Groninger Museum by Alessandro Mendini, Philippe Starck and Co-op Himmelb(l)au, well, put that on your architectural bucket list.
It's in this vein that one should approach the new Markthal in Rotterdam by MVRDV with collaborators Inbo Architects, Royal HaskoningDHV, Peutz and Techniplan. It is simultaneously weird and clever. How do you fit a lot of housing and a large covered market on to a tight site? Why, by revisiting one of architecture's oldest forms: the arch. Extend that arch into a lofty (40m lofty) tunnel (one thinks of Lutyens here) and inhabit it, and there you go – flats (both rented and for sale) on top; covered market beneath. So large is the arch that the windows of the double-aspect flats get a fair bit of light – and interesting views – on the inside of the tunnel as well as on the outside. The ones on top have triple-glazed floors looking vertically downwards. With a pair of binoculars you could do your window-shopping from your living room. Alternatively, you could think of this as a 12-storey apartment building with an unusual atrium – glazed at both ends rather than on top. Or as an arctic roll with the ice-cream centre removed.
Surprisingly, this is the Netherlands' first covered market, which might possibly explain why they chose to signal its presence with a supergraphic mural covering the arch's entire shiny aluminium interior – an explosion of plenty, of huge fruit, veg and fish soaring towards the heavens. It's a take on the sort of Dutch Golden Age still-life painting you'd find in the city's art galleries.
Statistics: there are 228 flats, the total area is 95,000m2, the market hall area with its 96 fresh food stalls and shops is 120m long and 70m wide. If you took the stalls out, you could play a decent football match in there, so long as you didn't fall down the steps to the 1,200-space underground car park. That massive artwork, Cornucopia, by artists Arno Coenen and Iris Roskam, covers 11,000m2. Energy-wise it's BREEAM 'very good'. In engineering terms it's not a true arch, rather two inwardly curving ranges bridged on top by massive storey-height hollow concrete beams.
With the exception of the delicate single-glazed cable-net ends to the tube, nobody could pretend that, overall, this is an elegant form. Externally clad in the same grey stone as the market floor and surrounding plaza, it looks squashed and could do with being taller. It's got a lot of verve but you could argue that it's not PoMo enough. Why not make more of the ends of the building around the arch, rather than just slicing the extrusion off as if with a wire? Then again, what are the chances of anything this inventive making it past first concept with British retail and housing developers? There's the rub: when the commercially minded Dutch (in this case the developer Provast) come out to play, they do the playing with more conviction than we do.
---