OMA has added its own chapter to the rolling historical story of the Fondaco dei Tedeschi palazzo in Venice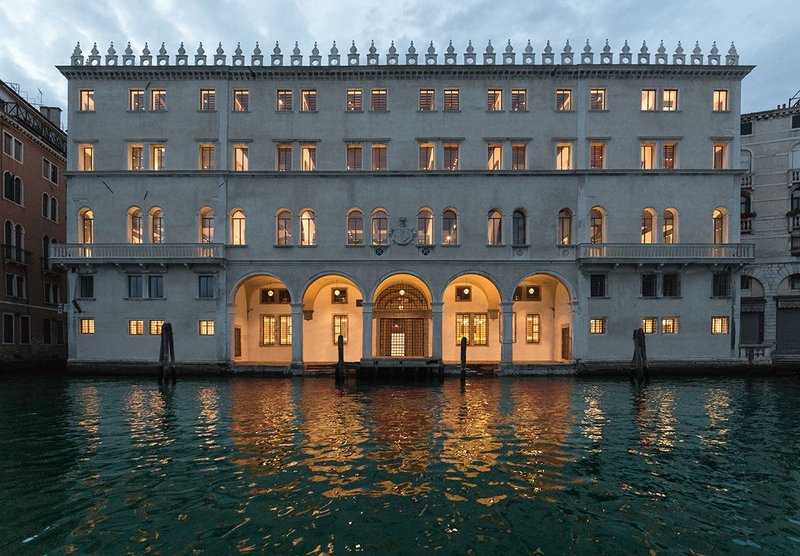 Credit: Delfino Sisto Legnani and Marco Cappelletti, Courtesy of OMA
The Venice of 300 years ago, famously captured in the paintings of Canaletto, was a place for hedonistic pleasure seekers, where beauty, wealth, and indulgence drew in thousands of tourists from across the globe.
Today tourists still flock to the city, drawn more by its sights and shopping than earthier pleasures. Now one of its most iconic historic buildings, the Fondaco dei Tedeschi palazzo, on the banks of the Grand Canal, has been transformed into a very 21st Century symbol of indulgence – a high end department store filled with a plethora of seductive brands including Gucci, Prada, and Versace.
OMA's vision for the 9,000m2 store combines respect for the multi-layered history of the 13th century palazzo with a series of limited architectural interventions intended to open it up and incorporate all the modern circulation and servicing requirements of a retail development. OMA's design was created for client and landlord Benetton, ready for occupation by leaseholder DFS as the T Fondaco.
Located next to the Rialto Bridge, the Fondaco is comparable to a physical document recording several centuries of construction and modification work. The original palazzo was used as a trading post for German merchants, destroyed twice by fires, and rebuilt in its current form in 1506.
In the 17th century, the building was converted into a customs house, then in the 1930s, under Mussolini, significant structural changes saw it turned into a post office.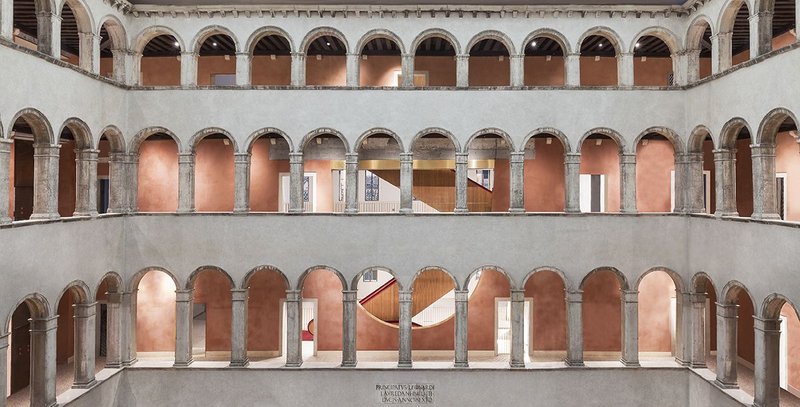 Credit: Delfino Sisto Legnani and Marco Cappelletti, Courtesy of OMA
A key driver for OMA's team, led by founder Rem Koolhaas and partner Ippolito Pestellini Laparelli, was to demystify the idea of the historical building as an immutable monument free of transformation or adaptation - the default approach to most old buildings in Italy. Instead, the aim was to expose the many historic layers to view, alongside new architectural interventions.
'The project makes visible the idea of the historical palimpsest,' says Laparelli, 'in many places exposing the accumulation of layered and historic materials, to encourage people to acknowledge that it is both a historic monument and modern building. We didn't want to declare one phase of the Fondaco's history more authentic than another.'
Two years of survey work revealed a patchwork of historic alterations: The original stone towers had been removed, the 19th century saw the central courtyard covered over with glass, and in the 1930s the building was almost entirely reconstructed in concrete.
Despite its lack of architectural authenticity, in 1987 the Fondaco was granted the legal status of 'Monument', restricting the scope of any structural changes.
Every proposed alteration was debated at length with the city, says Laparelli: 'Step by step we were able to gain back some ground by demonstrating that certain areas of the building were not very authentic but stable enough to support structural changes.'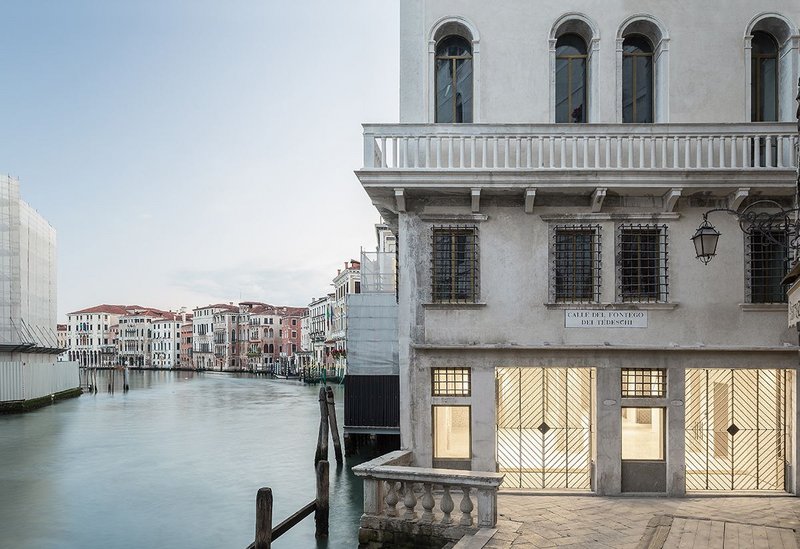 Credit: Delfino Sisto Legnani and Marco Cappelletti, Courtesy of OMA
New entrances were carved into facades facing the Campo San Bartolomeo and the Rialto, while a large cut-out on the Grand Canal elevation increases permeability and circulation space. There is a new central lift and stair core, a large feature escalator with wood panelled sides and red steps and a new wooden terrace on the roof provides breathtaking views of the city.
The most striking new addition is a Miesian steel and glass-floored pavilion, suspended above the courtyard, used as an events and exhibition space. The 20m-wide gridded structure replaces the old glass ceiling, with just a shadow gap separating the pavilion from the edge of the historic cornice.
'Visually we wanted to create something that looks like a pure insert, but it that had to adapt to the irregularities of a historic building,' explains Laparelli.
City authorities were unflinching on the requirement to retain the cellular sequence of rooms in the galleria surrounding the courtyard – the regulation dictated that a concrete wall built in the 1930s at the same location as a stone wall from the 16th century had to be treated as historic.
Thus the department store is divided into a series of internal 'shops', each one separate and accessed via a single gated door, a highly unusual arrangement for a building typology normally associated with large open plan spaces and easily visible merchandise. Instead, visitors are encouraged to discover different brands as they are glimpse between the gates from the galleria.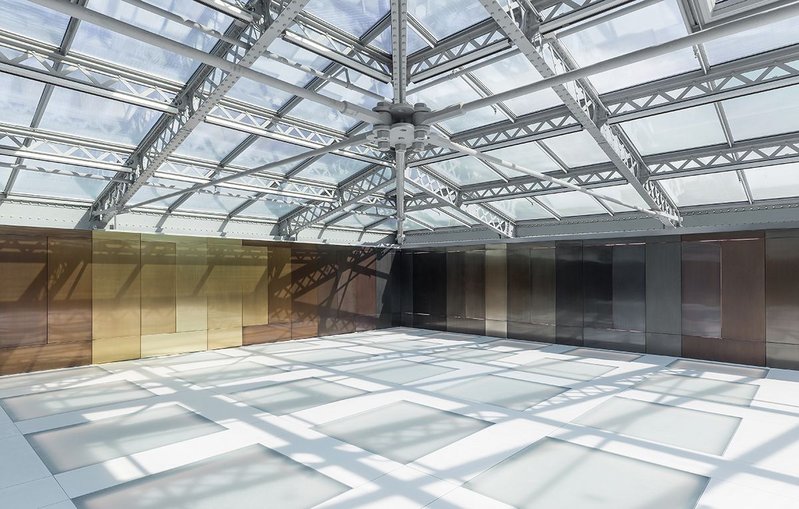 Credit: Delfino Sisto Legnani and Marco Cappelletti, Courtesy of OMA
Conversely, large retained windows in the facades encourage visitors to look out towards the city. Laparelli comments: 'We wanted to create an osmotic relationship with city so visitors don't feel they have to buy anything, they can just enjoy the view of Venice and its architecture.' OMA was wary of creating another tourist 'profit generating machine' in Venice, where increasing tourism and escalating property prices have resulted in an exodus of the local population.
The T Fondaco has several spaces suitable for use by Venetians. The courtyard and pavilion will stage concerts and exhibitions, an existing route through the building used by locals has been retained, and there are commercial components related to local food and craft.
A respect for the past influenced the choice of materials, finishes and fixtures, many of which are a contemporary twist on classic Venetian design. The courtyard floor is covered by blocks of Red Verona marble and highly durable Istrian stone, typical to many courtyards and covered passageways in Venice, but laid out in a contemporary geometry of diagonal stripes.
Brass, a common feature of Italian architecture, is oxidised in the Fondaco to create different surface tones of blue, orange or more traditional gold. Visitors pass through a brass and mirror wall on the fourth floor to reach the pavilion, which itself features brass walls oxidized in a gradient from blue to gold.
This intermingling of past and present extends to the interior fit out, where DFS' architect, UK-based Jamie Fobert, developed nine sets of furniture inspired by the city. Tables in the womens' accessories department are formed from classic grey, pink and yellow Italian marbles, sand blasted to the point where colours appear powdery white like the weather-beaten facades of local churches.
Elaborate patterns on metal grilles covering many windows in Venice were cast in negative in brass to form the structure for kiosks dotted around the courtyard floor. Their sophisticated folding furniture recalls traditional kiosks seen many local piazzas selling food and souvenirs.
'Like OMA, we wanted to pay homage to Venice, without it being a pastiche, or over simplistic,' says Fobert. 'We looked at materials dominant in Venetian palazzos, such as grilles and traditional glass making, and made reference to historical things through the colour palette and materiality.'
A more direct historical reference is the use of large tapestries, hung over courtyard balconies, sown with the names of products sold on each floor. Developed by Italian graphic designer Tapiro, this recalls the Renaissance practice of hanging carpets with family crests sown into the surface from palazzo windows during regattas on the canal.
It's another layer to a historical tapestry of a building that, thanks to OMA's reimagining, should entice pleasure seekers to Venice for many years to come.