Oliver Wainwright meets some house builders prepared to bare all – Naked House, OMMX and Apparata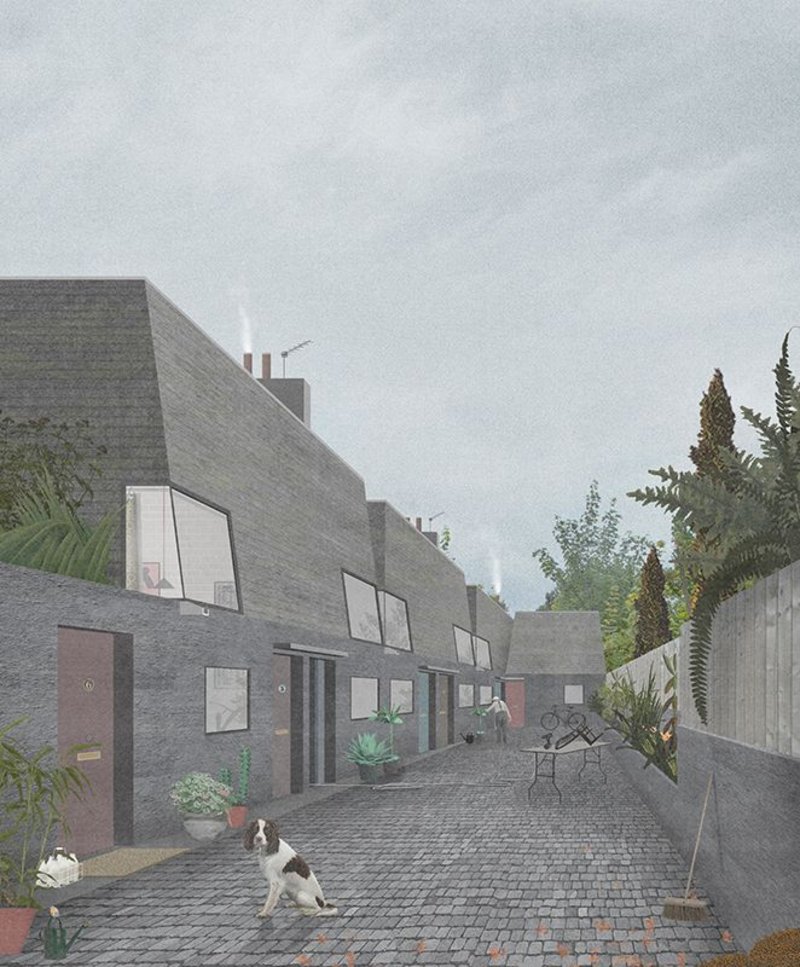 OMMX Architects designs for Naked House.
A press release from a housing developer jumped out of my inbox this month, ­because instead of the usual identikit interior of Eames chairs and vases of flowers, there stood a stark breeze-block room furnished with a workbench and a ladder propped against the wall. In place of the usual oak laminate flooring were rough sheets of plywood, while a solitary cat stares out of an open door, in a tableau as pregnant with ­potential as a de Chirico painting.
It is the no-frills vision of Naked House, a not-for-profit house builder that sees this as a way to make homes more affordable. Against an average house price in London of £580,000, it says its 22 pared-down homes in Enfield will be sold for £150,000 to £350,000.
Designed by young practice OMMX, the homes are conceived as a model of adaptability, configured with internal remodelling and extending in mind. In their 'naked' state, the houses provide a 50m2 open-plan dwelling; in fully adapted mode, each can become an 87m2 three-bed property, fully compliant with the London Housing Design Guide.
Clever design moves include a double-­height space with a mezzanine and built-in ledge around the perimeter at first floor height, making it easy to add joists and ­create an extra floor, while a sturdy garden wall with a party wall agreement already in place makes building a rear extension a question of simply adding a roof. Services will simply be housed in a sunken perimeter channel cast into the floor slabs and covered with a plywood plate, so they can be easily maintained – and reconfigured if rooms move around.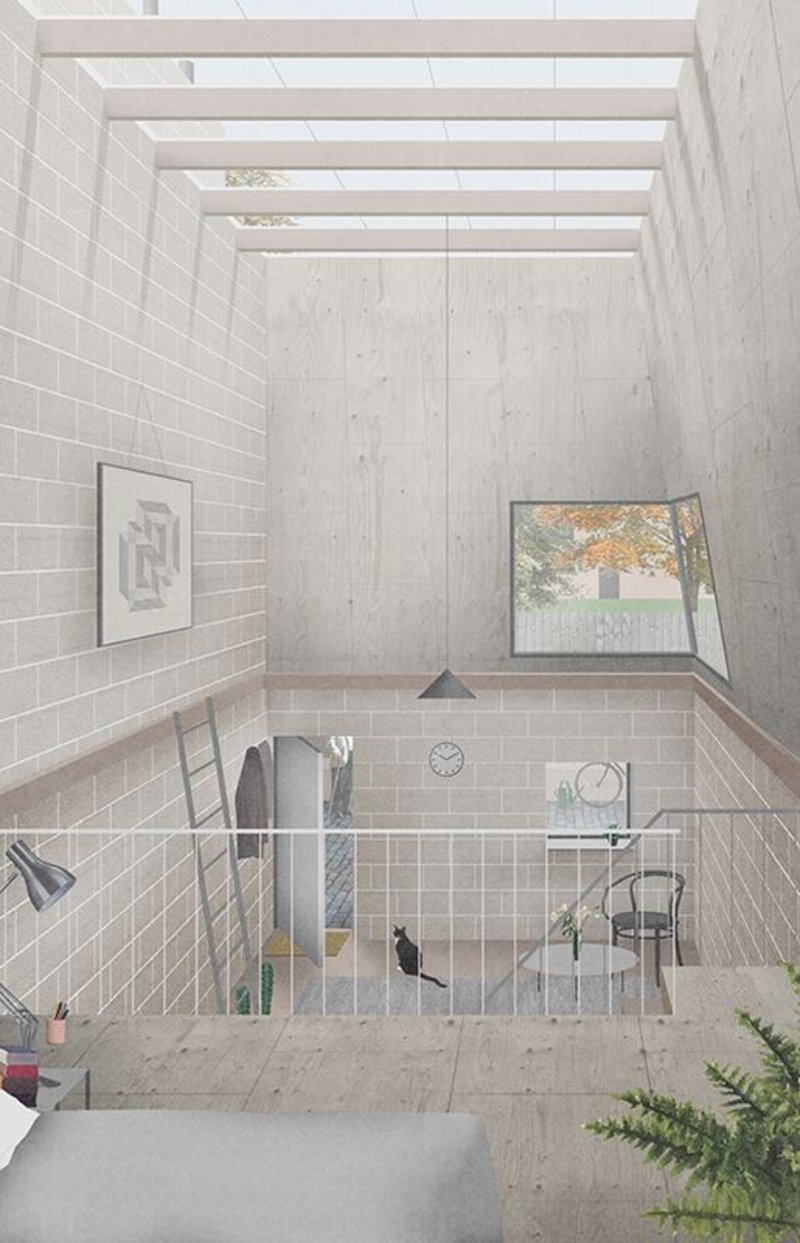 Can doing away with plasterboard linings and a fitted kitchen, as Naked House has done, save thousands?
But can doing away with plasterboard linings and fitted kitchens really save several hundred thousand pounds? Well, no. I'm sorry to write this in an architecture magazine, but the revolutionary thing about the project is mostly about land. Sited on council-owned infills, the plot freeholds will remain in council ownership, to whom buyers will pay ground rent. Available to people earning under £90,000, a resale covenant in the lease will keep homes affordable in perpetuity.
It is a model of community-led housing on council land that London mayor Sadiq Khan is keen to encourage. His recently launched Homes for Londoners Community Housing Hub provides a 'one-stop shop' for technical expertise and access to funding. The Naked House scheme was the first to benefit, receiving a £500,000 enabling grant.
Homes for sale is one model, but elsewhere in London councils are deploying this stripped-back bare-bones model for rental housing too. An innovative experiment is under way in Barking, initiated by arts charity Create, to build affordable housing specifically for artists being priced out of the city.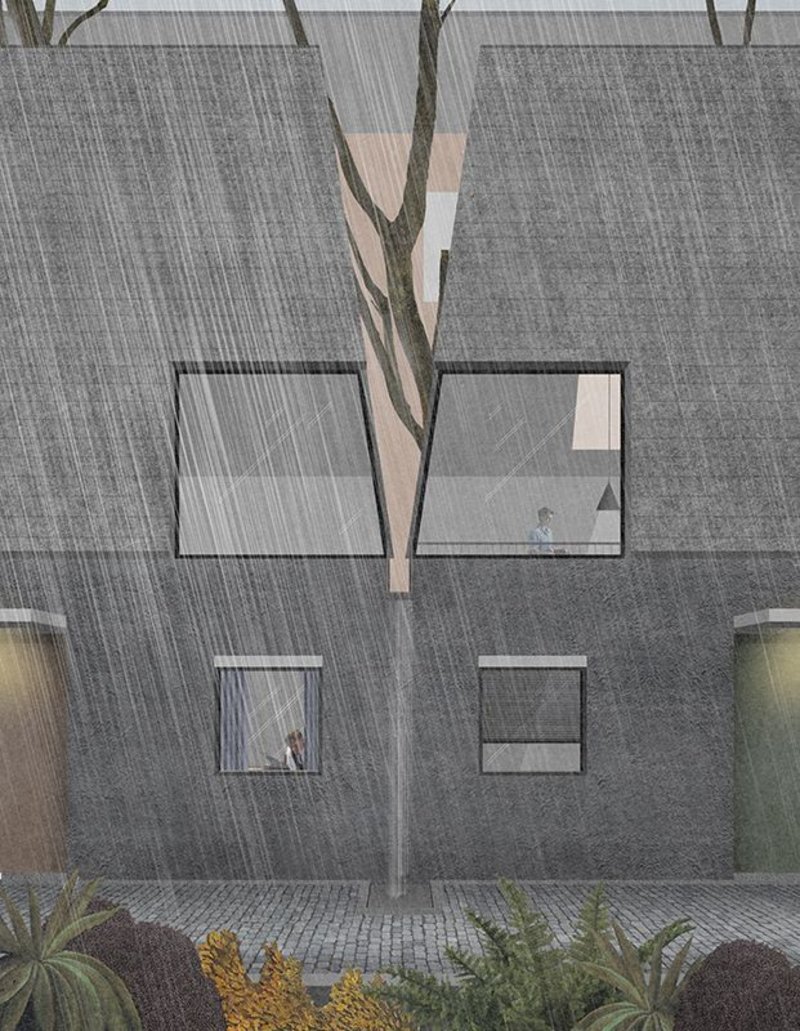 Or is it the land deal that makes these affordable?
Designed by young practice Apparata, the House for Artists will provide 12 rough and ready units above a community hall and workspace, with a similarly raw industrial air. Its units will do away with corridors and most interior walls, providing 20% more space than usual, while double doors between units allow for potential expansion with ­sociable co-housing in mind. Balconies are similarly configured, allowing outdoor space to be opened up for temporary events, or permanently. Using off-the-peg components and an intelligent economy of means, Apparata says its project will be built for around a third less than an equivalent scheme.
Providing bare shell homes won't suit everyone, and it could be a slippery slope if councils can get away with providing cut-price Lidl homes for the most vulnerable tenants, but it is one way of increasing the supply of more affordable housing while allowing residents to truly adapt homes to their needs.
---
HOW THE OTHER HALF LIVES
On a recent trip to New York I was exposed to the opposite end of the housing spectrum, regaled with solid onyx bath tubs and chests of drawers lined with ostrich leather in the city's new super-luxe pencil towers. I was told that most of this stuff will end up in a skip when the owners fly in their own interior design teams from Miami. Perhaps the purveyors of these safety-deposit box homes could learn from the Naked House example?
Oliver Wainwright is architecture critic at the Guardian. Read him here every other month and at ribaj.com
---