In a country with 853 libraries, ALA was set a daunting task to design Helsinki's Oodi. The result is less about books than the experience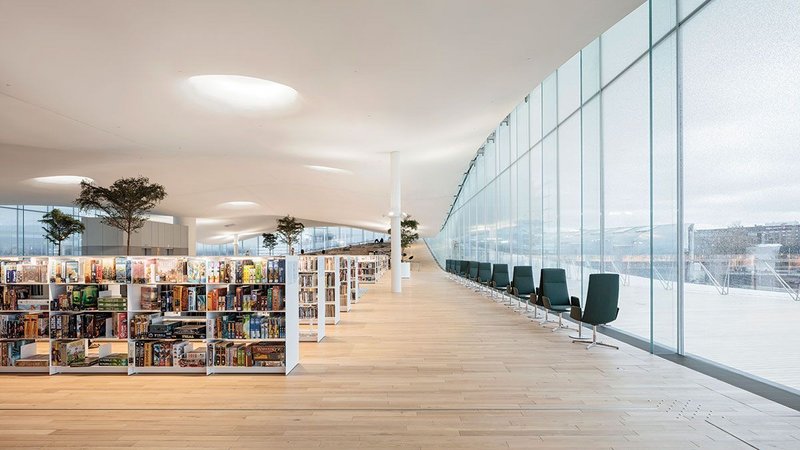 Book Heaven on Oodi's top floor, looking south under its cloud-like roof.

Credit: Tuomas Uusheimo
I've reached the end of the day on an official tour of five Helsinki libraries, and while confessing to feeling a little 'booked-out', I've found it insightful. First up, the 1840 National Library was an exercise in heterogeneity: its Carl Ludwig Engel reading rooms were warm and intimate despite dull Diocletian clerestory light- enhanced by many creamy Corinthian alabaster columns. By contrast, Gustav Nyström's 1903 semi-circular extension, topped with a low, oval, milky oculus from which carved timber book cases radiate, has a pared-down severity; penitential Art Nouveau, like Mackintosh having a turn of the Stockholm Syndromes.
A stone's throw away, Anttinen Oiva Architects' 2012 Kaisa Library for Helsinki University could have been inspired by Nyström, but here extrapolated up and stretched long like elastic. Beyond the catenary curves of its perforated brick facade, the telescopic cigar-shaped atrium delivers an Instagram slap that even had me reaching for my phone. On the west side, another deep catenary and carved out space offer vertiginous views over the city. Between the two trompe l'oeil effects, it's a wonder anyone gets any studying done here at all.
And maybe that's the point, as I'm about to discover. That afternoon, and after all these years, the curved white ceilings of Alvar Aalto's former 1970 Helsinki University of Technology library still managed to catch and radiate the blue hue of the day's dying rays into the architect's crafted and precisely modulated volume. But my off-the-cuff remark that we're 'finally in a proper library', got a glower from Helsinki City Library's Lotta Muurinen. Yes, it might look great but she begs to differ. 'If our libraries still looked and functioned like this one,' she's at pains to clarify, 'no-one would come to them.'
So Oodi (which means ode) – Helsinki's new 17,250m² central library by ALA Architects, opposite the Parliament House and near the Finlandia Hall – embodies that thinking. And its positioning here near Steven Holl's Museum of Contemporary Art, Helsinki Music Centre and the National Museum – plus its nearly €100 million budget – gives a clear indication of the ambition of the project.
All this begs questions about what a modern library is and how its civic function should be expressed
In Oodi, Tommi Laitio, the city's executive director of culture and leisure, gives the context and proffers some impressive statistics. Backing up his claim that the Finns are the world's most literate people, he talks of their national roster of 853 public libraries and the fact its 5.5m population borrows nearly 68 million books a year – that's 12 books per person. He also explains libraries' central role in the civic life of the nation. Library access is a statutory right under the Libraries Act; two million people possess a card and they average nine visits a year. But critically, he underlines how the library is bound into notions of citizenship, democracy, personal and community freedom of expression. Laitio's telling of a teenage day spent reading gay literature tucked inside the pages of Time magazine presents a very personal account of the library as a 'safe space' – and one that had a lasting effect. The small, perfectly formed and buzzing Kallio library we visited might be turn of the century Jugendstil but under his watch it's the first to have a dedicated area, right in the middle, for LGBT readers.
Social cohesion was also intimated on our visit to Maunula House, a lofty library built in 2017 by K2S Architects, sandwiched between its bustling community centre (overrun with feral teenagers) and a local supermarket. Yes, you can walk straight from one to the other; for effect, a picture window knocked in the party wall links supermarket shelves with the adult fiction section. It really is quite something.
Scale this up and a lot's riding on ALA's design for Oodi, which in 2013 won the 544-entry international competition with its proposal to rethink what a library might be and what it might do in the future. Those needs were identified specifically by public consultation – with other library users and professional future gazers. The result is the enormous timber, steel and glass box facing west to Kansalaistori Square and part of a rather motley masterplan of new institutions, corporate HQs and spec offices now occupying the former railway sidings of Eliel Saarinen's 1919 Helsinki central station.
ALA's book box turns out to be another gestural intervention, albeit more reasoned and less 'artful' than Steven Holl's. It transpires the box is not just a box but two massive 100m wide steel arches that allow the lower levels to be column-free, and support the great, glazed volume that tops off the building. As ALA partner Antti Nousjoki explains, its form was due to a radical rethinking of the library's nature, generating a clear tri-partite proposal of three distinct functions. The ground floor acts as an open reception, exhibition and auditorium space, and the interstitial floor as a dedicated public 'Maker Space'. The open plan reading room at the top, 'Book Heaven', uses the large cantilever at the summit of the arch to create a sizeable west-facing outdoor terrace.
From the outside all this generates a curious language. The arch is immediately read on the main elevation as the enormous duck's bill soffit of Finnish spruce that rises to meet the floor above and forms the yawning mouth to the public square in front. This eats into the largely timber-faced Maker Space above, which is then crowned with a floor of fritted full height triple glazing, its edges picking up the undulations of the roof. Oodi is thus a statement building, a distinct offering in the general menagerie of the area's masterplan. I can't say that it looks like a library but I think the powers that be would be quite happy with that assertion; I don't think they want it to. But as it's yet to open, neither can I say that it has a particularly civic presence – which might be more concerning as the building is supposed to reflect the cultural aspirations of the city. The glazing looks good though; the frit picks up on and vivifies the tombstone grey of the Helsinki sky by day, and illuminated by night, looking over from the Parliament building, it's a striking addition to the city.
Internally, the huge spruce soffit is the overriding control for a ground floor – effectively a covered public space containing two auditoria, general admin and circulation to the upper levels. It's a lot of space for little function, so the grand double helix staircase artwork by artist Otto Karvonen takes pride of place. Admin areas are minimal here; only 100,000 books are held on the open shelves, fed daily by truck from the city's stock of over three and a half million. So Oodi is not a repository as such but a checkout for books; it's like a sublimation of K2S' Maunula House project where the party wall disappears and library just turns into the supermarket.
Supposedly the space where all the magic happens, the Maker Space above the public entrance comes across as curiously unresolved. For a start, buffered as it is from the outside world by the workshops themselves, it is highly internalised, so it's hard to get your bearings. Add the black-painted soffits, and weightiness compounds the disorientation. Sitting in section at the top end of the steel arches, its cantilever trusses overpower the space. These have been oddly clad in timber, making them even more unsettling. A strange amphitheatre zone of dubious merit clogs the circulation, which leads to any number of sewing rooms, 3D printer spaces, music rehearsal and recording studios. At the south end we're shown a room with 'interactive walls' – though exactly how seemed unclear to everyone on the tour. It all feels very makeshift; and certainly not like architecture. ALA's Nousjoki claims this contingency was deliberate; that they were avoiding a sense of the architecture intimidating or overpowering users; that the space isn't about display per se but underplayed, allowing for experimentation and play. The sentiment might be right but the volume feels unconsidered; joyless even. I couldn't imagine wanting to spend much time in it.
It's a relief then, to make it up to Book Heaven, where you're greeted by a white, flying carpet of a roof that furls along the full length of the building. Held aloft by a few columns, it's lofty and light-filled, perimeter glazing offering great views across the city; and beneath it books ranged across an expansive and well attenuated space. With its lovely floor of oak planks, this is the living room for the city. Its generous seating areas, open plan kids' library (with hidden story telling room) and the massive outdoor terrace on the cantilever create the feeling that conscientious study is not really the aim. Stepping up in section at both ends and with tall saplings in planters placed across the space, this reading room is akin to a landscape, cosseting readers in its central valley; a welcoming and comfortable space to linger in and socialise.
All this obviously begs questions about what a modern library is and how its civic function should be expressed. Helsinki has several iterations of the typology; all registering changes in time and social mores. The city's main library remains at nearby Pasila. Oodi is no Bibliotheque Nationale, consummately reifying both knowledge and the centralised power of state. Nor is it the British Library; a bank of global knowledge that just happens to look like a neo-vernacular hypermarket. Neither is it OMA's Seattle library, attempting a formal re-reading through embracing new media and technologies.
At Oodi, the presence of the library is something of a conceit. With up to ten thousand visitors a day expected and relatively few books on site, Book Heaven feels more like a temporary holding facility- just with a much better view. And with all the other functions below – at one point even a sauna was mooted – the building is actually more akin to a leisure centre. In Helsinki the gestation has been slow but purposeful, but the library has morphed into a community centre on a glorified scale that has prioritised spaces of social interaction and activity over those for individual, silent study. That is all fine but in a civic sense, sans the specific symbolic gravitas of the building as a repository of knowledge, it has, by default, perhaps divested itself of the appellation altogether. Like the city's executive director of culture's covert use of Time magazine; at Oodi too, the book was merely a device.
---
In numbers
€98m budget
17,250m² GIA
100,000 books
3 floors
Credits
Client City of Helsinki
Architect ALA
Main contractor YIT
Groundworks EM Pekkinen
Structural HVAC/ Energy engineering Ramboll Finland
Project management Ramboll CM
Theatre consultant Granlund
Electrical engineering Rejlers
Acoustic engineering Helimaki Acoustics
Fire engineering Markku Kauriala