Winner: Private residence, Oxfordshire. Entrant: L2i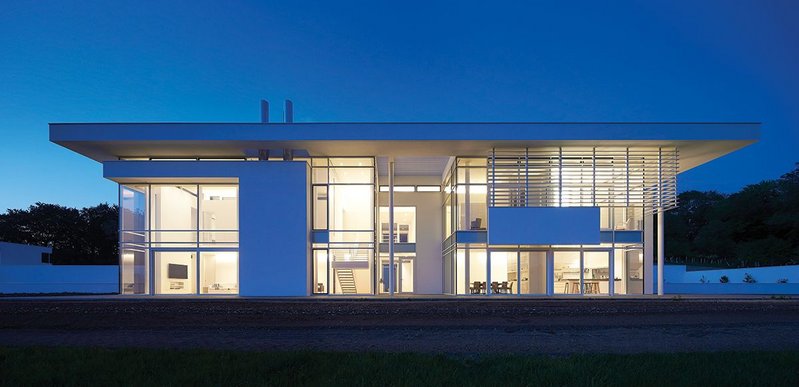 Full height curtain walling and sliding doors create a spectacular glazed main elevation.

Credit: Hufton + Crow
This entry certainly had the wow factor, securing both the Individual House accolade and the overall prize in the 2017 Schueco Excellence Awards.
Designed by acclaimed US modernist Richard Meier, the striking new build country house features extensive Schueco installations to open it up to the scenic Oxfordshire countryside.
'This powerful house takes command of the landscape with its glazed facade,' says Eleanor Young, chair of the judging panel. 'The rigorous framing demonstrates the potential of beautifully designed and constructed details.'
'The house is on a spectacular site. The glazed elements create a fantastic sculptural piece with transparency and audacity,' adds judge Pankaj Patel of architect Patel Taylor, the overall winner of last year's awards.
The house, Meier's first in the UK, responds to the varied character of the site in its composition. The mainly solid rear is designed to relate to dense woodland while the predominantly glazed main elevation embraces the openness of the landscape it overlooks.
Schueco is used throughout, with full height Schueco FW 60+ forming a spectacular curtain wall in combination with Schueco ASS 70.HI lift/slide doors at ground floor level. This challenging installation involved double-height spans of 8m as well as incorporating all-glass corners. The result floods the interior with as much natural light as possible, with additional Schueco FW 60+ roof lights bringing it into even the smallest rooms in the house.
Schueco AWS 112 TipTronic parallel opening vents at the top of the elevation are part of the energy strategy of the building, with summer temperatures controlled through their automatic opening via the building management system. These vents work in tandem with the building's thermally massive structure.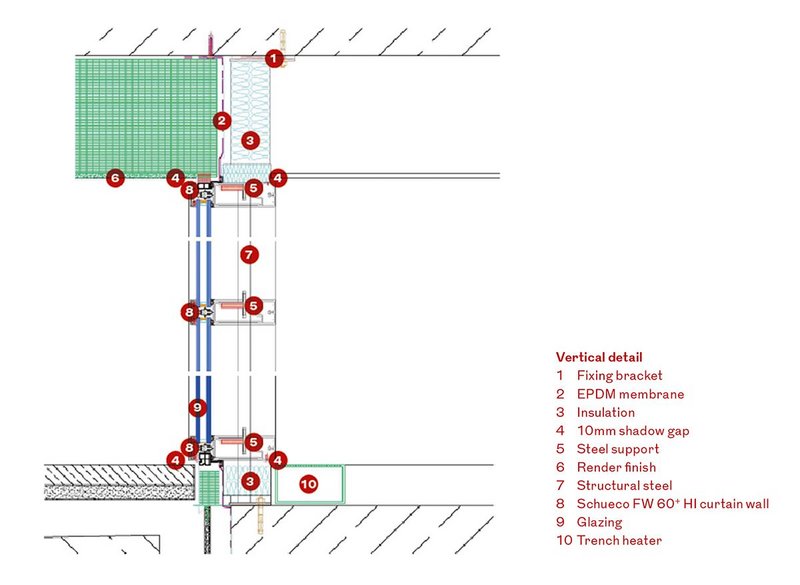 'The challenge was that there had to be zero [+/-1mm] tolerance, which was very difficult to achieve on a building that size with glass to glass corners and 8m spans – that level of accuracy was unheard of,' says Lawrence Goodall, managing director of specialist contractor L2i. 'There could be no compromise on what Richard Meier wanted.'
The importance of the glazing installation to the whole design is acknowledged by the architect.
'Precise detailing and successful execution of the glazing system as the physical and visual connection to the exterior and landscape was critical and the key challenge for the success of the project,' says the practice.
The project has won a 2017 RIBA South Regional Award.
---
Client: Confidential
Architect: Richard Meier & Partners Architects
Structural engineer: Price & Myers
Main contractor: Sizebreed Construction
Specialist contractor: L2i
---