This week sees approvals granted for homes, offices, shops – and an art hotel
Eros' arrow has struck Fletcher Priest with permission granted for the unsung building behind Piccadilly's famous billboards. Moxon Architects go 'Brave art' in Braemar via Hauser & Wirth hotel and there's some high-rise hospitality on the cards for Cardiff students in Wales' tallest tower. pH+ does its bit to clean up a former industrial site alongside the GWR mainline into London, the old village of Burscough in Lancashire goes large and an Old Street textile warehouse grows an old-looking head and a new-looking hat courtesy of Buckley Gray Yeoman.
Total area: 19,520m2
Client: Land Securities
Architect: Fletcher Priest
Planning authority: London Borough of Westminster
Planning reference: 15/07092/FULL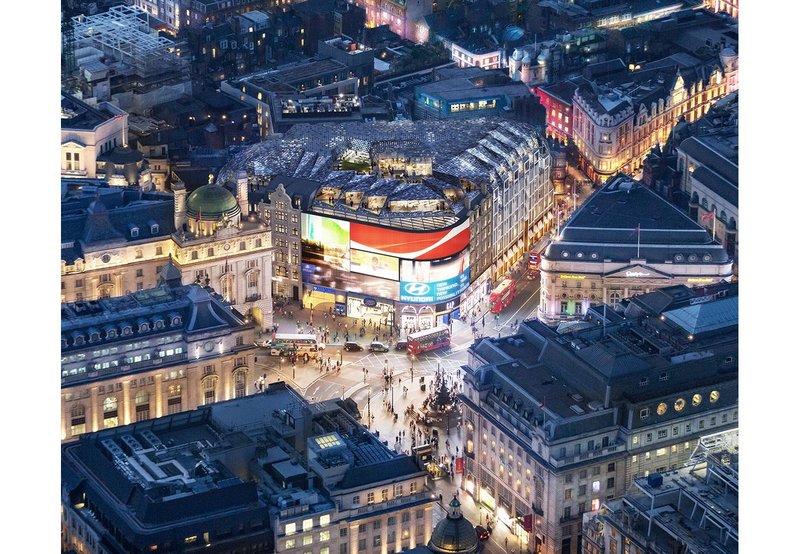 You can't get closer the heart of the capital than Piccadilly Circus, so it should be an exciting couple of years for the team working on its 'Lights' scheme, which sees a yearly footfall of over one hundred million people. The island site proved problematic and largely unoccupied for 60 years – until Fletcher Priest came up with its proposal for Land Securities, turning the 'unusable' spaces behind the famous billboards into desirable offices, shops and residential – while keeping the whole lot operational throughout with a scheme that 'won plaudits from Westminster Council'.
The architect's proposal 'lightly envelops the site with a folding geometric skin of ceramic tiles and creates a rooftop landscape of creative workspaces that open onto terraces with breath-taking views across central London'. Reconciling the site's complexities, the enormous roof becomes a transparent winter garden behind the iconic billboards and pulls natural light in from above – making the space, aimed at Soho's media companies, usable once more.
---
ROSEBANK WORKS, ACTON, LONDON
Total area: 2,696m2 residential + 67m2 commercial
Client: City and Suburban Ltd
Architect: pH+
Planning authority: London Borough of Ealing
Planning reference: PP/2015/4653

pH+ Architects is behind the design of 37 new timber-clad homes in Acton, west London. The difficult, narrow, wedge-shaped brownfield site runs alongside the tracks of the mainline into Paddington and has been re-interpreted as a form of linear park. Four storey apartment blocks have been placed at the wider, entrance end of the site, along with a commercial unit, and smaller one and two-storey mews houses running down towards the narrower end.
The new blocks face south towards the tracks, over the newly created green space, which steps in and out with the blocks to reduce scale, creating both public and more private zones. Vertical timber hardwood slats are used to clad the homes (12 of which will be affordable), with metal panels used for circulation areas and walkways. It is intended that the whole development will be car-free.
---
THE FIFE ARMS, BRAEMAR, SCOTLAND
Total area: 5,000m2
Client: Highland Hospitality
Architect: Moxon Architects
Planning authority: Cairngorm National Park Authority
Planning reference: 2015/0386/DET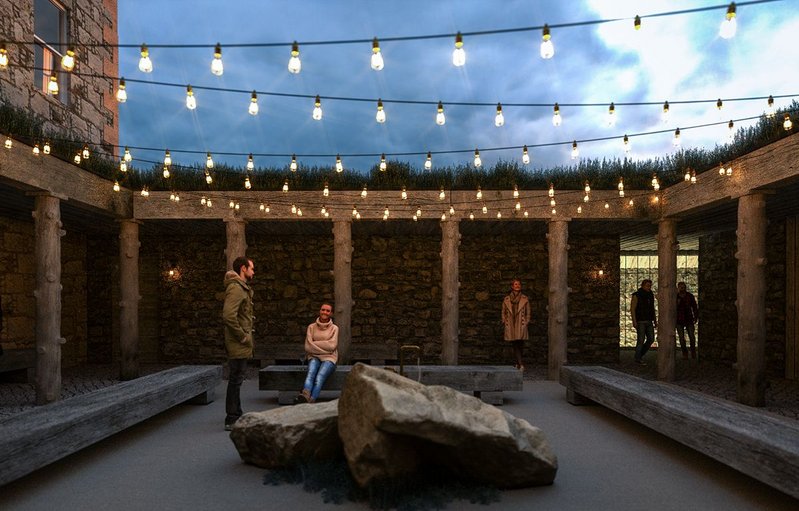 The client for the redevelopment of the 19th century 45-bed hotel in Braemar, on the edge of the Cairngorms, is otherwise known as Iwan and Manuela Wirth, of London Hauser & Wirth gallery fame. Art's power couple is building on the success of their Bruton Gallery in Somerset, with its guesthouse and Roth Bar&Grill; looking to emulate it north of the border, where they have another home. Moxon will be working with interior designer Russell Sage to revive the landmark Grade-B listed hotel using careful restoration, discreet re-modelling and contemporary interventions.
It's proposed that the new building will be procured ensuring local trades and suppliers are actively engaged in the works and the plan is to employ at least 50 locals when it reopens in 2018. One assumes less of the local arts however: the hotel's intended to have 'prominent inclusion of contemporary art and design…creating a unique and transformative experience for guests'.
---
YEW TREE FARM, BURSCOUGH, WEST LANCASHIRE
Total area: 40.5ha
Client: Crompton Property Developments
Architect: IBI Group
Planning authority: West Lancashire Borough Council
Planning reference: 2015/0171/OUT
As a way to help address the housing shortage in the area, Crompton Property developments has secured outline consent for 580 homes at Yew Tree Farm, which includes affordable homes and residential accommodation specifically designed for an aging population. IBI has been responsible for the masterplan, 'designed to improve connections between adjoining areas and enhance local public transport, in addition to providing space for local employment growth'.
The scheme includes nearly 14,000m2 of employment space, retail and community facilities, a new linear park, cycle and walking routes, allotments and a site safeguarded for a future primary school. Due to complete in 2027, the development is part of the wider 73ha extension of Burscough village. The scheme has been contentious for the locality; with the outline permission predicated on Section 106 agreements to nail down details of community facilities, drainage and traffic strategies.
---
CENTRAL SQUARE TOWER, CARDIFF
Total area: 15,500m2
Client: Watkin Jones Group
Architect: Rio Architects
Planning authority: Cardiff City Council
Planning reference: 15/2820/MJR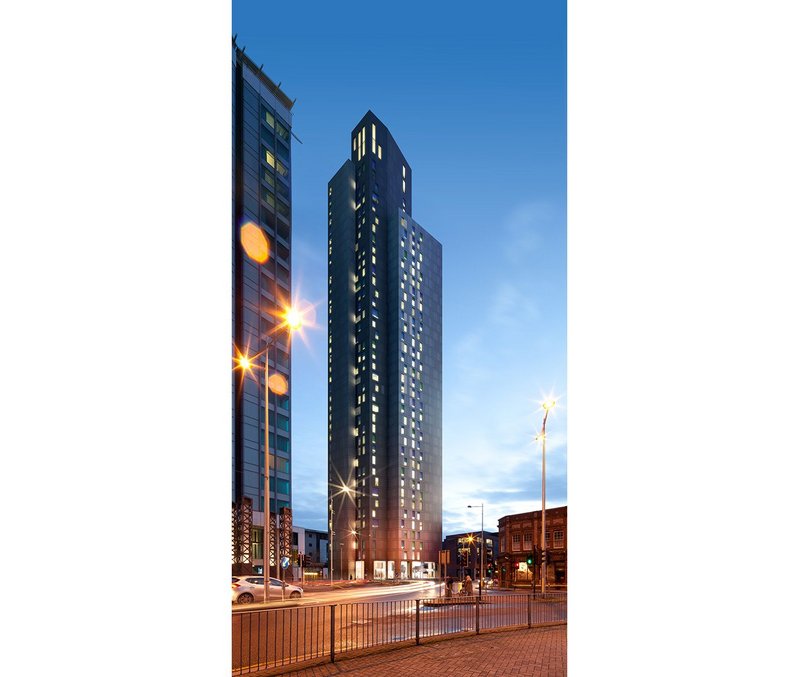 Eclipsing Wales' tallest tower, 'Meridian', by 25m, Rio Architects' proposal for a new 42-storey tower in Cardiff received planning permission this month. The 132m, 447-bed proposal of cluster flats, studios and one-bed apartments has A1/A3 retail and commercial spaces at ground level and will be clad predominantly in dark grey GRC panels interspersed with anodised aluminium panels.
Bounded by Customhouse, Bute and Hope Streets and the main railway line from Cardiff Central in the city centre, the site has been historically vacant and, it's claimed, allows the opportunity to regenerate a city centre fringe that's become detached from the commercial heart. It also allows the city to link more successfully with the PFI-funded Callaghan Square enterprise zone to the south and, beyond that, Cardiff Bay itself.
The tower will be operated by Fresh Student Living, an offshoot business of the Bangor-based client Watkin Jones Group, which manages about 10,000 student beds across the UK.
---
293 OLD STREET, LONDON
Total area: 1,873m2 from 1,129m2
Client: CBRE Global Investors
Architect: Buckley Gray Yeoman
Planning authority: London Borough of Hackney
Planning reference: 2015/2717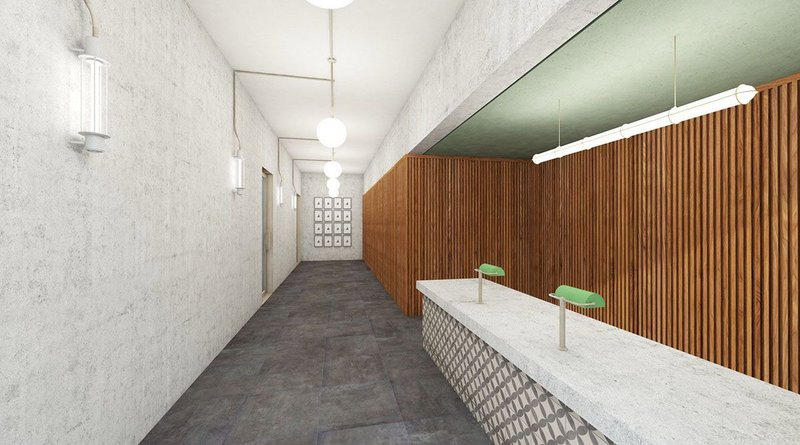 BGY seems to be cornering the market with office developments around London's Silicon roundabout. Flushed from the success of its C-Space refurbishment on City Road, the firm has just secured permission for a commercial roof extension on Old Street for CBRE. The consent allows for a two-storey extension to the three storey, 1920s former textile warehouse, delivering a 65% increase in floor area.
The original building, which sits in the Hoxton Square zone of the South Shoreditch Conservation Area, will be fully restored as part of the development. A third storey, designed to be in keeping with the original brick structure, will be added along with a fourth floor glazed pavilion and terrace.
BGY states that 'the interior design aspires to work with the best of the existing building, complementing the industrial aesthetic with modern enhancements to create maximum flexibility'.
---
If you have just won approval for a scheme please send the details to jan-carlos.kucharek@ribaj.com