A small block of two duplex flats in north London produced interesting architectural features within a tight budget that overcame a difficult planning history
Build-to-rent may be the hottest thing in housing development, but it seldom produces anything of architectural interest. Large schemes boast enticing communal facilities, but residents' apartments are generic: plans are composed for optimal efficiency, and interiors are safely conventional. Outwardly there is little to distinguish the lumps of rental investment property going up everywhere from Southampton to Edinburgh.
A new build-to-rent block on Hercules Street, north London, is a rare exception. Designed by young practice Parti, it's small – just two duplex flats and a gross internal area of 186m2. The facade of dusty grey brick is a subtle response both to the rhythms of a street lined with Victorian terraces and to the wider context; an industrial yard lies immediately behind, and gritty Holloway Road is just metres away. Inside, the architect has composed a palette of robust, inexpensive materials to make solidly-constructed homes that are densely packed with architectural ideas and sensory appeal.
The grey brick facades is composed in a regular grid, picking up on the repetitive character of nearby housing.

Credit: Johan Dehlin
That wasn't the initial intention of the client, says Parti's co-founding director Eleanor Hill. A small-scale developer, he simply wanted to get something built on a small, challenging plot that he'd had for 20 years, since developing a three-storey block of flats next door. The vacant site had been used as an informal car park while a variety of planning applications were put in – for buildings ranging from one to four storeys, commercial and residential, studio flats and townhouses – all to no avail.
He came across Parti through a friends-of-friends connection when looking for an architect to put together another quick and cheap design scheme. It was a lucky break, as the young practice brought a design ambition and diligence that allowed it to succeed where its predecessors had failed.
First, Parti discovered that previous applications had foundered on the council's belief that the site provided historic access to the yard behind. Using old maps, the architect was able to show that the proper passage was somewhere further down the street. 'The client thought we were geniuses,' says Hill. Second, Parti looked at the Local Plan to gauge what the council might favour, judging that two-bed flats for rent by young professionals looked most propitious. Arranging each flat over two floors provided the best fit.
Design of the south-facing street facade also needed careful handling. Parti initially developed proposals that implied a vertical division, like a pair of townhouses, but with an irregular array of windows corresponding to moments of interest within. 'That naturally created an irregular facade which I felt was quite beautifully composed and proportioned,' says Hill. 'But the planners preferred something more regular that better reflected the rhythm of the terraced street.'
The architect responded with a 'super-regular' grid-like pattern of windows, but reduced their size as the four-storey building rose. More variety has been added to the formal order by rounding the brickwork cheeks to the window reveals and doorways. The curves emphasise the depth of traditional cavity wall construction – no stick-on bricks here. In oblique views from Holloway Road, the facade seems to ripple, giving a suggestion of delicacy to the rugged brickwork. 'It's monumental but with a soft edge,' suggests Hill.
These are subtle moves but remarkably effective, creating alignments with mismatched buildings on either side that blend the new building into its setting. Even so the scheme was initially rejected by the planning committee, only winning consent on appeal.
If the local authority was exacting in its requirements, the client imposed only a few stipulations. One was a tight rein on the modest budget, and another, based on his past experience, was structural use of concrete blockwork. 'Otherwise', says Hill, 'he was very open-minded. We proposed quite an unusual building and he went along with that; our aim was to use low-cost, durable materials to create spaces with in-built character.'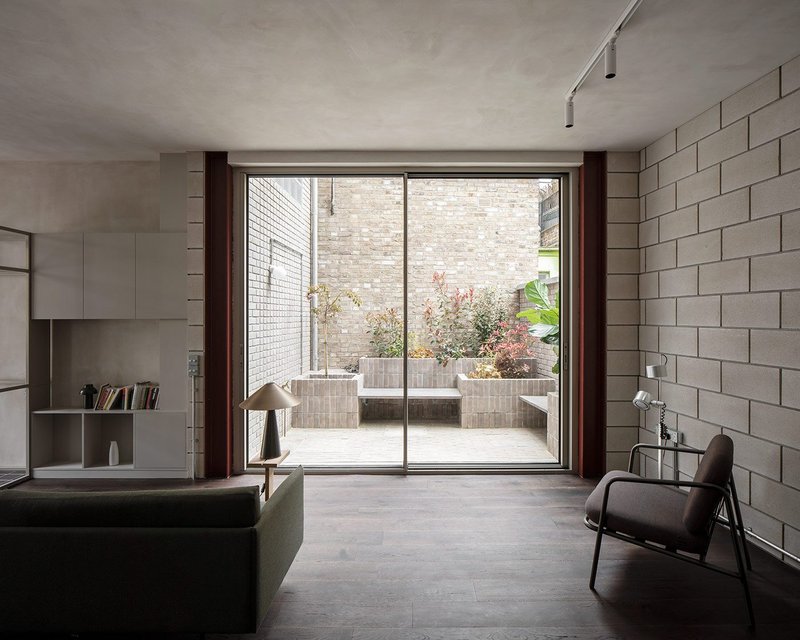 Main living area within the ground-floor flat.

Credit: Johan Dehlin
The organisation of the building is ostensibly straightforward – each flat has a pair of bedrooms front and back on one floor, and an open-plan living area on the other – but neatly satisfies a number of challenging objectives, notably provision of outside space and a street front door to both homes. 'It was quite a puzzle', says Hill, 'carving out space here and adding there to find a layout that worked, and make apartments that feel generous.'
That sense extends to the stair serving the upper floor flat. As it is something of a trek up to the living area on the third floor, Parti was anxious to ensure that the route felt like part of the home. Daylight diffuses through a wall of cast glass blocks, warming the otherwise raw concrete interior. It provides one of Hill's favourite moments in the building. 'When you have a reddish sky at sunset, the whole stairwell lights up in pink'.
Patches of exposed brickwork and dark-stained timber stairs introduce a materials palette that continues inside the flats. Again, much of the blockwork structure is left exposed, but accented by occasional ceilings and partition walls finished in natural clay plaster, and by chunky timber window frames, aubergine-coloured doorways and encaustic floor tiles. The variety of textures offers a treat to the touch as much as to the eye. No opportunity to add interest is wasted. Solid walls required surface-mounted cabling, and Parti has artfully composed the galvanized conduit as a kind of decorative wall drawing.
Neither the architect nor developer worried much that the building's strong character might be off-putting to some potential renters, or indeed feel like an imposition on tenants in their own home. 'I'm sure the industrial materials don't appeal to everyone but that wasn't a huge concern for the client', says Hill. 'The flats still provide a canvas that residents can cover as they choose; it's just made of blockwork rather than plasterboard'. And as much of the muted, 'desaturated' palette of purpley greys and chalky whites comes from natural or self-finished materials – from the fabric of the building itself – the sense of living with someone else's taste is perhaps less acute than might be the case with conventional interior decoration.
Many of the building's more important qualities are atmospheric or intangible, suggests Hill. Its solidity creates a reassuring sense of protection as well as a hushed acoustic quality, and contributes to thermal comfort. 'As soon as you step off the street on a summer's day it feels cool and refreshing,' she says.
Use of thermal mass for cooling is among a range of passive and active measures adopted to make the building energy-efficient. An air-source heat pump ensures the highest EPC rating for the mains heating, and there are zoned heating controls and low-energy lighting throughout. Sustainability was also a key criterion in specification of materials, from plaster with low embodied energy to linseed paint, though Hill concedes that if designing the building today, the practice might reconsider the use of concrete. "Even so, we did use a low-cement block with 20% recycled materials, which somewhat lessens the impact".
Though driven by the architect, the low-energy agenda was taken up by the client during the course of design, as was the determination to do something 'special' with the project. Sadly, he died unexpectedly while the building was under construction, and Parti went beyond the normal remit of an architect to help his three sons deliver the project successfully. Just one change was made, in his memory. Inscribed over grilles to the ground floor doors and windows, in large metal lettering, is the first line of a Philip Larkin poem, To Put One Brick Upon Another. 'It's an intriguing feature for future occupants to enjoy', suggests the architect – one of many in this beguiling and unconventional building.