Pavilion of the Shelter of the Furnace Workers, Darwell. Photograph: Photolanguage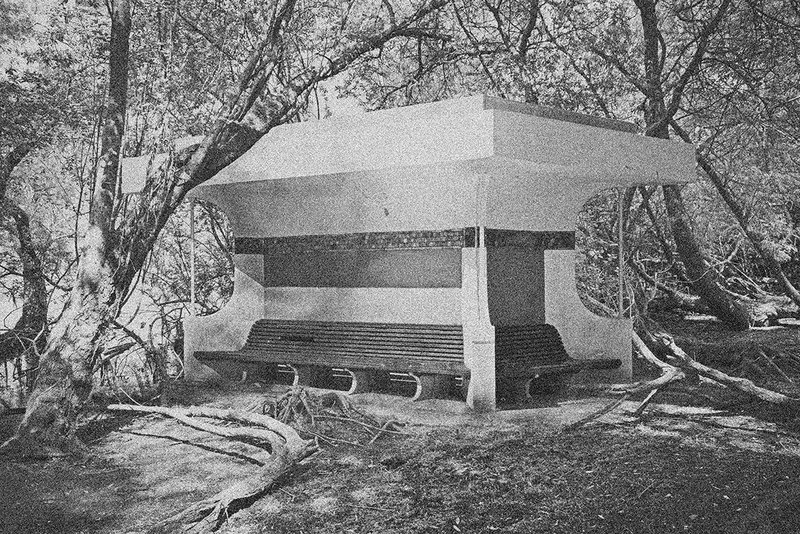 If this image looks as if it's been torn out of a 1940s Country Life it's because Photo­language, aka Hastings based artists Nigel Green and Robin Wilson, developed their 'East Sussex Modern' project as an 'itinerant return to the regional legacy of modernism', looking through the lens of the past in an attempt to reinterpret the present. The photo, part of a recent gallery show, was huge – over 1.5m by 1.2m and intentionally grainy, echoing early photogravure and mezzotint reproduction processes. During a residency at the Saline Royale d'Arc et Senans, Green had been struck by the utopian ideas expressed in Ledoux's engravings for Chaux; he says photographic repro processes were originally based on plate engravings, and to subtly drive an already subtle aesthetic point home for East Sussex Modern, even its title, above, echoes Ledoux's wordy nomenclatures.
This image too is a re-reading – actually one of local borough engineer Sydney Little's pet schemes. A civic-minded man, honoured with a blue plaque at his one-time home in Bottle Lane, he'd envisioned monorails along Hastings sea front, built the (now demolished) Lido and given it the UK's first underground car park. His concrete esplanade seating pavilions actually incorporated a central vent for the parking beneath, seating ranged around to give it urbane utility. This montage, explains Green, transposes his coastal seats inland to the depths of the woods, to alchemise its civic utility into something more romantic and sublime. Placed in this alien context they become like Abbé Laugier's 1755 Primitive Hut; a back to the future return to the genesis of the picturesque for Little's little utopian monuments to the public realm.
---