Piazza della Minerva, Rome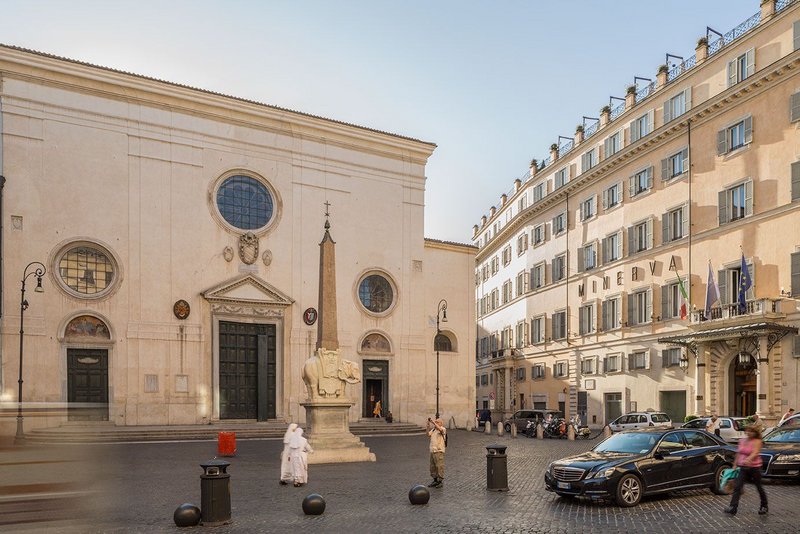 If there was an architectural case of ever the bridesmaid never the bride, it's probably the church of Santa Maria sopra Minerva in Rome, doomed to languish in the shadow of the Pantheon, sitting just north west of the Piazza della Minerva. Carlo Maderno's Renaissance façade hides the only example of a gothic church in Rome, its 14th century vaulting painted in constellations of gold stars in the 19th century. The Egyptian obelisk, denoting it as a pilgrimage church, was given dubious stature when Bernini mounted it on a stone elephant in 1667. Locals nicknamed it 'Il porcino', convinced that he actually wanted to sculpt a pig.
It's the fate of this Roman piazza to be forever overlooked that inspired Dirk Lindner, commissioned by architect Eric Parry to shoot the city as part of his book 'Contexts' (he never used the image). A clue is afforded by the tourist in the centre, ignoring both Maderno and Bernini to frame the Pantheon's portico between the edges of the square. Lindner wonders if the nuns to the left were photobombing his shot, while to the far right a woman bustles away on the daily shop. Lindner turned his back on the iconic to concentrate on the quotidian aspects of the Eternal city. 'I was more interested in capturing the banality of Rome, it's everyday-ness, and the beauty that can be found in that,' he muses.
Maybe so, but this piazza was once at the centre of everything. The church's convent was seat of the Holy Office where Pope Paul III's Tribunal read out the judgements of the Roman Inquisition. It was here in 1633 that Galileo Galilei was forced to recant the idea that it was the sun at the centre of the universe, not the earth. The church's painted canopy of stars thus feels like an airbrushing of history and the Pantheon's timeless capture of the sun's 'passage' a form of insult. Perhaps Lindner's image pays quiet homage to Galileo's marking of the tiny daily shifts that changed the Order of Things. Just as the astronomer muttered under his breath after he abjured, 'E pur si muove'; 'and yet it moves.'