Our new twice-monthly snapshot of UK-wide planning consents
The first of our new bi-monthly round-ups of recent planning consents granted across the UK reveals housing ranging from student digs to high-end apartments, via a garden city. We also find extensive development at a private girls' school, a major roofing project for a university faculty, and an English granary being converted into a cultural centre for international understanding.
Coventry Student Village
Total area: 10,690m2
Client: Gateway Developments
Architect: Fraser Brown McKenna
Planning authority: Coventry City Council
Planning reference: P/2015/3153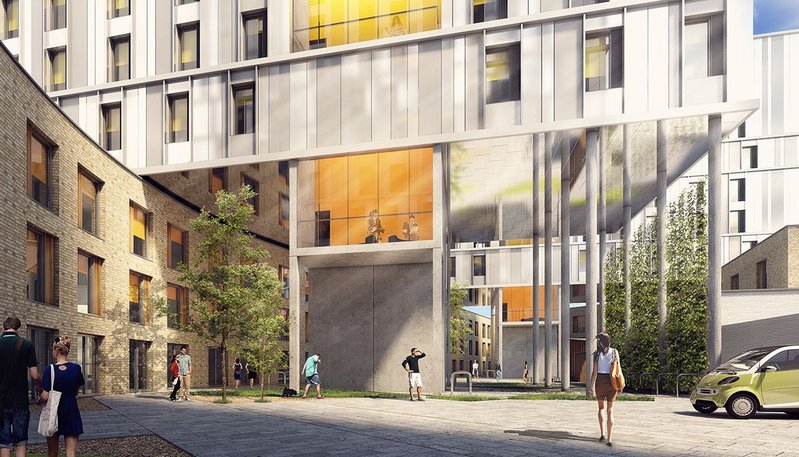 It's a case of little and large in Coventry, where Fraser Brown McKenna's 586-room student village, on a site close to Coventry University's Priory Street campus, gained permission at the end of January. Fronting London Road, a string of three-storey grey brick-clad 'Edwardian' townhouses create a street line and a foil to the site beyond while above them three towers, rising to 10, 12 and 14 storeys, create differing sized courtyards between them. The 21 townhouses accommodate 175 of the bedrooms, with 411 in the towers, clad in a variegated matt, satin and semi-gloss finish. The emphasis is on sociability, so the towers have double-height communal study spaces on every alternate floor. The landscaped courtyards between them are intended to foster a traditional collegiate feel.
Heartspace, Sheffield University
Total area: 12,400m2 (new and existing)
Client: University of Sheffield
Architect: Bond Bryan
Planning authority: Sheffield City Council
Planning reference: 15/02907/FUL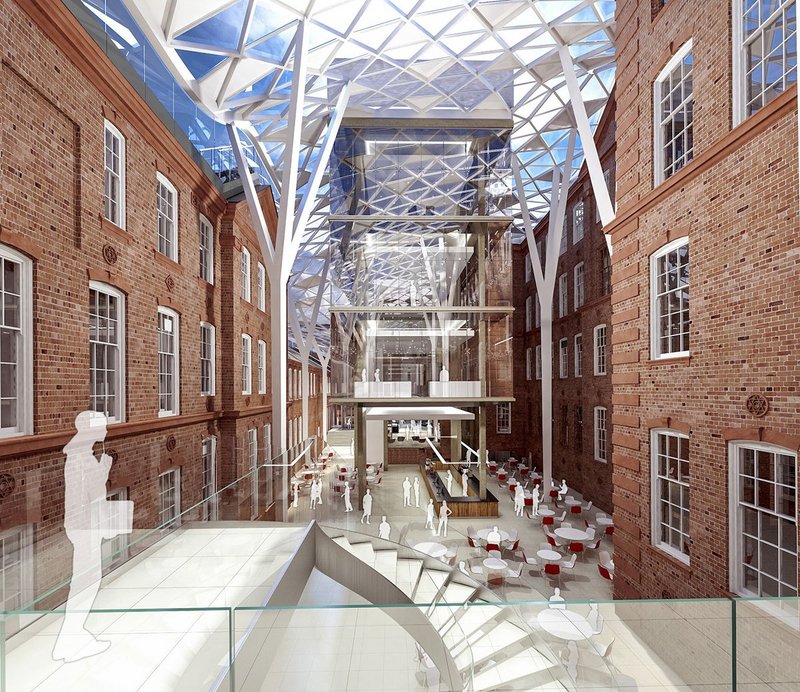 Following on from the likes of Wilkinson Eyre's 2012 Forum for Exeter University, Bond Bryan recently gained permission to build 'Heartspace' for Sheffield University's Faculty of Engineering. This is the third and final phase of the firm's development framework for the university's St George's campus. A four-storey atrium, beneath a dramatic undulating glass roof structure, will be inserted between the grade II listed Mappin Building and the 1885 Central Wing, bringing together the faculty's labs, teaching spaces and offices with a new café and collaboration space. The firm says the design responds to the heritage of the site, allowing the old brick walls and slate roofs to be seen through the mixture of triangular glass and solid roof panels in a celebration of engineering past and present.
Mixed use development, Highgate, London
Total area: 3600m2
Client: Archway Apartments
Architect: pH+
Planning authority: London Borough of Haringey
Planning reference: HGY/2015/2517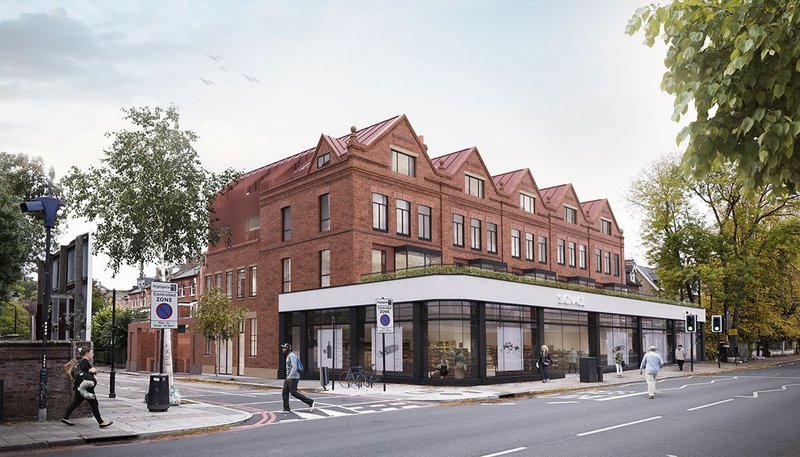 pH+ architects have taken a little of what they found and worked with it to create this mixed use development in the Highgate Conservation Area in London. Preserving a Victorian shopfront on the Archway Rd, the firm has extended the basement behind as affordable workspaces for local businesses. Above that is a modern brick development of 25 apartments over four floors with both private and communal outdoor space. The architects say they had to respect the village-like scale of the area, using materials and pitched roof forms that make clear reference to the surroundings. Balconies are recessed into the main facade to reduce their impact. The quieter side facade will have four family duplex apartments at ground floor and basement levels, offering a mix of housing types on the site, if not tenure.
Ebbsfleet Garden City housing
Total area: 18,163m2 (Circle site)
Client: Circle Housing Group
Architect: Lee Evans Partnership
Planning authority: Ebbsfleet Development Corporation
Planning reference: DA/15/01229/ECREM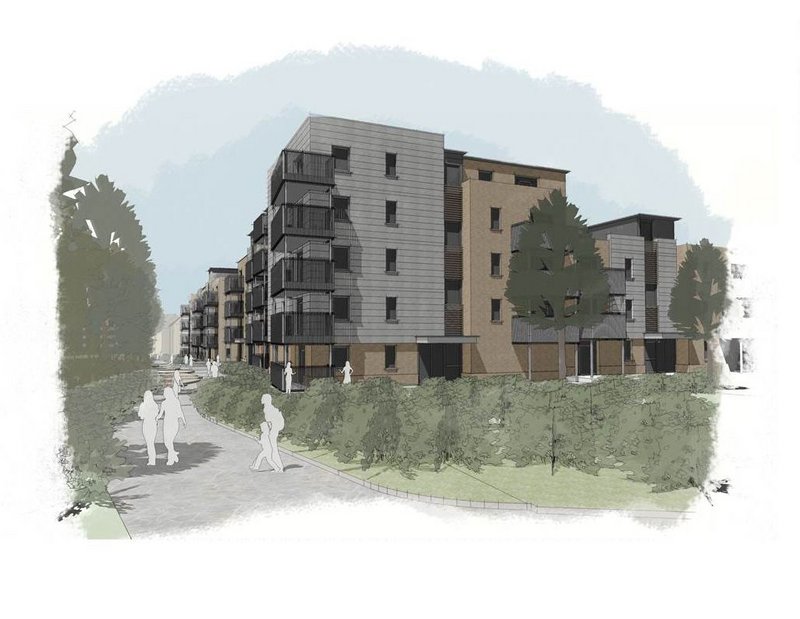 The architects have been working with Land Securities, Circle Housing and Ebbsfleet Development Corporation to help deliver the next phase of the new garden city, known as Castle Hill South. The 150-home development includes a 2FE primary school, a community centre and commercial facilities. The firm has also carried out proving layouts for 375 affordable units on behalf of Circle Housing, and phase 1 of the proposal, 125 units, was given permission by Ebbsfleet Development Corporation this month. Castle Hill will also benefit from their work with Newcrest Estates on a neighbourhood centre, which includes shops, a pub, hotel, apartments, cafés, health centre and convenience store. The firm says a sense of identity was of central importance to the design, aiming to 'achieve appropriate level of density, of contemporary vernacular…while retaining a strong sense of place'.
St Paul's Girls' School, London
Total area: 1400m2 (school building) 900m2 (sports pavilion)
Client: St Paul's Girls School
Architect: John McAslan + Partners
Planning authority: London Borough of Hammersmith & Fulham
Planning reference: 2015/02035/FUL (main school site) & 2015/02037/FUL (sports field site)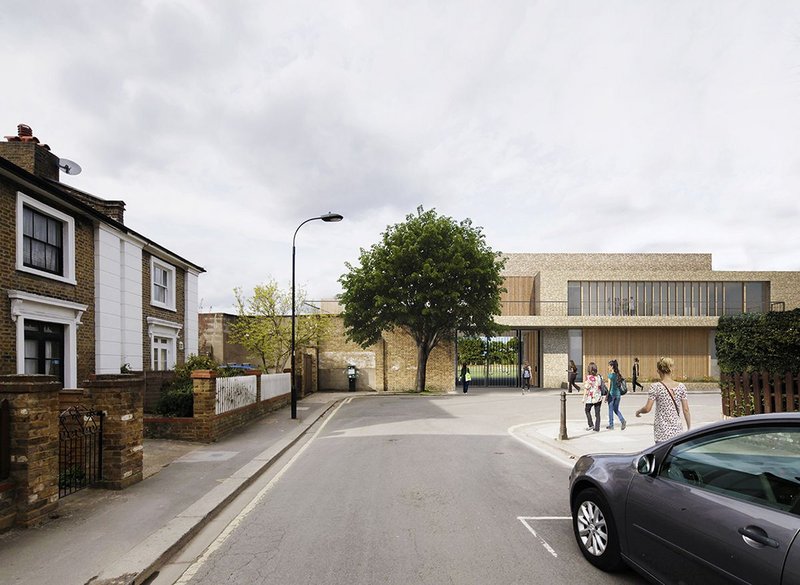 Sports pavilion
John McAslan was appointed as strategic estate advisor to the famous west London school in 2010 to identify development opportunities. The firm has received planning permission for two new buildings to complement the grade II listed main school building, designed by Arts & Crafts architect Gerard Horsley in 1904. The Brook Green campus will have a new school building intended to house the sixth form as well as the history and geography departments, with a reconfigured 'Forum' building that will have staff areas, meeting rooms and offices. A new pavilion for the sports field will replace the inadequate facilities, with construction intended to start in April. The new school block will start on site in this summer.
Stapleford Granary, Cambridgeshire
Total area: 827m2
Client: ACE Foundation
Architect: Moses Cameron Williams
Planning authority: South Cambridgeshire District Council
Planning reference: S/2431/15/VC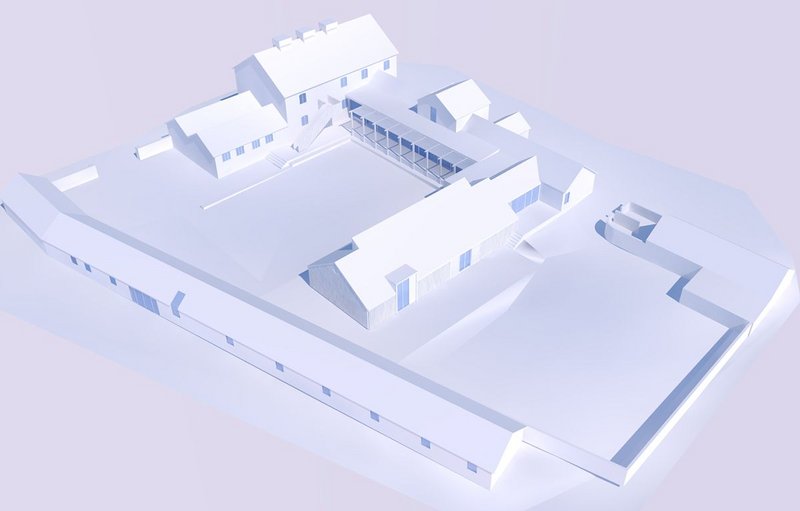 The next phase of the development of the Victorian Stapleford Granary into an inclusive arts centre received permission last month. Client the ACE Foundation is a Cambridge-based charity founded in 1958 to develop cultural understanding through education, with emphasis on disadvantaged communities both here and abroad. With the granary already significantly refurbished, this phase will see the renovation of the remaining farm buildings and barn into reception space, meeting rooms and workspace, connected to the granary with a new glazed link and entrance. Low energy, passive principles will be used to create comfortable, well-lit and flexible spaces. MCW has slowly been developing expertise in the arts and education sectors, and has ongoing projects with Cardiff, Newcastle, Hertfordshire and Bedfordshire Universities.