Overcoming security concerns while being neighbourly and green, Kieran Timberlake's new American Embassy faced serious challenges. Friendly fortress or mysterious monolith?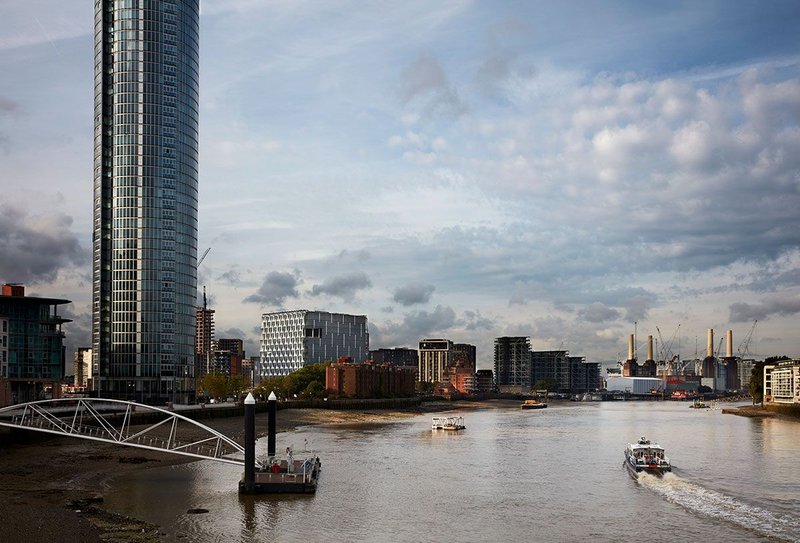 Nine Elms solid and void: the American Embassy is a large cube balancing the space between Battersea Power Station's chimneys.

Credit: Richard Bryant/Arcaid
The new American Embassy in London has three obstacles to overcome. First, it is not by the revered Eero Saarinen as the previous 1960 embassy was. Second, it is not in Grosvenor Square as the embassy, in all its iterations, had been since John Adams, later President, lived there as the first United States Minister to the Court of St. James from 1785 to 1788. And thirdly, it is perforce a free-standing object in a large space on the insistence of the State Department which has onerous and understandable requirements when it comes to security. The result of all this is a big curtain-walled, solar-shaded and highly energy-conscious glass cube perched above artfully landscaped gardens which contain and conceal what are now the standard physical security measures we associate with government buildings. So it is indeed a fortress, not so different in overall concept from a motte and bailey Norman castle. The site plan makes this particularly clear.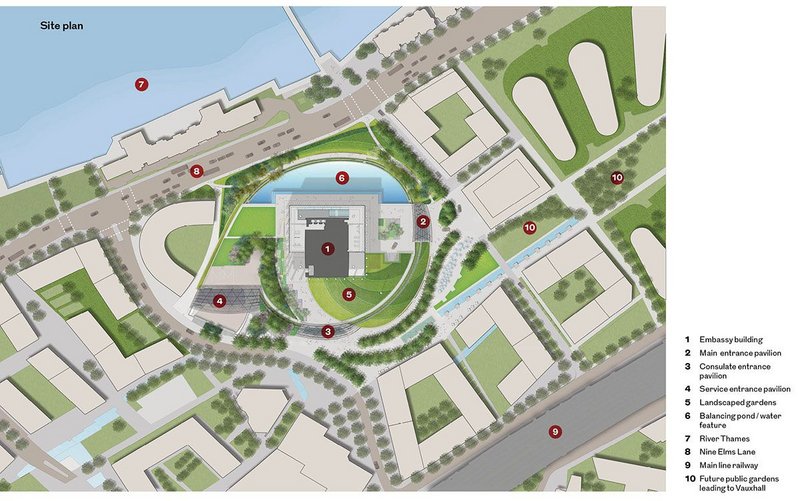 Architect James Timberlake of competition-winning Kieran Timberlake is to be commended for conjuring architecture from these constraints that, so far as possible, looks neither overly defensive nor aggressive. For him, the cube is a Platonic form that speaks of dignity and strength, and the colonnade that runs around its base is a welcoming urban form. He is thinking not so much of a motte and bailey as of a country house set in its gardens. And indeed the gardens will visually link to other, public green space that is planned in this part of Nine Elms, connecting east to Vauxhall. Though the colonnade, in canted aluminium clad greaves, is not deep enough to serve much of a purpose. Instead, visitors arrive at one of three gatehouses on the perimeter – one for staff and visitors to the embassy proper; one for those headed for the consulate in search of a visa, say; and one commanding the service entrance. Once security-cleared through airport-style electronic portcullises, you proceed onwards to the main building.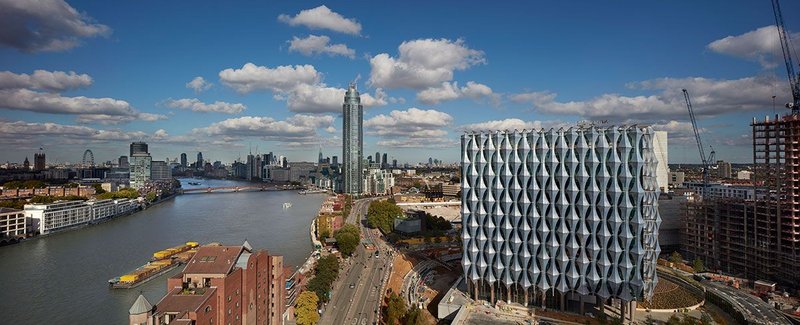 The view to Whitehall is direct even if the journey is not.

Credit: Richard Bryant/Arcaid
It is obvious as you walk round – and a public route circles the building – that there is no easy way to get close to it other than via the gatehouses. One imagines that there must be electronic devices as well as the physical obstructions. And the multiple layers of glass in the curtain wall, which feels very solid when you tap it from inside, are not to your normal office spec either. Finally, the ruched veil of interlocking hourglass-shaped pieces of ETFE solar-shading, carried on tubular steel outriggers on three sides of the building, certainly make it difficult to see much of what is going on inside, even covering garden terraces that are open to the air.
The cube is arranged on the cardinal points of the compass, and so one elevation faces due north, without the ETFE veil. Aside from some mysterious long, silvery cast-glass vertical insertions in the facade – solid-backed for performance reasons and giving a 'weave' effect with some relief – the only other intervention is the large bite taken out of the corner of the building up high. This is the ambassador's open-air terrace, a very generous space – one imagines drinks receptions – opening off his equally large two-chamber office. It gazes right across to the Victoria Tower of the Palace of Westminster. When President Donald Trump, finding reasons not to visit an unwelcoming London to open the building, described it as being in 'off location' he was not wrong – this part of Nine Elms, a massive building site sandwiched between the railway lines running out of Waterloo and the busy dual carriageway between Vauxhall and Battersea – is a far cry from Mayfair. Although when the extension to the Northern Line tube opens in 2020 to serve Nine Elms and Battersea, it will feel less isolated.
The Saarinen embassy building, despite various retro-fitted security measures that caused some controversy when they closed off the end of Grosvenor Square a few years ago, could not be finessed further. Apart from being embedded in its dense locale at a time when security was much less of a concern, it had just become too small. Four times as many State Department employees worked there and in nearby annexes than it was designed for, while the number of people needing public access for visas and suchlike had rocketed since 1960, when few travelled across the Atlantic. The building – regarded as unduly compromised by the critics upon completion, a disappointing over-ornamental, over-fussy, even neoclassical Saarinen for those committed to clean-cut modernism – had come into favour in recent years. Listed, it is to be turned into a hotel to designs by David Chipperfield Architects. The great American eagle sculpture adorning its facade is part of the listing and is to remain.
No such external symbolism is to be found at the new embassy. The eagle is there, in the form of a relief carving of the United States Great Seal on the rear wall of the main entrance lobby. The separate consulate entrance, meanwhile, boasts something more ambitious: Rachel Whiteread's sculpture 'US Embassy (Flat pack house)' which is exactly that – her casts of a typical American flat-pack timber house, divided into sections so as to return it to kit form, mounted horizontally at the Consulate entrance, running right through from outside to interior and looking like a supergraphic giant arrow.
There are some set-piece interiors apart from the lobbies – a large events space in the building's plinth, to which you descend on a glass staircase from the entrance; the consulate waiting areas on the first floor, partly double-height with some sculpted plaster ceilings; and, for the embassy staff, various double or even triple height gardens arranged around the building's perimeter, each based on a particular climate zone in the States. There is a canteen area and what they call a 'pub' but which looks a lot more like an American bar – which is exactly what you'd expect.
Beyond these special places – some of which remind you of the landscaped corners you find in big shopping malls, another American archetype – you get a lot of generic office space, courtesy of workplace architect Gensler. Lots of white desks and storage units. Lots of broad corridors buried in the centre of the building. I would like to show you a typical floorplan and section but unfortunately security considerations rule that out. What I can tell you is that there's a slightly witty touch on the interior of the north facade, where a light fritting on the glass takes the form of little white stars which look as if they have migrated from the flag.
Beyond this, the building sets out to be extremely environmentally responsible in use – indeed better than the already high standards set by the State Department for its buildings. Everything from photovoltaic panels on the roof to the use of harvested rainwater for irrigation and toilet flushing, via ground source heat pumps and onsite combined heat and power (CHP) generation, and more is there – the latter presumably making the embassy independent of the grid. The large pond in the gardens in front of the building regulates water run-off so as not to overload local drainage. The target is LEED Platinum and BREEAM Outstanding, but the building will have to be monitored in use before it receives those accolades.
None of this green stuff is very Trumpian, of course – can you imagine the President even mentioning any of that at the opening of the embassy which he has turned down? But there will be other presidents, other ambassadors. As for me, I think that Timberlake's building will grow into London, or London into it, over time as its surroundings are completed and mature – especially the landscaped public realm proposed. As it stands, it is not immediately appealing. It is more than somewhat strange. It is hard to read. It could almost be industrial, which suits the history of the area with its power station and its wholesale market and its now-vanished giant cold store. But its mystery – its very weirdness – and its formal simplicity will, I think, stand it in good stead. Will we come to love it? I really couldn't say.
---
IN NUMBERS
£750m ($1 bn) - cost
65 high
12 storeys
48,128 m² GIFA
Credits
Client US Department of State, Bureau of Overseas Buildings Operations
Architect Kieran Timberlake
Office interiors Gensler
Landscape OLIN
Structural and physical security engineer Thornton Tomasetti
MEP, civil, facade and sustainability engineer Arup
Cost control AECOM
Technical security design Sako & Associates
US lead contractor BL Harbert International
UK lead subcontractor Sir Robert McAlpine