The site makes a celebratory building wholly appropriate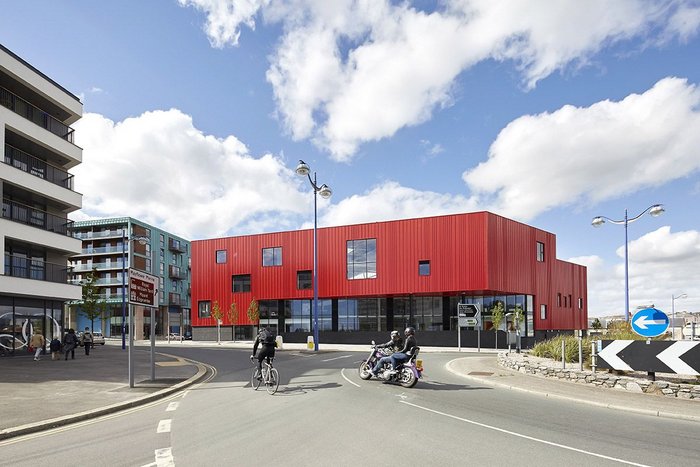 Feilden Clegg Bradley Studios for Plymouth School of Creative Arts
Contract value: £10.04m
GIA: 6762m2
RIBA South West Project Architect of the Year, sponsored by Tarmac – Andy Theobald
Schools should not have to cost so little, nor be built so quickly. Given that they are, one can only hope they deliver as much as this building does. The first lesson is that when bright, saturated colour is thoughtfully applied to a full urban block the effect is mesmerising. The site's pivotal location between port and city makes a celebratory building wholly appropriate. The school's 'teaching through art' justifies a visual response and the form and elevation treatment are highly civilised and (ironically) subtle, despite a limited and economic material palette.
· Credit: Hufton & Crow

· Credit: Hufton & Crow

· Credit: Hufton & Crow

· Credit: Hufton & Crow
The building addresses an irregularly shaped, sloping site with great clarity. To the south it follows and repairs the urban grid and to the north it creates a legible public/private divide. The loose structure necessary for teaching hundreds of children in a largely open plan environment is arrestingly unconventional and undoubtedly contributed to budget control. Quality and consistency of architectural thinking is evident throughout, and the building delivers an impressive addition to the cityscape.
See other winners of the RIBA Regional Awards 2016 – South West
---