Herzog & de Meuron has given Oxford an impressive building, but is it radical enough to deliver the rethink that would match the Blavatnik School of Government's democratic aspirations?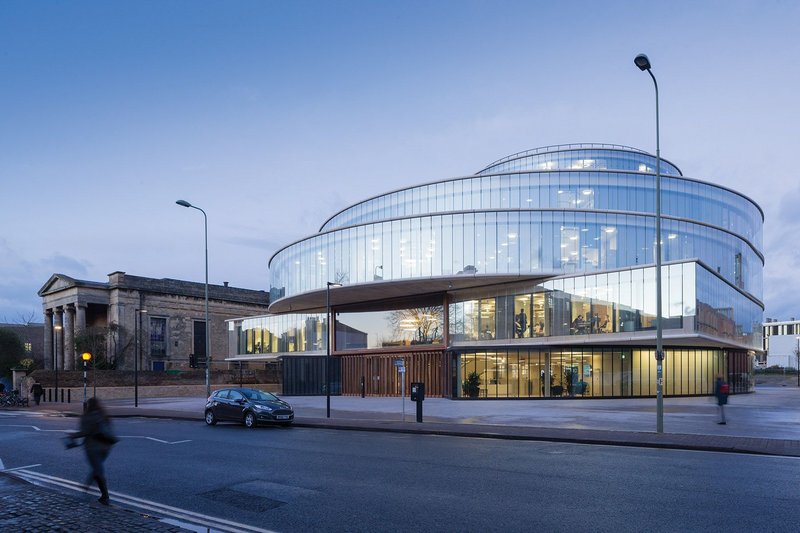 The Blavatnik School of Government viewed at dusk from the main facade onto Walton Street; partially reflecting, partially transparent, a building half dematerialised.

Credit: Iwan Baan
A lot of investment can be bound up in a name; its invocation can call to effect renown, remembrance and – dare I say it – revenue. As one of the few global 800-year old institutions and with the Rhodes statue debacle still rumbling on, Oxford University is probably more aware of this than most. But as the dean of the new Blavatnik School of Government, Ngaire Woods, concedes, Oxford is bound by the weight of its history. And as Einstein could have told them at his 1931 Rhodes Lecture on receiving his honorary doctorate, time is relative and mutable – like a reputation. Oxford might have produced 25 British prime ministers and 35 heads of state in its time, but when it comes to its four year old school of government, Woods concedes that the university is playing catch up. Competing on the global stage and dealing with the likes of Harvard's Kennedy and Princeton's Woodrow Wilson Schools of Government – the former with a reported $1 billion endowment – you're going to have to up your game to stay in the running.
Cue Leonard Blavatnik, Russian media tycoon, offering to stump up £75 million for a dedicated building worthy of the university's world class status – designed by celebrity architect Herzog & de Meuron – to house Oxford's fledgling school of government. This imposing new concrete and glass structure of stacked cylinders on the western side of Oxford's new Radcliffe Infirmary site is the result of a strange alchemy of Blavatnik's thinking and the dean's concept for the school – Woods was originally sceptical about having a building at all. She says she would have 'been happy to teach out of a Portakabin and use all the money for scholarships and faculty salaries' but as time went on and the idea of 'communicating the vision of the school' gained emphasis, she embraced the idea of a permanent structure. It can't be often that someone has to create a business case for giving away a fortune, but Woods' change of heart was partly due to Blavatnik 'helping me understand that working from a Portakabin would have been freeriding on the university's name' and the idea that in a world where a week's a long time in politics, the perception of permanence, Oxford notwithstanding, was key.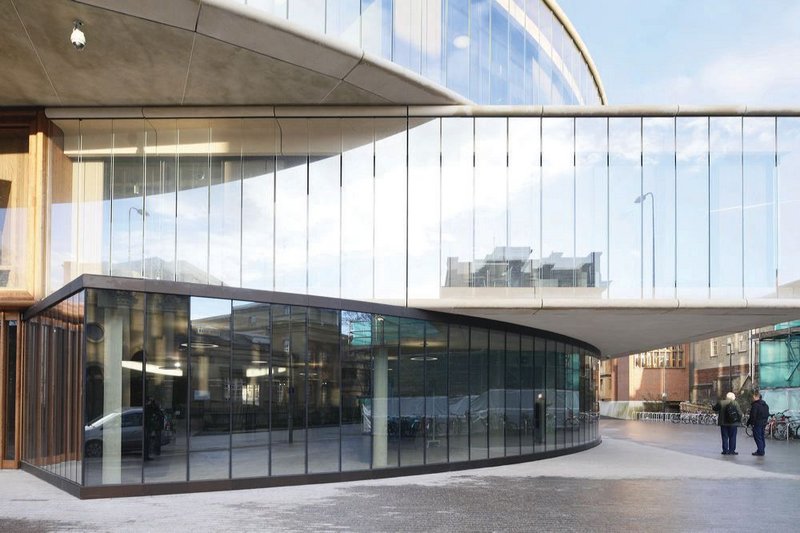 The school's orthogonal first floor defers to the facade of the Oxford University Press building opposite and acts as a plinth for the disc-like machinations above.

Credit: Iwan Baan
'There's a lot of fly by night stuff in public policy,' she says, 'and when sharing sensitive data, the building's solidity has to convey that you're not just here today and gone tomorrow'. So Woods resisted the temptation to be a Blavatnik refusenik.
Similarly influenced,Herzog & de Meuron sought to respond to the rare urban typology that the college quads generated with its 9800m2, £55 million building.
That's no surprise, considering the context of its Radcliffe Infirmary site. Although the old hospital and Radcliffe Observatory have been connected by Rafael Viñoly's new Mathematics faculty, the rest of the site behind Blavatnik, reserved for the future Humanities faculty and library, could be considered a ground zero by Oxford standards. The firm was helped by Henry Underwood's adjacent Greek Revival church and the neoclassical Oxford University Press building opposite; but that aside, there was a lot of room for interpolation. Jacques Herzog wanted to resist the tendency 'to be modern but polite in front of the old colleges, as that way you can lose your own identity.' Woods' aim meanwhile was to bring people together as 'better government is about better communication', and for the new building to reflect notions of the transparency of democracy. Herzog's response, thinking laterally about the problem, was to invert the usually lifeless exterior college quad form and turn it into a social heart rather than an antiquated point of distribution.
The result is the imposing, sleek building now filling in the former void on Walton St, and on the surface it ticks all the boxes laudably. It's about democracy, so it's circular, political transparency so it's glass, and Oxford, so there's stone. I'm slightly thrown when Herzog refers to it as a gateway building as you have to go around rather than through it – so one assumes a broader interpretation – but as a form it's compelling. The double skin facade is a thing of elegance; its tall, thin outer sheets of glass, clamped between bullnose slab edges of reconstituted stone, echo the delicate stone tracery of the Bodleian's Old Schools Quad. Ostensibly there to protect the horizontal blinds of the inner skin and act as an acoustic baffle (it's a naturally ventilated building), the effect is to shatter the surroundings of St Paul's, the OUP and Niall McLaughlin's adjacent Somerville College dorms and almost dematerialise the sizeable Blavatnik in broken reflections. Save, it seems, for the first floor front elevation, which bookishly responds to the built line of the OUP building opposite and acts as a plinth for the formal gymnastics above.
Those slipped discs on the outside generate the rotunda and amphitheatre-like forum space within; seven floors of shifting concrete slabs, one sunk down, the others spiralling up and away in a shape-shifting parallax. An obvious reference is Frank Lloyd Wright's New York Guggenheim and there's more than a passing allusion to Mecanoo's Library of Birmingham, but with the Blavatnik's academic programme devoid of either the art or the books, it's understandable that H&dM resorted to shifted floor slabs to maintain the spatial interest. It's not that there isn't an immediate power to the volume: there is, but it's one that gradually discharges as you ascend and as the nature of the programme reveals itself, as public areas make way for private.
Up to the first floor level, the flow of spaces from forum to lecture halls, to amphitheatre to café and first floor common and meeting areas, is open and seamless but, like politics, you don't get far before the bureaucracy starts to creep in. The seductive curve of the grand staircase only runs between lower ground and first floor seminar spaces; beyond it an alternative, less open and decidedly orthogonal system of circulation begins to inform the design, feeding more private and, at the third floor, completely enclosed office spaces. What you initially perceive from below as continuous is in fact contiguous; with floors no longer intuitively connected by round circulation voids but separated despite them. You sense H&dM is aware of this, putting a lot of time and effort into creating the beautiful concrete spiral staircase at the north east end of the building to lash all the lobbies together. Those secondary glazed corridors, like a square peg in a round hole, result in some strangely shaped office and research spaces, further complicated by the small external courtyards to bring in more daylight and air. Privacy curtains are provided in these spaces, and just a few are drawn, which speaks well of the users' desire for visual connection to each other, but these monkish rooms nonetheless feel sequestrated. This might be necessary but it's antithetical to the idea of communality and connection espoused in Woods' bigger idea- as if a deferential, cellular corporate coolness has eclipsed the academic aspiration. In line with corporate thinking, the most indulgent spaces – and the 'Blavatnik Study' for visiting dignitaries and the like – are placed on the upper level, an unusually high concrete upstand offering more than a modicum of security from the floors below.
There's comfort to be drawn from the materials of the building; the oak floors, stained oak dowel walls and smooth white, raw GGBS concrete, augmented by some impressively performing white acoustic spray render, is no less homogenous elsewhere than seen at this topmost level. But for some reason I just found myself craving a library here; some mark of cosseted permanence in all this flexible, connected, hot desked space. It's a strategy not helped by the lecture spaces being buried in the lower ground, which hides the democratic process of debate from the public – precisely where it should be expressed.
If Woods was looking for a bold and high quality addition to Oxford's modern oeuvre, I'd say she's achieved it; H&dM is master of its craft and its latest building underlines the firm's ability to confound expectation even in a sensitive environment such as this city. That said, with an internal layout and programme reifying the problems of big governance – disconnection, labyrinthine bureaucracy and the status quo – I wonder if Woods strayed too far from her original ideals.
Nowadays democracy is probably not circular but eccentric, politics is anything but transparent and all that is solid can melt into air. A great building might not end up changing the world but I'd expect it to offer an enlightened reading of it – for example as Stirling did in 1971, when he questioned how students might interact in his flawed Florey building. The Blavatnik School is here, it's claimed, to address the fundamental issue of better governance; but it attempts it by adopting a literal, reactionary spatial language and programme, bouncing the world off its glass walls, leaving its 120 students breathing its naturally ventilated but rarefied air. Woods buckled when she should have remained brave.
Perhaps her idea of Portakabins and scholarships was the truly radical act and merited investigation by her architect; imagine her international cohorts parachuted, like the building itself, into the city of dreaming spires to question everything; organising themselves and mobilising in transient spaces that could be moulded to their own purposes, devoid of assumptions and preconceptions. An end to Einstein's same questions/different answers conundrum: an environment where ideas would speak, freed from the structures that would restrain them.
---
IN NUMBERS
8 levels
550 students and faculty staff
10.5m x 3.2m first floor picture window
49% lower energy use than a comparable building
107 pv panels
500m2 green roof
---
Credits
Architect Herzog & de Meuron
Client The University of Oxford
Electrical/ mechanical engineering/ HVAC/ lifts/ acoustics and lighting Hoare Lea
Landscape design Townshend Landscape Architects
Structural engineering Pell Frischmann
Cost consultant EC Harris
Sustainability consultant Aecom
Design and build contractor Laing O'Rourke
Facade engineering consultant Murphy Facade Studio
Planning consultant Montagu Evans
Project manager Oxford University Estates Services Gardiner & Theobald
Security consultant Horus Security Consulting
Suppliers
Carpentry/ flooring AC Flooring
Ceiling CG Reynolds
Electrical/ lighting Crown House Technologies
Elevators Kone
Facade Waagner Biro
Fire gates Coopers Fire
Metal work Gascoyne & Beever
Mobile partition walls London Wall Design
---