The Editional Studio director writes from a windy cycling tour down the Atlantic coast where the looming limestone leads to concrete thoughts on Tom de Paor's Pálás Theatre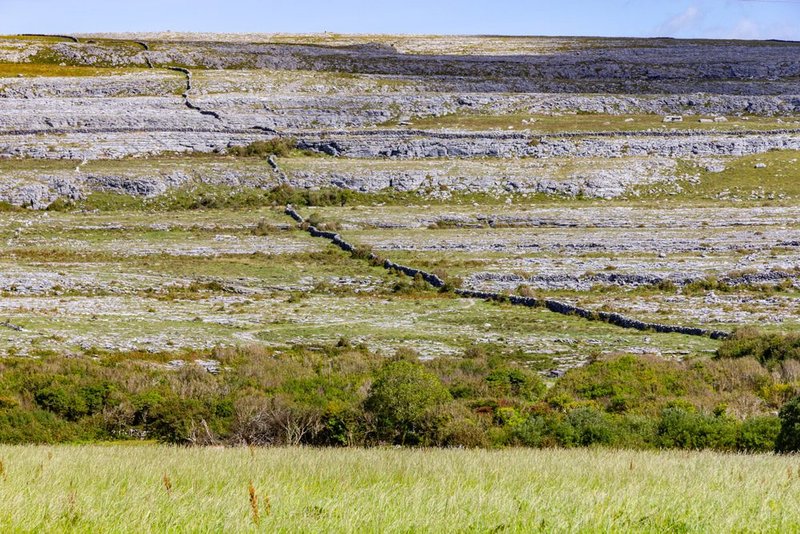 300 million year old Namurian Limestone.

Credit: iStock | lisandrotrarbach
Dear Reader,
I come to you sodden, cycling along the Wild Atlantic Way – the wrong way, against the relentless headwind off the Irish Coast. There is no need to kick myself for not considering the prevailing winds prior to setting sail from Holyhead; the weather is doing that for me. Overlooking the local climate seems a rather bittersweet metaphor for our relationship with nature over the last century.
So I am peddling slowly, contemplating the weather-beaten rocks that look like cracked skin (300 million-year-old Namurian Limestone since you ask), still somewhat warmed by the previous evening's spontaneous folk song about a tender love for the land; sung by an old, cracking voice, unaccompanied, to a silenced bar in Doolin. As we cycle south from Galway to Killarney, we come across ancient 'Fairy Forts' (aka Ring Forts – probably Bronze Age settlements) laced in tales of underground tunnels dug to haul goods secretly from the sea below. Part of the charm of these encounters is the lack of pomp – this relic is reserved only for impromptu visitors in search of space to camp at a huge static caravan site.
Passing along the coastal roads, the rocks shift and are shaped into rectilinear boundaries that forget topography and defy gravity – stacked vertically, leaning like recently pushed dominoes. Isolated stone dwellings and large steel sheds gleam against the pervasive presence of the rock.
This permanent looming backdrop reminds me of Tom de Paor's Pálás Theatre, which we stumbled across on our first evening in Galway. It is a building I have often admired for its jarring scale. The small gatehouse building in front is diminutive against the blank mass looming behind, echoing the harsh, barren landscape. Our chance encounter allows me to fully appreciate its intentionally sculpted awkwardness. The building to the front is hollowed out and cuts tightly against the lumpen, concrete mass behind. It serves as an entrance 'gorge' with many stairs circulating in the chasm created above, swirling off in different directions, adding slight disorientation.
Whilst pedalling, I wonder: why not real rock? Leaning, carved, large stone walls – the material that is locally abundant and that the concrete is clearly emulating. Maybe this is obvious now, and perhaps it is unlikely that in 2014 when the theatre was under construction the climate was at the forefront of our minds. At least, the beautiful weather vane on top tells me the wind direction, but it's a little late for that.
All my love,
Jo