The co-founder of Knox Bhavan sends a postcard from the Loire where he has found a hidden gem of a château, with a notable gallery of portraits and the largest Delft floor in the world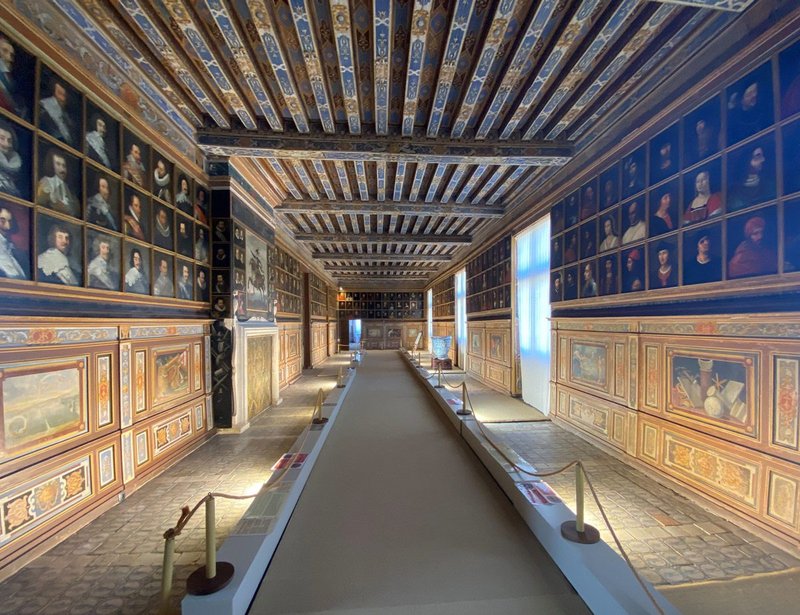 Credit: Simon Knox
Dear Reader,
We are cycling down the Loire on our tandem. Eating and drinking delicious wine and produce with old friends, in fabulous weather, nothing better.
Everyone knows the Loire Valley is famous for its Châteaux. Built first by the French kings; followed by the nobility, not wanting to be far from the seat of power. The Châteaux of d'Amboise, Chambord, Chenonceau and Blois spring to mind.
However, we were fascinated by a hidden gem called the Château de Beauregard. Built as a hunting lodge at the time Catherine de'Medici was pacifying the Huguenots in the mid 16th century, it was early in the next century that the gallery of portraits, the highlight of the château, was added. Located on the 'premier étage', it is 26m by 6m. The walls are hung with three levels of portraits, all from a Paris art school, and painted with a unity of style (but varying skill). They follow in the tradition of portraits of the Italian Renaissance, providing an accurate historical record.
The gallery is an historian's dream; the collection of portraits tells 300 years of French history. The portraits of kings, marshalls, ministers and diplomats are not limited purely to domestic politics and include the elite affecting France's European policy. Only 21 women sit alongside 306 men to make up this portrait collection. However, these women are, arguably, some of the most interesting and important historical figures of the period: Queen Elizabeth 1, Mary Queen of Scots (and France), Isabelle of Bavaria, and of course Catherine de'Medici.
The decorated ceiling is magnificent, and predominantly blue; painted with lapis lazuli, which at the time (17th century) was apparently seven times the price of gold. The gallery floor is covered with more than 5000 Delft tiles depicting 17 French regiments. This Delft earthenware floor is the largest in the world.
A remarkable gallery, recording a period of history, in an extraordinary room hidden away in an otherwise unremarkable nobleman's château. It's well worth a visit if you are passing.
Next it's cycling in Cornwall. Yikes – hilly country, with moderate or good, and occasionally very poor, weather.
See you soon
Simon Knox is a founding partner of Knox Bhavan Architects